 In their ninth meeting, Rafael Nadal and Kei Nishikori did not disappoint; both players have won the Barcelona Open multiple times so it was truly a clash of champions. This Barcelona Open Championship featured two hours and four minutes of incredible tennis from the duo, but it was Nadal who came away victorious with a tight, 6-4, 7-5, win.
Nadal leaves no break point unbroken
The match began with a double-fault from Nadal, but that hardly set the tone for the Spaniard. The lefty found much success attacking Nishikori's forehand on pressure points. Per contrast, it was Nishikori who snatched up the first love hold and saw the first break point. With the score knotted up at 1-1, the right-hander sprinted to a 15-40 lead. Facing two break points, Nadal began implementing his strategy of going to Nishikori's forehand on pressure points. It worked like a charm as his Japanese adversary couldn't get the return over the net. The following three shot also went the Spaniard's way, and he held to regain his lead.
Once more, a break point was presented, though it was Nishikori who would have to go on the defense. A forehand error by the 26-year-old finished the break and gave Nadal a 3-1 lead. For a third straight game, the returner had a chance to break and, after botching his first two chances, the world number six broke serve at 30 to erase his disadvantage.
A hold from Nishikori made the score even again at 3-3. Now rolling, the Japanese star looked primed to break once more. He won the first three points to lead at 0-40. Nadal, unfazed, won the next five points -- using the serve to get some easy points -- to hold serve and shift the momentum 180 degrees. The next two games proceeded normally as both players held to bring the score to 5-4. Nishikori then had to serve to stay alive in the set, which proved to be an incredibly difficult task. A few errors strung together ,and he faced set point at 30-40. Attacking at the net, Nishikori can't make good contact on a Nadal forehand and the set is over. Nadal takes it, 6-4.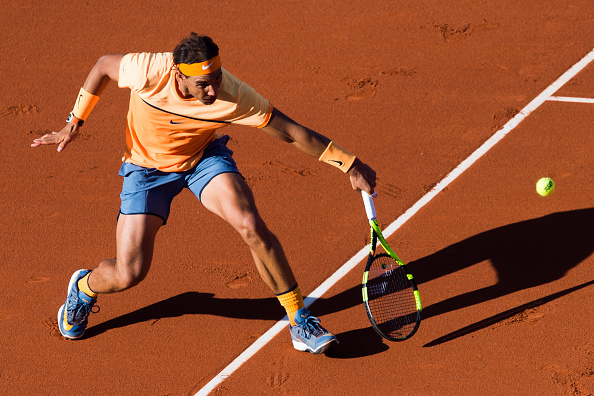 Similarly to most players who face Nadal on clay, Nishikori was on the offensive throughout the set. While that lead to more winners, it also brought more errors--a department in which the Japanese star had 16 to the Spaniard's ten. Top-seeded Nadal also won 100% of his break points, going 2-for-2, while the second-seeded Nishikori only converted on one of his eight chances. It is incredibly difficult to beat a top-five player when missing so many opportunities. This was also Nishikori's first set lost in the tournament.
Nadal overcomes Nishikori's comeback effort
Tennis gives just as easily as it takes away; while it was Nadal whom clawed back from a 0-40 deficit in the first set, it was Nishikori whom rallied his way back from 40-0 to break his opponent and take a 1-0 lead. In response, the 29-year-old fought to a break point at 30-40. It was the first one he squandered all day as his Japanese opponent rocketed a cross-court winner to make it deuce. Two forehand errors from the world number six handed the break to Nadal and tied the score at 1-1.
The lefty then took off as he won the next two games giving up just three points. It appeared as though Nishikori was down and out, but he fought to 30-40 with a break in his sights. Mirroring the first set, he couldn't capitalize, but he was able to stretch the game out through six deuces. The Spaniard only gave up one more break point chance in that long deuce exchange, and he eventually won it on a forehand error from the other side of the net.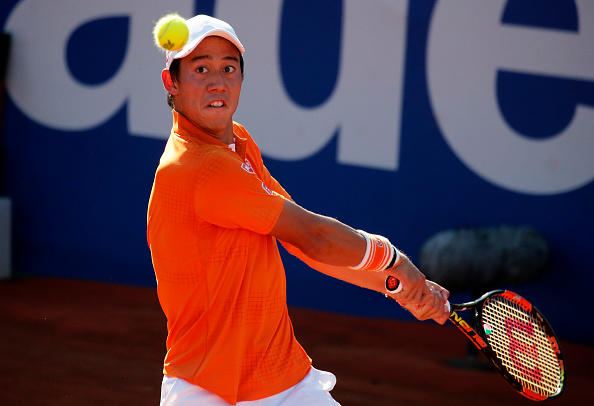 Trailing 1-4, hope seemed lost for Nishikori; however, he was only down one break. A love hold--making the score 2-4--for last year's champ showed the gusto needed to come back. He also benefitted from some luck as Nadal let a shot go that ended up just catching the line; down 15-30, that was not a wise choice for the Spaniard as he now faced two break points, down 15-40. After hitting a backhand wide out, a smart drop shot on the next point evened up the number of breaks in the set. The odds favored Nadal, yet again, as he had two break points that would bring his lead back to two, and, yet again, it was Nishikori who defied the odds and won the next two points on an unreturned serve and a big forehand winner down the line.
The Spaniard saw two more break points in a game that went to three deuces, but the Japanese sensation held him off to finish the comeback, 4-4. A hold at thirty by the lefty put the world number six back in his earlier position: serving to stay alive in the set. At 3-40, Nadal faced championship point. Nishikori quickly dispelled that with his trusty drop shot; couple that with a pair of forehand winners and the score is even at 5-5. Steady as ever, the Spaniard held at 30 to take back his lead.
Nishikori wouldn't score for the rest of the match after an intelligent backhand down the line. He hit the next shot out wide. Nadal followed it with lob-volley combo to take a 15-30 lead and a missed overhead volley by Nishikori put the nail in the coffin. Having to overcome two more match points was too daunting of a task for the second seed, whom ended the match with a forehand into the net.
Overall, the second set was very exciting to watch; Nadal hit 16 winners while Nishikori topped it with 18. However, as in the first set, Nishikori's aggressive play lead to too many errors; he totaled 34 in the match, which was almost double Nadal's 18.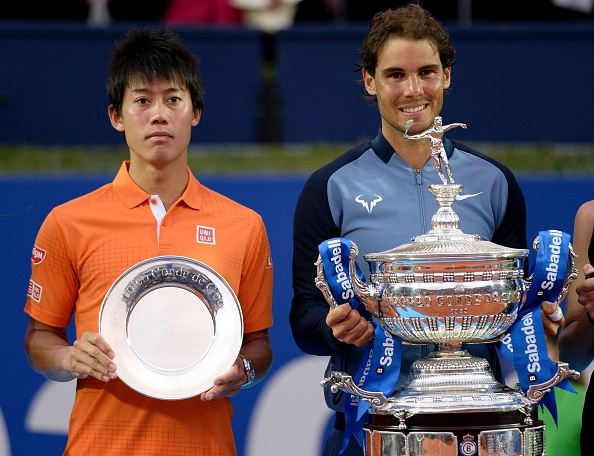 A victory in this Masters 500 event gives Nadal a new magic number: nine. He now has nine championships in each of the Barcelona Open, the Monto Carlo Masters and Roland Garros. History was also made as the Spaniard tied Guillermo Vilas' record for most clay court titles with 49. As for Nishikori, this was his eighth loss to Nadal and his second loss in an ATP championship this year.