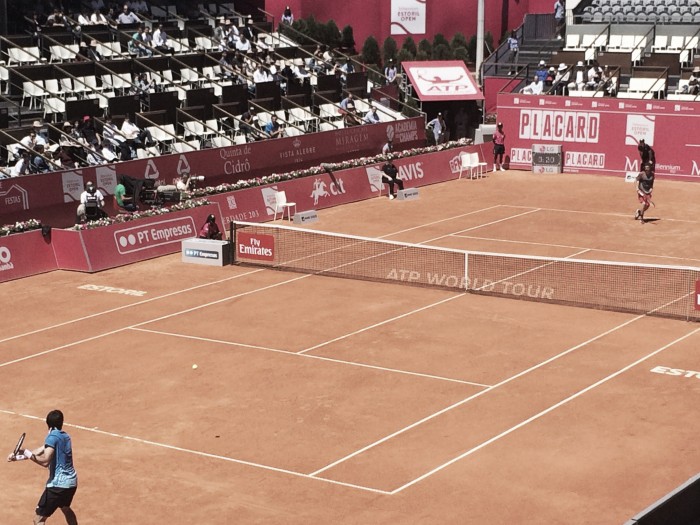 It was a sunny day at the Millennium Estoril Open and to start the journey on the Court Millennium, Leonardo Mayer faced Pedro Sousa, a local wild card who had a lot of support from the crowd. This was their third meeting as they met each other before on the ATP Challenger Tour.
One-sided first set to Mayer
To start the first set, Leonardo Mayer had some troubles, Pedro Sousa started very confident and forced the argentine to save two breakpoints and hold with some difficulties. After these breakpoints, Leonardo Mayer totally dominated the first set with his dominant serves and with his powerful forehand. Pedro Sousa was missing too much, committing a lot of unforced errors.
Although he was missing too much, there was a game in the set where Leonardo Mayer dropped his level, it was when the Argentine was serving for a 5-0 lead. He faced a 30-30 battle but was able to hold. After this, the Portuguese put his name on the scoreboard and forced Mayer to serve for the first set at 5-1. Sousa still had a break point when the argentine was serving for the set, but Mayer saved it and held his serve to conquer the first set. The set ended 6-1 to the South American.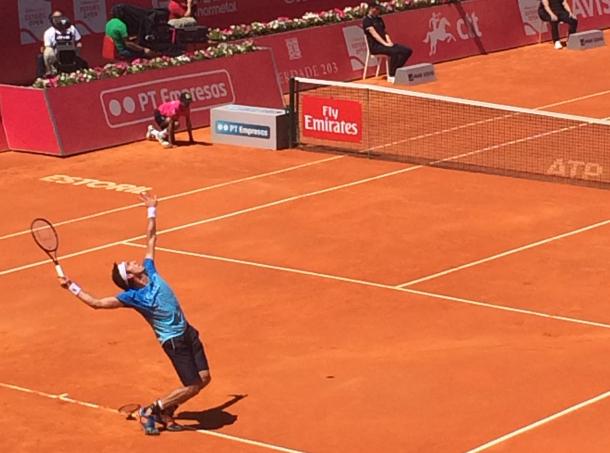 Second set with a lot of chances for Sousa but Mayer takes it
Pedro Sousa started the second set serving and his strokes were being too short and Leonardo Mayer took advantage of that. Sousa got broken at the first game of the second set with a double-fault. the Portuguese was still not playing good and sometimes a good point used to appear. With a confident hold, Pedro Sousa made it 1-2 in the second set. They started to make the points much more taxing, and Sousa broke Mayer's service on the only break point he had on that service game.
Sousa was being more assertive and held for 3-2 where he had two break points on Mayer's serve but was not able to take them. With a couple of forced errors from Sousa, Mayer held and leveled the set at three games all. Pedro Sousa dropped his level and got broken for 4-3, and the Argentine was serving to stay in the match at 5-3, but he just held after saving a break point. Leonardo Mayer was serving for the match at 6-1, 5-4 and conquered the victory, but not before Pedro Sousa saved two match points. The match ended 6-1, 6-4 to the Argentine.
Post-match conference (Pedro Sousa)
Pedro Sousa talked about the match with the journalists. He said "Although I have done a lot of matches this season, that's not related to the match that I've done today. I played well and he [Leonardo Mayer] has a lot of merit. He played very well specially on his serve. At the ATP Tour level is always much more difficult and he has a lot of credits on the way he played."
Stats
Leonardo Mayer put 71 percent of first serves in but as usual Pedro Sousa put a very high percentage of them in too with 88 percent of first serves in. Pedro Sousa made one break from six looks. The Argentine won four breakpoints of the seven he had in his favor. Mayer aced Pedro five times and double faulted twice. Pedro Sousa made two double faults. Pedro Sousa had five unconverted break points.
What's next?
Leonardo Mayer will now face the winner of the match between Paolo Lorenzi and Elias Ymer.
Pedro Sousa will return to the ITF Pro Circuit to play some Futures tournaments.