 After the loss in Monte Carlo at the quarterfinal stage to Rafael Nadal, Dominic Thiem is playing Munich, before participating in Madrid, Rome and Nice and will end the clay season at Roland Garros. When speaking about his goals for the rest of the clay season, especially in Paris, he said, 'The goal for Roland Garros is to reach the second week and keep being in this shape. I do not set limits, I do not look to the future, I only want to improve every day," he said to Der Standard.
Matches against Nadal and Djokovic
This season, Thiem lost to Novak Djokovic 6-3, 6-4 in the fourth round at the Miami Open after failing to convert several break points and in the two matches against Nadal in Buenos Aires and Monte Carlo, he beat the Spaniard in Buenos Aires, but lost to him in Monte Carlo, but again failed to convert more than 10 break point chances. However straightforward the results might seem, Thiem however looked at them differently and said, "I learned a lot. Nadal is tough, but I would have won the first set. The disappointment became confidence, because I know in some periods of the match I dominated. Against Djokovic I did bad errors, but against him, Nadal or Murray you tend to miss easy balls and so to take more risks. This is a learning process."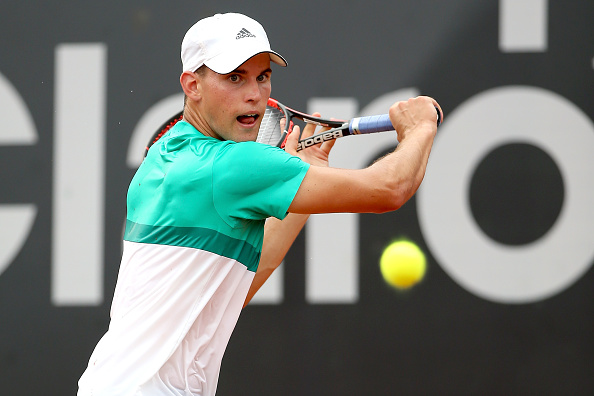 World number one and Rio Olympic plans
Thiem does still think about becoming number one in the future, but was also pragmatic about it as he shared, "It is something extremely difficult. It's a dream that becomes true for a very few ones, I admit it, but you cannot rule it out."
The world number 15 then talked about the doubts he has playing at the Rio Olympics this year. According to the Austrian, the schedule of the event was tough and even though he did feel fit he still wasn't sure at this point about his participation in the Olympics.
Finances
When the topic was switched to the finances of the sport, Thiem shared that his grandparents sold their apartment in order to provide for his tennis career and how thankful he was and felt about the huge gesture. "Sometimes I think about it. I am so happy they did it. It would be easier to not do it. My family never put me pressure," he said, before continuing about the monetary aspect of the sport. "If you lose at Challenger level you are in a bad situation. I never thought about money. Who thinks of making money does not make it. It's reassuring that you can afford the physio and coach, it makes the things easier. You can buy some good food even if it's expensive."
In terms of prize money, Thiem has earned $755,000 this year alone so far and $2,800,000 in his career to date.