After defeating the local wildcard Frederico Silva on the first round, Nicolas Almagro stepped the main court of the Millennium Estoril Open to face another local player, this time it was João Sousa.
Portuguese plays good first set
The first set started with Almagro to serve, in the first game of the match, he was aggressive and and held his serve easily. In the third game of the match, Nicolas Almagro got broken, João Sousa started to impose his rhythm and broke his opponent serve. Sousa was leading 2-1 and almost saw Nicolas break back. that didn't happen though and Sousa held with an ace. João Sousa was leading 3-1 and was able to take the game to deuce, but Almagro was stronger and confirmed his serve. At the end of the set, when the Portuguese was serving for it, he faced two break points but saved them and conquered the first set 6-4.
Quick and easy second set for "Nico"
"Nico", as the fans call him, started the second set on serve and it was dominating with that stroke. He did the 1-0 and right away broke João Sousa's serve. Nicolas Almagro was playing very well, with deep balls and a very consistent tennis. The Almagro we knew, that would've commit very unforced errors, was not here in Estoril. This new Almagro played a very consistent tennis without failing a lot. Sousa still saved a set point when the Spaniard was serving for the set at 5-1 but at the second set point, the former top10 took the second set 6-1.
Third set almost ends early
The third set was a more disputed set. To start the set was Sousa on serve. When the scoreboard was 0-30 he twisted his foot and the match was interrupted for a couple of minutes. He saved two break points and then gave the game with a double fault. Nicolas Almagro held his serve and took the lead 2-0. The last service game from Sousa was given with a double fault, but this one was taken with an ace. The Spanish man was still commanding his service games and didn't give any chance to the Portuguese.
Returning at a very high level, the world number 71, broke Sousa's serve once again. Sousa was serving very poorly. Almagro held at love. When the world number 34 was serving to stay in the match (5-1 to Almagro) he saved one match point and forced Nicolas Almagro to serve for the match. It was not difficult to Almagro and he closed the match. The match ended 4-6, 6-1, 6-2.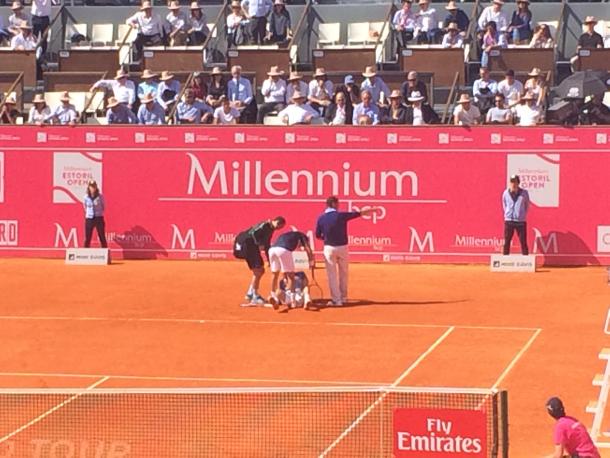 Post-match statements
Nicolas said after the win that "First, the conditions are tough. Playing a Portuguese player in Portugal, being the best tennis player of his country is tough, there are a lot of hope in him. He started motivated, he didn't make much mistakes and I couldn't find I way to make damage in his game. At the end of the first set I started playing much more aggressive and I had two chances to level the game at five games all. From there on I started to find my tennis and at the end it was a very disputed result." Almagro added that he is "ready to win" but he is in the quarterfinals so "they are all good players."
João said: "Did a nice first set, I was able to play at a good level. On the second set he [Nicolas Almagro] started to play better and served very well and in the third I had some physical problems that didn't help to finish the match well." Sousa didn't want to make his twisted foot an excuse and told the press: "First of all I want to say that I'm not excusing my loss with my physical condition. The physical condition is what it is and I did not play at a hundred percent but I didn't lost due to my physical condition, I was not mentally at my best."
Up next
Nicolas Almagro will face Leonardo Mayer this Friday for a place on the semifinals.
João Sousa will make some medical exams on his foot and decide if he plays Madrid Mutua Open next week or not.