 Sometimes other players just have your number, and for Samantha Stosur, the Aussie knows this feeling all too well, especially in her rivalry with Czech Lucie Safarova. On Saturday, the pair will square off in the final of the J&T Banka Prague Open with the latter holding the home court advantage, and in many ways, the psychological edge as well. In 13 previous meetings, Stosur has only been able to gain the upper hand on Safarova thrice, though she has been agonizingly close on numerous occasions. For two players who have both enjoyed great success at the upper echelons of the sport, more so Stosur than Safarova, why might this head-to-head record be so lopsided in favour of the Czech?
Well, the difference makers lie in two distinct areas: technical and psychological.
Technical Keys: Safarova's Serve and Forehand
Technically speaking, Safarova comes into every match with Stosur with a very specific game plan, one that the former U.S. Open champion still struggles to solve when confronted by it. For starters, both players rely heavily on their respective serves and forehands to get them in an offensive position time and time again, as their games are built on a foundation crafted with power and spin. However, it's the way Safarova utilizes her weapons that really makes the difference.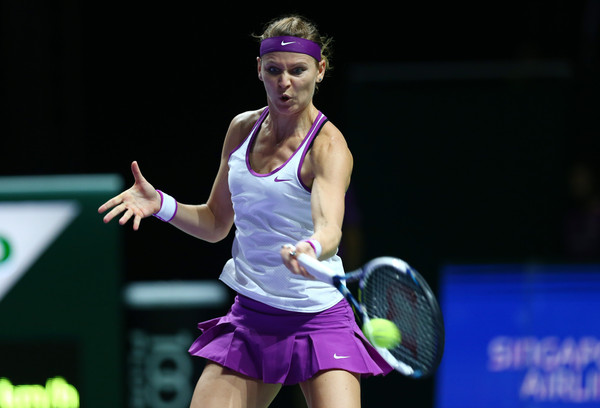 As one might already know, Stosur's backhand has always been one of her biggest liabilities throughout her career, and Safarova does a great job of exploiting this weakness time after time, and the head-to-head record is a clear reflection of its effectiveness. Even when Stosur utilizes her big serve to put herself in an offensive position, Safarova does a great job of neutralizing her opponent's positioning, to the point where the Australian can be caught flatfooted and off balance when returning the service return. From there, this is when things start to go awry for Stosur. At some point in the rally, the former Grand Slam champion usually hits a slower, high midcourt ball that the former French Open finalist is able to pounce on right away. Using her forehand, the Czech is able to start a forehand to backhand rally with Stosur, ultimately trying to wear down her opponent's weaker wing. Throughout the course of their rivalry, the Australian has been able to work her way through points to play more to her strengths and her opponent's weaknesses, however she still finds herself in these crosscourt exchanges with the Czech, and she has yet to find a solution.
Since Safarova is left-handed, the 29-year-old is able to utilize not only her lethal forehand, but also her deceptive serve to keep Stosur on her toes. Interestingly, the current world number 16 is arguably one of the few left-handers who has developed a true left-handed serve, meaning she is able to hit her serves with a combination of power and spin that curls away from her opponent down the T on the deuce side and out wide on the ad side. This is already bad news for Stosur as both of those spinning serves are intended to spin to her backhand, which usually starts the all-too familiar Safarova forehand to Stosur backhand pattern of play.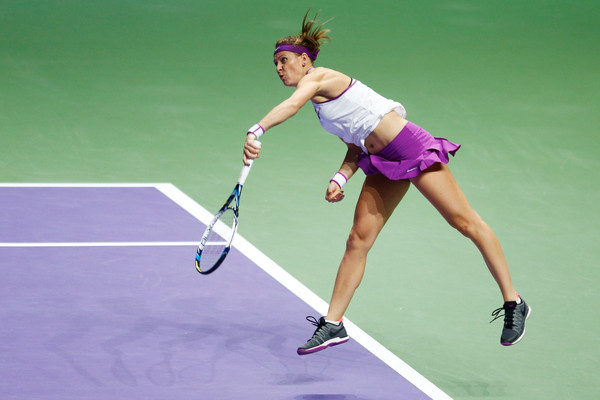 Psychological Key: Safarova's Winning Head-to-head Record
Like in most one-sided rivalries, the player consistently coming out on the losing end must always have a sense of doubt in the back of their mind, which is a very unfortunate thing to say. Every match should be viewed as a new opportunity, but for those who know the odds are stacked against them, it is mightily difficult to get over that emotional hurdle that often athletes create for themselves. Regardless of how mentally strong an athlete is, one has to wonder about their mentalities heading into a match that could be another all-too familiar case of déjà-vu. One would have to think the same applies to this rivalry, and Safarova undoubtedly holds the mental edge in that she has the belief in her own capabilities and that she can deliver time and time again, whereas Stosur is never able to really settle in any of their matchups.
How Stosur Can Beat Safarova
If Safarova continues to use the same patterns of play that have proven most effective against Stosur, there is no reason why she can't notch an 11th victory over the Australian under her belt. However, for Stosur, it will be a much more different story.
Serve Well; Change Patterns
Though this is an obvious part of the game plan, serving well cannot be stressed enough for Stosur, who desperately needs to get off to a good start from the receiving end. But even more importantly, she will need to change her serving patterns consistently to keep Safarova honest.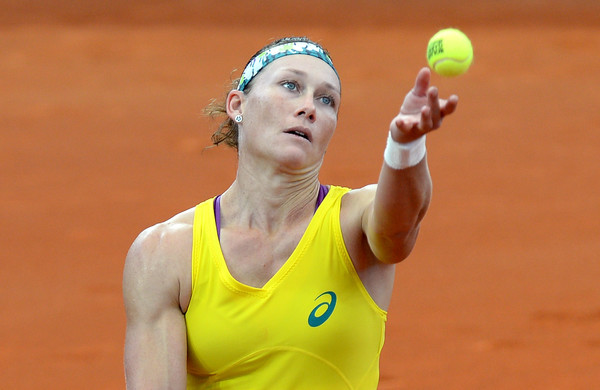 Look to Engage in Forehand to Backhand Rallies
Like Safarova, Stosur should be looking to follow this pattern of play, though it will be reversed; the Aussie's forehand to the Czech's backhand. Though Safarova's backhand is still solid, Stosur should look to break down that wing more often than not, as she does not want to find the tables turned on her once again.
Implement More Variety
For many years, the former U.S. Open champion has used her trustworthy backhand slice to block and slice the ball back whenever she is not feeling confident on her backhand side, but this has not proven effective against the former French Open finalist. Though she should continue to use her backhand slice, perhaps the Australian should look to hit more drop shots and come to the net more often. She should look to test the mobility of her Czech counterpart, which is not the strongest part of her game, as well as finish off points at the net. As an experienced and accomplished doubles player, the Australian should look to implement more variety in her game in an attempt to throw off Safarova's rhythm from time-to-time.