 A few people, but not many, did predict Angelique Kerber to take the Australian Open title; the 7th seed was overshadowed by the likes of top seed Serena Williams and 13th seed Victoria Azarenka.
Yet Kerber, who before Melbourne had a combined one win out of 11 meetings against the two favorites for the title, beat both on her way to the title, stunning Williams in the final. It was certainly a remarkable run and pushed her to the top of the Road To Singapore, a position she got back off Azarenka following her two clay tournaments this year.
Kerber did suffer a little wobble after Melbourne, but is certainly back on track now and the world number three has revealed her aim is to reach the world number one position.
Can she do this? To come to a conclusion on this, we need to look a variety of factors.
Form so far in 2016
Though the win at the Australian Open certainly helps her position, the fact that Kerber is currently top of the Road To Singapore shows that she is building a very solid season; something that is certainly needed to rise to the top of the rankings.
Outside of Melbourne, Kerber has recorded some other strong results. Just last weekend she defended a title for the first time, beating Laura Siegemund to take the title at the Porsche Tennis Grand Prix. She also started the year well with a runner-up finish at the Brisbane International, losing to Azarenka, whilst she also reached the semifinals at the Volvo Car Open, where she had to retire to Sloane Stephens, and at the Miami Open, where she once again lost to Azarenka. These have all been good results for her, and extra consistency in her game is certainly making her a force in tennis.
However, as previously mentioned, Kerber did suffer a blip after winning her first Grand Slam title, losing to Saisai Zheng in Doha and Denisa Allertova in Indian Wells in her opening matches at both tournaments. These losses were worrying for the German, though they are looking like a blip considering her strong runs since then.
Overall, her form in 2016 does suggest that she is capable of the world number one position. Generally, she has played some strong tennis, winning two titles, and has often found a way to grind out some tough wins. Furthermore, though she suffered a blip, she moved on and quickly found her form again, showing the mentality someone at the top of the game needs.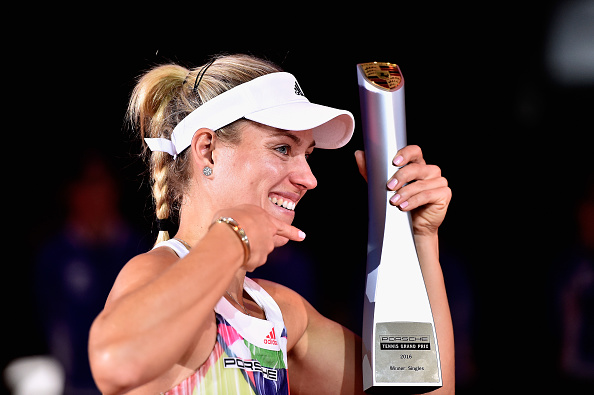 Her game
Perhaps the biggest feature in rising to world number one is how someone plays, and there is little doubt that Kerber has massively improved in this since the beginning of last season.
One reason why Kerber used to look as if she was going to be a nearly-woman was the weaknesses in her game. Though she always was a good defender and had good groundstrokes, she was rarely aggressive enough to constantly challenge the top players and there is no doubt that her weak second serve was attacked relentlessly by the likes of Azarenka and Williams.
However, this has changed for the better. The world number three still uses her strong defense, though is now much more aggressive and is willing to attack much more than before. Also she generally has a higher first serve percentage these days and though her second serve isn't strong, the extra bit of power and improved placement on it means it is much less of a weakness than before. Furthermore, she has also become an even better mover, which shows a desire for perfection as this was a strong area for her.
Overall, the improvements in her game do suggest that she can become number one. She may not have the strongest game still, but her results this year just show how much she has improved in terms of being aggressive and having less weaknesses, and her improvements show how hard she is willing to work to make herself the best in the world.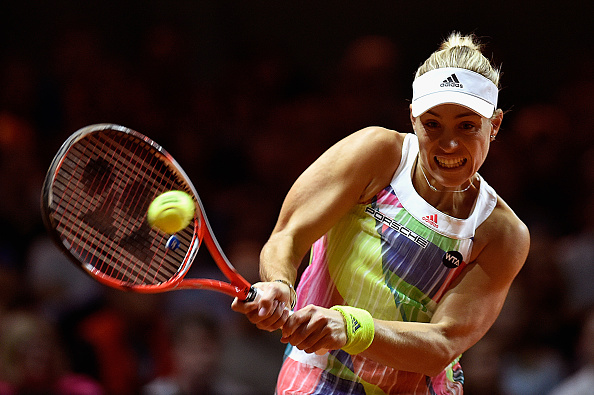 Her opponents
Other players could well be the barrier that stops many reaching the number one position, and for Kerber that is particularly true.
Whilst she beat both Azarenka and Williams in Melbourne, she is behind in the head to head to both and has lost to Azarenka in straight sets in both their other clashes this season. It is perhaps Azarenka who is the biggest threat to Kerber. The Belorussian is second on the Road To Singapore, behind Kerber, and this may be because she has played less tournaments than the German. She is certainly back to her best, winning three titles, including the Indian Wells-Miami double, and though Kerber is the only person to beat her in 2016, has the game to beat Kerber.
Williams could well be a threat as well, though some factors are against her. It has been a below-par season so far for the American, and even if she does get back to her best, she will not be around forever and Kerber is six years younger than her; Kerber certainly has time to take top position.
However, there are other dangers. Outside of Williams and Azarenka, perhaps the biggest threat to Kerber is Garbine Muguruza. The Spaniard is certainly talented, with a big game, and though she has been erratic since her final appearance at Wimbledon, she leads the head to head against 4-3, with her four wins all coming in their last four meetings. Kerber has also struggled against other young stars like Belinda Bencic and though her games has improved, can still be beaten if someone has much more power than her.
It seems that other players could be the biggest factor against Kerber reaching the world number one spot. She has a strong game, though it doesn't always match up to the current and future stars of the game.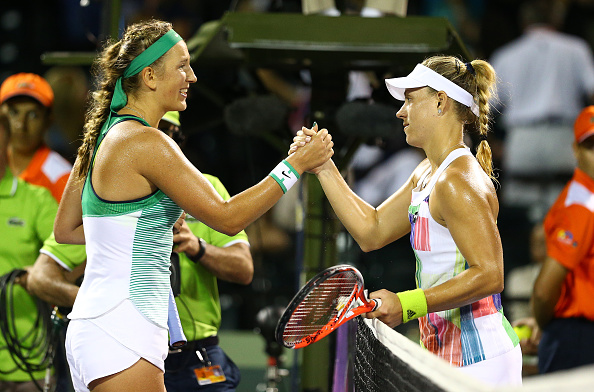 Surfaces
To become world number one, a player usually needs to record strong results on hard, clay and grass courts, and Kerber is certainly capable of performing well on all three.
She has already won titles on all three surfaces, with five her titles coming on hard, three on clay and one on grass. Kerber has also recorded strong performances at all four majors, with the French Open the only one of the Grand Slam tournaments where she hasn't made the semifinals.
Overall, her general strength on all three surfaces is certainly an advantage for her, and will be important for her quest to become the world number one.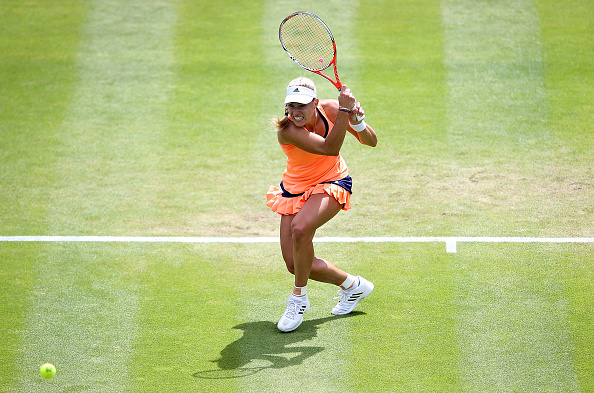 Points to gain in 2016
Kerber's 2015 season was fairly strong overall, though she rarely performed well at the biggest tournaments, and there is a big opportunity for her to take advantage of this, this season.
Whilst the likes of Serena Williams has an incredible amount of points to defend at the majors this season, Kerber lost in the third round of the remaining majors last year. She has already taken advantage of the massive opportunity in Melbourne, winning the title after suffering a first round loss in 2015 to Irina-Camelia Begu, and she must improve on her other Grand Slam results from last year to have any chance of taking the number one position.
There are also opportunities for the German to gain points at the Premier Mandatory and Premier 5 events, such as the Mutua Madrid Open and the Internazionali BNL d'Italia over the coming weeks; big performances at the big events will mean that points she loses from smaller tournaments will have less impact on her rankings.
Overall, this is a crucial way in which Kerber could take the number one spot, though she can't really afford to have too many early losses at the bigger tournaments; can she handle the pressure?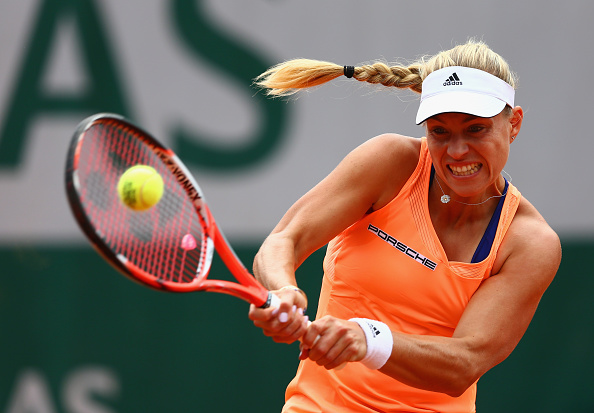 Conclusion
Angelique Kerber can become the world number one.
It's a sentence that many would have never thought about saying, though most signs are pointing that way. Kerber could be held back by the strengths of other players, though her triumph at the Australian Open has given her a massive platform to build on, and her game in now much stronger than ever before. There are also many big opportunities for her to gain points, and with Serena Williams not at her best, it could well be Kerber who replaces Williams at the top of the game.