 After a stunning turn of events, Dominika Cibulkova will face off against Sorana Cirstea with a spot in the last four of the Mutua Madrid Open on the line. The pair are scheduled to take to court Estadio 3 for their last eight meeting as the third match on after a pair of highly-anticipated ATP singles and doubles matches.
Cibulkova's Road to the Quarters
If there's anyone who's had a more difficult road to this stage of the competition, it would arguably be Slovakia's Dominika Cibulkova. The Slovak is still looking to rebuild some of the form that saw her reach her maiden Grand Slam final Down Under and crack the top 10, after missing part of the 2015 season due to Achilles surgery.
Beginning the week on a brisk, cool evening in the Spanish capital, Cibulkova met top seed Agnieszka Radwanska, whom she had lost to after holding a match point in their meeting at Indian Wells less than two months ago. After taking the opening set, the 26-year-old was on the cusp of finally getting over the line against the Pole, but squandered a 5-3 lead before dropping the second set in a tiebreak, in an unfortunate case of déjà-vu. Fortunately for Cibulkova, her trademark fighting spirit and peristence was eventually rewarded as she ousted the top seed 6-4, 6-7(3), 6-3 in two and a half hours of dramatic tennis.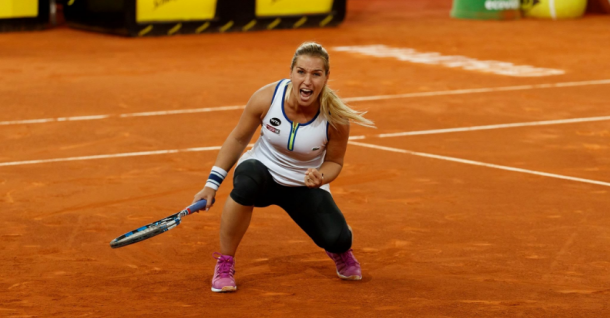 Two days later, Cibulkova found herself in an even tougher situation against Caroline Garcia. Trailing 0-6, 0-3, 15-40, the Slovak suddenly burst into life, finding her groove from the back of the court. And with the help of her nervous-looking opponent, Cibulkova was able to string off six games in a row to take the set 6-3, before sealing what looked like a seemingly unlikely victory, winning 6-4 in the third.
On Thursday, Cibulkova came from a set down once again to defeat Anastasia Pavlyuchenkova, 2-6, 6-3, 7-5 in a thrilling clash at the Caja Magica. Despite giving the Russian a lifeline when serving for the match at 5-all, Cibulkova's trademark fighting spirit and impressive returning ultimately made the difference in a match that could have gone either way.
Cirstea's Road to the Quarters
On the other side of the net, Sorana Cirstea certainly hasn't had an easy road to the last eight either. After a disappointing last two seasons, the Romanian kickstarted her season with a string of great results on the ITF Pro Circuit, a wise move to regain some of the confidence that had eluded her in recent years.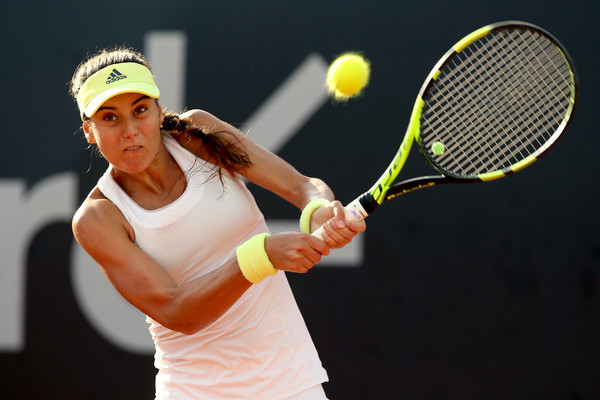 In her opener, Cirstea faced Jelena Jankovic, whom she had beaten multiple times in thrilling clashes on the European red clay. This time around, it was a much easier affair as the world number 127--who had entered the draw as a wild card--downed the former world number one in straight sets.
In the following round, the 26-year-old took center stage on court Manolo Santana to take on Montenegro's Danka Kovinic. In the end, Cirstea's combination of controlled aggression paired with picture perfect precision proved to be the difference against a shaky Kovinic, ultimately allowing her to prevail 6-3, 7-5.
On Thursday afternoon, Cirstea came in as the underdog against Laura Siegemund, who was riding a wave of great form after reaching the final of Stuttgart from the qualifying. With the odds seemingly stacked against her, the Romanian showcased why she was once ranked as high as number 21 in the world with a hard-fought 6-4, 7-6(9) win over the German.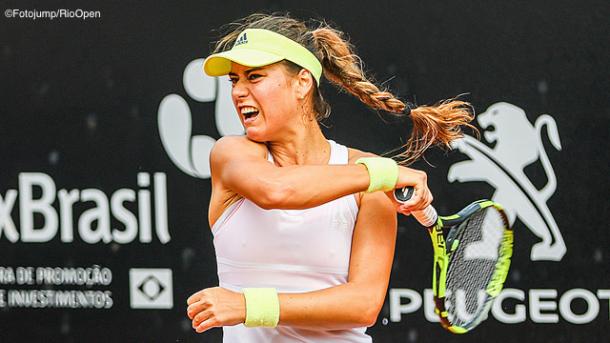 Head-to-head: Advantage Cibulkova
In four previous meetings, Cibulkova has prevailed in three of them, all in straight sets, with Cirstea's lone victory coming at the 2012 Bank of the West Classic in Stanford.
After their first meeting in 2009, Cibulkova prevailed in their lone meeting on the red clay of Barcelona, emphatically winning 6-1, 6-1. However, as mentioned, Cirstea got revenge a few months later, coming from a set down to completely overwhelm the Slovak with her sheer power, prevailing 6-7(5), 6-2, 6-0. In their last meeting, it was Cibulkova who gained the upper hand, handing Cirstea a 6-4, 6-0 victory en route to a championship-winning run at the Bank of the West Classic in 2013.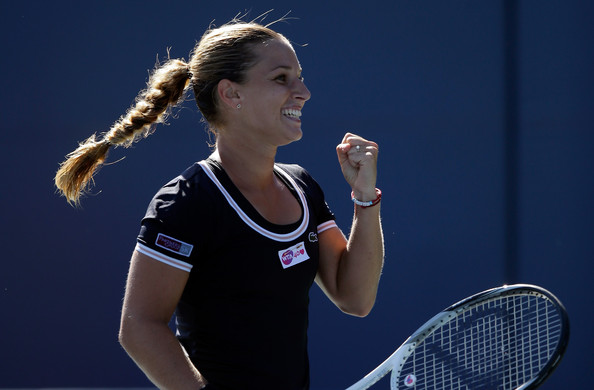 Analysis
In this encounter, it is all but guaranteed that this will be a hard-hitting affair between two players who love getting the first strike in as many rallies as possible.
For Cibulkova, it is a given that she needs to serve well and get a higher percentage of first serves, because Cirstea will be looking to punish any short second serves. In addition, the former Australian Open finalist must look for any opportunity to attack and apply pressure on Cirstea from the back of the court, as the Romanian's defence can often be a liability if put in that position. If she needs to defend, the 26-year-old needs to keep the consistent explosiveness in her movement and intangible fighting spirits when put under pressure.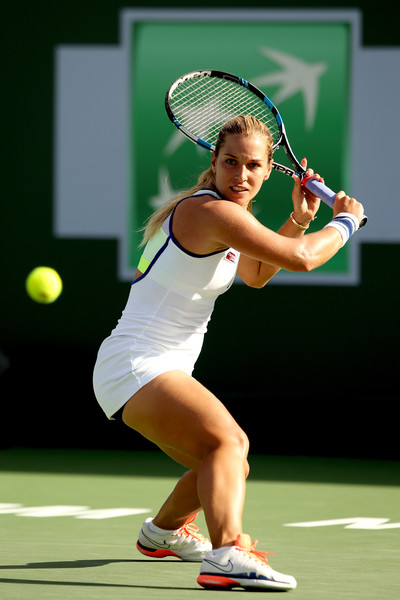 For Cirstea, like Cibulkova, she will be looking to get that first strike with more precision and power. Recently, the Romanian has begun to play with a more controlled type of aggression, that has undoubtedly proven to be more effective than her flat-out aggression, which runs the risk of leading to high unforced error totals. Just like in every one of her matches this week, Cirstea needs to make sure her newly-abbreviated serve holds up under pressure, a fragility all players consistently struggle with.
Final Thoughts
Though Cirstea has looked mightily impressive this week, Cibulkova is playing some of her best tennis since returning from Achilles surgery. A title in Katowice, and a trio of hard-fought wins will give her the confidence she needs to stay calm and believe that she can produce the goods under pressure, especially if Cirstea begins to find her rhythm on the big points.
Prediction: Cibulkova in three sets