 Novak Djokovic made quick work of Roberto Bautista Agut in the third round of the Mutua Madrid Open. Djokovic won the match in straight sets, 6-2, 6-1, and got off the court in an hour and 35 minutes.
Djokovic finds another gear, takes command of opening set
Roberto Bautista Agut held his first service game fairly easily. But for Djokovic, he played an excellent, passing back hand down the line for Djokovic to get to 0-30. Djokovic then, on 0-40, hit a shot into the net to give Agut a bit of hope. That hope quickly went away though as Djokovic held his serve on the next point.
In Agut's second service game, to get back to 15-all, Djokovic hit a back hand long following a 22-shot rally. Agut then, to retake the lead the third game, moved from left to right well and hit a flat shot that Djokovic buried into the net. However, Agut struggled on two more points, bringing the game's first deuce. He got advantage by changing the direction of Djokovic's return, before his opponent hit a shot wide to hold serve.
On the opening serve of the fifth game, Agut failed to connect on a simple drop shot that gave Djokovic the early 0-15 lead. Djokovic was aggressive on his return, forcing Agut to play defensive, and brought this game to 30-30 as a result. As Djokovic attempted to lob a ball over the head of Agut, the Spaniard ran backwards and played a great shot when he reached up to get a piece of the ball. An audacious drop shot from Djokovic got chased down by Agut but the return went just a little wide for break point number three. Djokovic would get a break, on his fourth attempt, after hitting a cross-court winner that Agut just missed.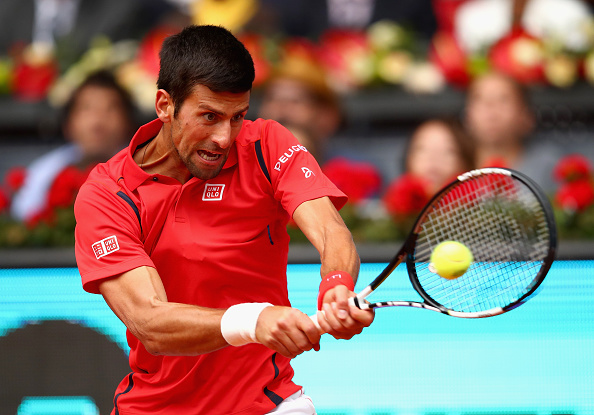 Djokovic would go on to consolidate his break with a hold to love net winner, going up 4-2. In Agut's service game following the consolidation, Djokovic started to unload on shots, taking a 0-40 lead. Djokovic would get a second break on the next point. Eventually, after getting to deuce, Djokovic won the first set 6-2.
Djokovic dominates second set
Following the pairs opening service games in the second set, Djokovic began to cruise again. On the first break, Djokovic was already up 15-40, Agut dug himself into a whole as he hit an unforced error to get him a 2-1 lead.
After taking a 30-0 lead, Agut fell apart, giving up five straight points. Djokovic, to win another break, hit a shot up in the air, but Agut smashed a forehand into the net, giving Djokovic a 4-1 advantage. On Djokovic's consolidation, the pair exchanged a couple of drop shots before Agut's second one fell short. In the final game of the match, Djokovic broke Agut one more time without allowing the Spaniard to get a point.
This is the kind of tennis that Novak Djokovic capable of. Even if it seems like the Serbian is not playing his best, he will take his game to another level immediately. Djokovic was dominate throughout once more, converting all 15 of his second serve opportunities, while also winning 25 of his 28 first serve points. Djokovic cleaned up his serves and it proved to be the key in this match.