 Kei Nishikori and Richard Gasquet faced off against each other in the third round at the Mutua Madrid Open. The Japanese came away a 6-4, 7-5 victor against the Frenchman, who for the first time couldn't find any answers as he suffered his first loss to the Japanese. Nishikori will now face Nick Kyrgios who needed three sets to defeat clay-court specialist Pablo Cuevas.
Nishikori takes opening set
Richard Gasquet got proceedings underway against Kei Nishikori and he found himself saving two break points in the opening game, before Nishikori put away a forehand to put a stamp on the match early on. The Japanese consolidated for 2-0. The next three games saw both players held, despite Gasquet facing a break point in the fifth game. With Nishikori's serving, Gasquet broke to love to get back on level terms.
However, the world number six had other ideas. Having had one break saved in the game, the Japanese broke straight back to go ahead at 4-3. He once again consolidated and was within a game of the set. In the upcoming game, Nishikori gained his first set point at 30-40, but the 29-year-old won the point and held in one of the longest games of the set. Nishikori then held his serve to win the set 6-4.
Nishikori books spot in quarterfinals
Both players got the set underway by holding. In the third game, Nishikori got his first break of the set, which he took and went ahead 2-1 on Gasquet, a player who he had not beaten in six attempts. He consolidated once more and went 3-1 up. The next six games saw both players hold their serves with Nishikori still a break up. In the tenth game, Nishikori raced away to a 40-15 lead and had double match points before Richard Gasquet had to fight hard to erase both to get to deuce. A point later saw Gasquet with a break of his own, which he took forcing the error from Nishikori following impressive defensive skills.
Just like the first set, the Frenchman failed to consolidate and got broken straight away with the 26-year-old Japanese now serving for the match. With Gasquet looking to take the set into a tiebreak he came from 30 love down to gain a break point opportunity, but the 2014 runners-up won the point. Nishikori ended up taking the match on his third point, getting on the front foot and attacking the Frenchman, which forced the error and after one hour 39 minutes, the Japanese booked a spot in the quarterfinals and notched his first win over the 29-year-old.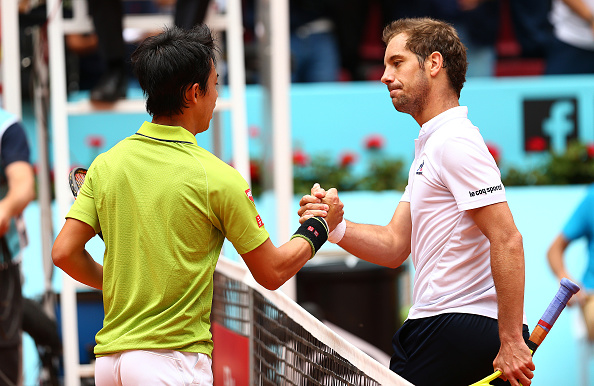 Stats
Richard Gasquet served three aces and only one double-fault, while Nishikori served one ace and one double-fault. Gasquet struggled on serve, winning 56 percent points on first serve and only 50 percent on second serves. The Japanese found success on his first serve winning 73 points, but on his second his levels dropped and won only 55 percent points. Gasquet saved five from nine break points, while Nishikori saved one from three.
Gasquet was less than impressive on return points, winning 28 percent on his first and 45 percent on his second. Kei Nishikori faired better than his French opponent winning 44 percent on first return points and 50 percent on his second. Gasquet broke twice out of three times, while Nishikori broke four out of the nine times. 29-year-old Gasquet won 45 percent total points, but Nishikori won 55 percent.