In just one hour and 28 minutes at the Italian Open, Kei Nishikori defeated Richard Gasquet in straight sets, winning 6-1, 6-4.
Before this season, Nishikori struggled against Gasquet, losing all six of their previous encounters. However, Nishikori has bested the Frenchman in their last two meetings, both on clay.
Nishikori dominates opening set
In just the first game of the set, Nishikori broke Gasquet in impressive fashion without dropping a single point, He moved around the court well and placed his shots with precision. At 30-30 in the third game, the two endured a long rally, but Gasquet was being forced to move from side to side again. As the Frenchman started running one way, Nishikori placed a backhand shot back the other way and promptly got the second break on the next point.
Nishikori continued to move dominate and was quickly up 4-0. On the other hand, it took Gasquet five games before he finally winning a service game. The opening set was won two games later as Nishikori broke Gasquet once more.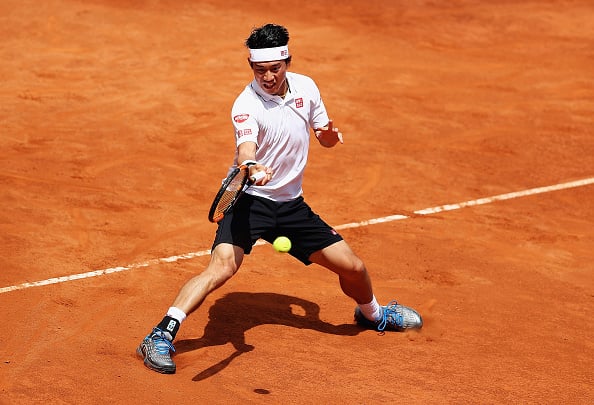 Gasquet gets broken early, can't recover
The second set began much like the first one. Following Nishikori's hold, Gasquet was broken on his first service game of the set. Gasquet struggled with the speed in which Nishikori hit as Gasquet was constantly playing behind the baseline. In the third game, Gasquet finally made Nishikori work as the game went deuce two times before Nishikori finally held serve.
Two games later, the two men played their longest game of the match. It looked as Nishikori was going to have an easy hold as he raced out to a 40-love advantage. However, Gasquet battled back, winning the next three points. The battle continued and Gasquet had three chances to break but could not convert on a single one.
Gasquet finally managed to get a break in the seventh game and managed to consolidate the break to bring things back to four all. But, that would be the only opportunity to come back into the match as Gasquet was broken once more in the final game.
Key stats
The opening set of the match was won based off of first serve points and break point opportunities, both of which went the way of Nishikori. The Japanese man was phenomenal on serve, winning 10 of the possible 11 first serve points. This, though, is where Gasquet struggled, winning a mere six points on his first serve. On break point opportunities, Nishikori was a perfect two for two while Gasquet could not even get one.
Coming up
Kei Nishikori now has his eyes set on a spot in the final four of the tournament. However, he will have to get by Dominic Thiem first in the quarter-finals.