Reaching the semifinal at the Internazionali d'Italia is the biggest achievement for the Romanian, Irina-Camelia Begu in non-Grand Slam tournaments as she moved past Misaki Doi in straight sets. A performance which will ensure her a spot amongst the top seeds at the French Open. This win is added to yet another great performance for the Romanian tennis after having four players in the quarterfinals in Madrid, this is the third time in four years when a Romanian reaches the semifinals in Rome.
It was the third quarterfinal in a row for the Romanian after she reached the same stage at Charleston and at the Mutua Madrid Open where she was defeated by her countrywoman Simona Halep. Begu is having a great period after not being able to win one single match in the first two months of the season due to a left knee injury. Since March, she managed to win some tough matches, just the fact of being able to go into a third set and still play great tennis seemed to have given her the confidence that her physique can sustain tough matches and she can get the win.
After that injury, Begu said that she learned to enjoy the simple fact of being on the court, and such a mindset released her from pressure and made her tennis grow. That being said, results were instantly noticed, at Madrid she scored her first top 10 win over Garbiñe Muguruza and then she came in Rome where she beat Margarita Gasparyan, scored a convincing victory against Victoria Azarenka and outlasted the young Russian star, Daria Kasatkina. What did she take out of these matches? The confidence that she can beat anybody in the top.
But she still had to get those wins against players lower-ranked and players she should be able to beat on any normal day. That was the case today against Misaki Doi. The Japanese was enjoying a great tournament here in Rome reaching the quarterfinals after beating Alize Cornet, Lucie Safarova and having scored a rather surprising win over a Johanna Konta.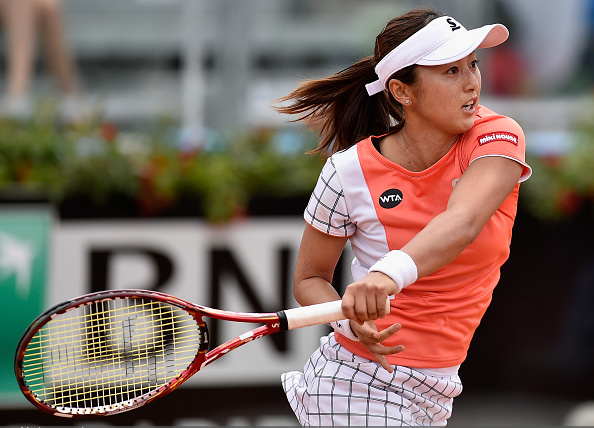 Irina Begu more consistent to take the first set.
Begu started the first set stronger as she managed to break first and then to consolidate. They both showed some sign of nervousness at the beginning of the match as it was an important moment for both of them. Begu was seen as the favorite one ranking wise so she had to show that on the court. After Konta lost to Misaki she said that the Japanese level was very high and that she was in control of the match, so for Begu, it was important to keep her game at a constant level and not give Misaki the opportunity to get on top.
And she did so as she broke for a 4-1 lead and things seemed to go in Begu's favor. The main factor that contributed in today's match was the belief that she belongs at the top. While serving she controlled the points, she had rhythm, had more pace and the confidence to hold with no problems. Her serves was the key point in every match she played, with an excellent percentage on the first serve, up until that point she had won 8 out of 11 points giving her a 73% successful rate, soon the number began to drop as the wind was causing her problems with the ball toss.
Misaki was showing a great attitude out there, always looking to run for the balls, to be more aggressive on the return, she was going for the shots and taking risks, even though that caused her to make lots of unforced errors, especially on the forehand side. However, she wasn't giving up and managed to break to love. In the next game Begu tried to put Misaki in trouble by hitting alternative shots and stretch her from a side to another, playing also with great angles and depth.
Misaki, despite her height, is able to generate so much power, and that helped her in today's match especially with those blistering backhands. But as usual, one brilliant shot is not enough to get you on top of the score, Begu was more consistent, played a steadier aggressive tennis and after getting her break back she served out the first set with no problems.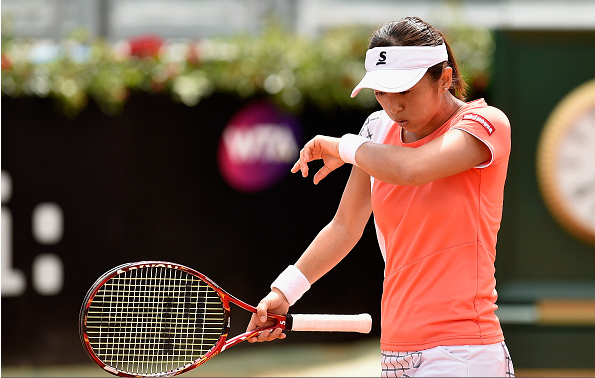 A tighter second set in which Begu comes on top.
The second set was a different story, the games were tighter, the tension was higher and except some good exchanges, the games were fractured and not so much enjoyable to watch. Both player wanted the win and in order to that they didn't played their best tennis, were a lot of errors -58 combined-, and none seemed to be able to get the upper hand.
Until the fourth game, both players held theirs serve easily, and then Misaki started to attack everything was short from Begu for whom the pressure seemed to increase with each game.A wiped forehand which past by Begu at an uninspired approach at the net, a double fault and a forehand error gave the lead to the Japanese. A warning call for Begu whom, then went on to win six points in a raw to level things up.
In the ninth game, Begu had three opportunities to break and serve for the match, but each break point was saved with great placement of Misaki's serve, and Begu was tense and not being able to capitalize her chances. She also had a break point at 5-6.
Heading into the tie-break it was the moment things turned around for Begu. The Romanian was more used to this kind of situations and had the means to handle such an important moment. In Madrid, she won two sets decided at tie-breaks and she eventually won those matches. It was obvious the Romanian had more experience and this year she also found the ability to calm herself down and find an inner tranquility that would advantage her. Up until that moment, the pressure and nervousness of facing such a great performance was visible, this being the case, being able to dominate the tie-break speaks louder of her new mentality and mindset progress.
Irina-Camelia Begu reaches a Premier 5 semifinal for the first time in her career where she will meet either Svetlana Kuznetsova (Begu is leading their head-to-head meetings 2-1, all of them played in clay), or Serena Williams against whom she has never played before.