 In his 33rd meeting with Novak Djokovic, Andy Murray was given quite the birthday gift. The newly 29-year-old reached the final of the Internazionali BNL d'Italia for the first time in his career, and he became the first Brit to win the title since George Patrick Hughes in 1931. His opponent was fresh off a three-hour match against Kei Nishikori, so fatigue was definitely a factor. Nonetheless, Murray was spectacular, as evident by his 6-3, 6-3 over Djokovic in just one hour and 35 minutes.
Djokovic Starts Slow Yet Again
In the first game, Djokovic was only able to get two serves back in play while Murray set the tone with big serving and a love hold. The Serb continued his sluggish start by ending a long baseline rally at 30-30 with a forehead that couldn't catch the sideline. On his first break point chance, Murray was a little too aggressive on his return; his backhand rocket was just outside the line. A backhand error from Djokovic gave Murray another break point chance, but a big serve down the T wasn't returned to sender and another break point was saved.
The birthday boy saw one more chance at a break point in the game, but a few costly errors on routine finishes cost him a break. After another love hold for Murray, Djokovic began his complaints about the rain but play continued as scheduled. Some great returning in the fourth game gave the Brit two chances to break at 15-40. A backhand from Djokovic landed wide, so the world number one bounced his racket on the ground in frustration and was issued a warning. The score now favored Murray, 3-1.
Still untouched on his serve, the world number three fired off two forehand winners, one crosscourt followed by one down the line, to bring his service points won to a perfect 10 for 10. The streak finally ended when Murray dumped a backhand into the net, but the game was still won easily at 15. Djokovic, who had been battered on return all match, finally began some dominant serving of his own. He won the next game at 15 powered by two aces and one more unreturned serve. The rest of the set played out without another break point or deuce, and Murray rode his lone break to a 6-3 first set win.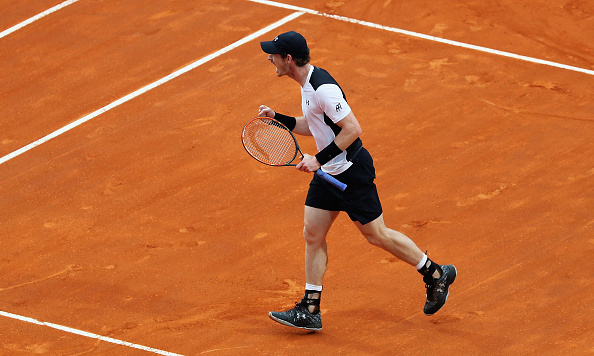 Oddly enough, Murray was a dominant 11 of 12 on his first serves despite only getting 48 percent of them in. His Serbian opponent was significantly better at 63 percent, but he won less than 60 percent of his service points overall. An exhausted Djokovic also only managed to win five return points in the whole set. Luckily, the set finished before the rain picked up, but play was never suspended.
Murray Remains Unbroken
Flipping the scripts from the first set, it was Djokovic who began firing early. He won his first service game by crushing a forehand winner and following it with an ace, another forehand winner, and another ace, this one down the T. In his own first service game, Murray relied heavily on the wide serve. The first point of the game was an ace and, after nearly getting broken, he used it to escape with two more aces.
After holding easily to take a 2-1 lead, Djokovic twisted his ankle for presumably the second time in the set and barked at the chair umpire "It's too [expletive] dangerous out here." Then, after losing the next point, the world number one let out another expletive, this one in Serbian. The Serb eventually held on and even had a break point chance at 30-40, but Murray, true to the wide serve, serve-and-volleyed to erase it. The birthday boy gave up one last break point chance; however, his one-week-younger opponent fell victim to a big serve down the T, and he wouldn't see another chance for the rest of the match.
A relentless attack from Murray would give him a chance to break serve at 30-40, and a monster crosscourt shot would set up a perfect volley to claim the break. After a pair of holds made the score 4-3 favoring the Brit, Djokovic, clearly frustrated with the playing conditions, complained "I've already twisted my ankle three times in the last three games, and you're ignoring that fact completely." Exhausted and discontented, the Serb was unable to break back, and he had to serve to stay alive down 3-5.
It appeared as though he would be able to survive another game after sending Murray wide before finishing an ankle-breaking drop shot volley, but it didn't work out that way. Two unforced errors on attempted forehands down the line put Djokovic in a hole. Double-faulting on the next point only made things worse as he had to save two championships points. With an easy smash point available at the net, it would have made sense for the Serb to try to finish the point with a drop shot as Murray was nowhere to be found. Instead, he went for a smash way out wide that the Brit chased down for an incredible winner to end the match.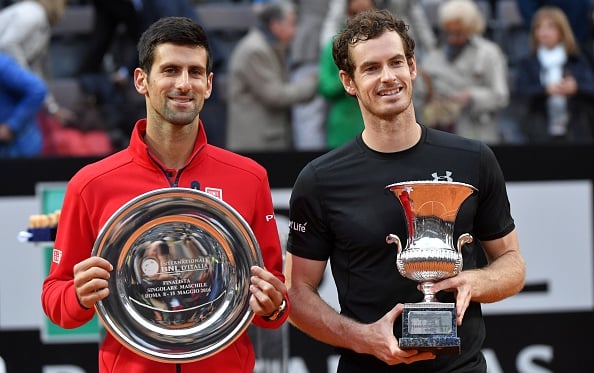 Somehow, Murray won the set despite winning only one second serve point. He was able to negate that abnormality with nine more winners (25 to 16) than his opponent and four fewer unforced errors (19 to 23). He also won five more net points, going 13 for 17 up close.
This 6-3, 6-3 win will be Murray's tenth over Djokovic in 33 tries. It will also be his 12th Masters 1000 title. As for the Serb, he'll have to wait at least one more tournament before his career prize money reaches 100 million dollars. With Roland Garros being the only Slam to elude him, it would be a fitting place for him to reach that mark, but that's for another time. Murray won his first Masters 1000 event as a dad on his birthday, and that's something to celebrate.