Security at any major sporting event these days can be a headache for the event's directors, from securing the entry points, to ensuring that enough security officers are deployed, to making sure that the security does not affect the fan experience. In his first tournament as the tournament director of Roland Garros, Guy Forget, a former professional tennis player as well as director of the BNP Paribas Masters, is not taking anything lightly at this year's 2016 French Open.
Following the terrorist attacks in Paris last November, Paris, as well as most of Europe, has been on high-alert. The nation of France extended its state of emergency through the end of July to cover not only the French Open but also the European Championship soccer tournament and the Tour de France.
New security measures visible day before tournament kicks off
On Roland Garros Kid's Day, which took place the day before the tournament is set to begin, these new security measures were visible right away. Most of the roads and streets surrounding the tournament have been blocked off and are guarded by police force.
The tournament has increased its security guard force by 25%. While the tournament did not specify exact numbers about the security additions, the presence was very obvious around the grounds. At each of the three entrances for fans, security guards will be present with metal detectors, police dogs, and mandatory pat downs. This level of security was also present at the media check-in desks and gate.
The entire exterior of the tournament is surrounded with two borders of fences, guarded by police officers. Inside of the stadium, each stadium section entrance has a security guard, if not more than one. This includes throughout the media press center inside of Court Philippe Chatrier. Police dogs can be seen perusing the grounds. It is clear that Forget is taking no chances at all.
Tournament has a history of security issues
Throughout the years, the tournament has had a few gaffes with security. Last year, a child was able to run onto Philippe Chatrier Court and get close enough to Roger Federer to ask for a selfie following his first round victory. The Swiss Maestro was very upset at this in the media, as were other players.
In 2013, a man interrupted the men's final between Rafael Nadal and David Ferrer when he ran onto the court with a flare. In addition, in 2009, a fan made it onto the court and was able to put a hat on Federer, an incident that visibly shook the Swiss' sense of security.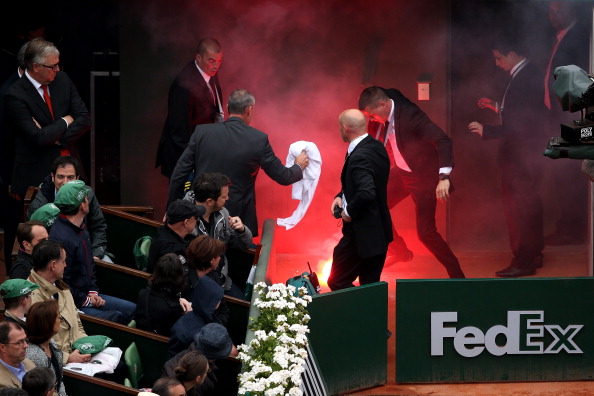 Top players weigh in on new measures
Nearly all of the top players were asked about the new security procedures at his or her opening press conferences. While the new elements can create a few more hassles, no one complained about being more safe. While world number one Novak Djokovic did not have any security concerns in the past, as he put it, "Better safe than sorry."
"Personally I never had an issue with security in this tournament," Djokovic said. "I'm aware of events that you've mentioned, and certainly with what has happened several months ago in Paris and where the world is at this moment, of course we need to tighten up the security. I have nothing against it. You know, better safe than sorry."
Fellow world number one Serena Williams was asked about the security measures, particularly if she has noticed any differences throughout the city of Paris specifically.
"Yeah. It's definitely interesting," Williams said. "I mean, that's something I think a lot of the players wanted, as well, is a little bit more security. You know, we just want to be here. We want to do what we do. We just want to play tennis. We want to enjoy ourselves and just live our lives. That's all we want to do."
While world number five and fourth-seeded Nadal doesn't think about the security threats, he believes that the city and the tournament are focused on keeping not only the players safe, but also the fans and spectators.
"I don't think about this, no? I feel safe," Nadal said. "Always I feel safe when I am here in Paris, and that's it, no? What happened was terrible news, but it's past. I believe that people who organize the event and the whole city is 100% focused on make the event safe for everybody, not only for the players. For the fans and everybody."
Fellow world number five Victoria Azarenka took a more pessimistic view of the situation, saying that "the world is a little bit of a scary place watching the news right now, but I'm trying to think that sport events are, you know, thinking it as celebration and hoping everything is going to be okay."
Overall, Roland Garros is doing the right thing by enhancing its security measures. Even if the attacks last year did not occur, it is never a bad idea to try and make a major public event more safe. While some fans may experience longer lines and stricter regulations, at the end of the day, it is better to be safe than be sorry.
The main draw of the 2016 French Open begins tomorrow, Sunday, May 22nd, with many of the world's top stars in action, including Petra Kvitova, Kei Nishikori, Gabriñe Muguruza, Milos Raonic, Simona Halep, Sloane Stephens and John Isner.