10th seed Petra Kvitová rallied from a 5-4 deficit in the final set to stave off a spirited challenge from Danka Kovinić to move into the second round of the French Open.
Kvitová dominates first set to jump out to early lead
The opening game of the match was indicative of what was to come later on, Kvitová facing three break points in an eight-minute opening game that lasted 13 points. She saved them all and was able to hold on. That hold spurred the Czech to go on a run that saw her capture eight of the next 11 points and claim a 3-0 lead. The set was routine thereafter except at 5-2 when Kvitová broke Kovinić's serve again, this time on her second break point chance to win the opener 6-2. The 10th seed took her chances well, converting on two of her three opportunities.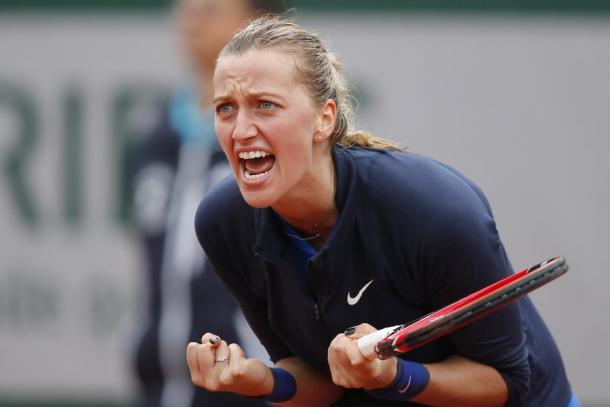 Kovinić overcomes early 3-0 hole, stuns Kvitová with epic fightback to win second set, forces third and deciding set
Kvitová is only 11-11 on the year, but her superiority continued to show as the second set began. She won 12 of the first 14 points to open it up and quickly grab a 3-0 lead. The turning point came in the next game when Kovinić saved two break points and held to cut Kvitová's lead to 3-1. That missed opportunity would prove to be costly as the Montengerin would break in the following game and as quickly as Kvitová jumped out to that 3-0 lead, it was gone and the set was back on serve with the Czech holding a slender 3-2 lead. Momentum would be fleeting as breaks were traded with the score showing Kvitova now ahead 4-3. Kovinić is a talented shotmaker and she was opportunistic as she broke Kvitova in a long ninth game of the set to go ahead 5-4, taking advantage of the Czech's dip in play, something she was unable to do in the opening game of the first set. Now with an opportunity to push the match to a third and final set, Kovinić grinded through her service game, staving off two break points to close it out 6-4 and set up the drama that was to follow.
Kovinić serves for the upset, but Kvitová pulls through in epic decider
It was anybody's guess as to who would win the third set and Kvitová was immediately tested. Just as she did in the first set, the lefty saved three break points to gut out a long opening service game, this one lasting nine points. The rest of the set saw brilliant shotmaking from both players and two superb backhands from Kovinić earned her what looked to be a decisive break. At 5-4, the Montengerin looked to put Kvitová away, but serving for the match, she wobbled, a sparkling backhand that just clipped the line at 30-all keying the Czech's break back. Now at 5-all, Kvitová emphatically held to pile the pressure back on Kovinić. Her comeback was complete when she broke Kovinić's serve one final time, taking the 2-hour, 15-minute thriller and just slipping into the second round.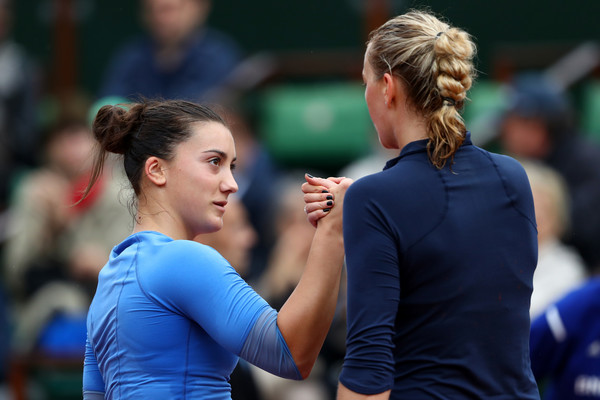 Kvitová talks to the media after her close call
The 2012 Roland Garros semifinalist spoke about her win: "I start pretty well, and I think that the conditions weren't really easy today. I think that in the second set when I was serving to 4-1, I missed four easy backhands and I felt like that was kind of the turning point and I was kind of down mentally after this game. I think she just came back and tried to play more aggressive. I was just I think running like too far from the basing line. I was just trying to put the ball in, but it's not really my game. So that was kind of difficult. She started to serve well, as well, and I missed my serve a lot. It was very difficult match today. But in the end, I think that the end of the match was kind of sorry from my side. It was a big fight again. I'm happy that I won it."
On her confidence and experience in close three-set matches to draw on in the past: "Yeah, I played a lot of three-set matches, but it's not my plan when I'm stepping on the court, but if I have to, I really have to. I think that from the experience, which I have already, I still can believe that I still can win it. Even she's serving for the match or something like that. It's really like difficult and close situation in a match, but I still am trying to trust myself."
Kvitová next faces Su-Wei Hsieh. She commented on what she needs to work on for that second-round match: "Definitely is the serve, for sure. I think that I had up and downs with the serves today. About the double faults, as well. I made three in the game. It's not really nice. And I think that sometimes I'm like too far from the basing line. So I think that I have to still push myself to be closer to the basing line and try to maybe go for the net more often".
She was also asked about the upcoming Olympics in Rio De Janeiro: "I'm planning to play Olympics. The Olympics games are very important for me. I think it's kind of one of the Grand Slams. I will do my best there again."
The Czech is not known for her presence at net, but she ventured in 18 times. When asked about it, she said the following: "Well, yeah, I'm trying not only today but last couple of weeks, and even as on the clay, I think that when I'm playing aggressive I have still chances to go for the net. I think that I still could go more often today, and sometimes serve and volley, it's really paying off, but I think she returned really well today. I was a little bit scared to go there. But, yeah, it's one of the situation when I'm trying to put in more. I think that like I just spoke with my father when I been home, and he told me that I was on the net like very often. It was difficult to end the rally without being on the net for me. So I think that I have it in block, I just missed that somewhere, and I'm just trying to find it again and put it there."
She assessed her chances this fortnight as well as her health: "The first thing I'm really happy I'm healthy. I was struggling last couple of weeks with the health. So that's the first thing that I'm happy about. And about the chances, I don't really want to talk about the chances. I just feel that like every match we are playing here is just so open. And as we saw today, you never really know how is end up. But I had a great couple of days of practice before coming here. I just think that I need some confidence from the matches and like feel more relaxed on the court. We'll see."