With the French Open kicking off, VAVEL USA's tennis writers are here to make their picks for the second Grand Slam of the year.
Who is the favorite? After looking at the draw, who are they most likely to lose to and why?
Noel Alberto: Three co-favorites in Novak Djokovic, Rafael Nadal, and Andy Murray. Most likely to lose to? Each other. Nadal meets Djokovic in the semis potentially and despite the tough draw for the Spaniard, he's too formidable on the Parisian clay to make anything less than a run to the semifinals playing on Chatrier. Murray being drawn in the other half with such an easy draw should find himself in the final no problem.
Pathik Gamana: I would say Andy Murray is the favorite, only reason being that he has had a good clay season up to date. He won Rome, made the semifinals in Monte-Carlo and pushing Nadal to a third set and also pushed Djokovic all the way in the Mutua Madrid Open Final. If he were to lose to anyone it would likely be to Wawrinka, who usually turns up at the big events and shocks everyone.
James Froud: Despite never winning the French Open title, Novak Djokovic is always the favorite at every event he plays these days, and his draw in the opening few rounds suggest no reason to doubt this. Rafael Nadal is most likely to defeat Djokovic, due to the Spaniard's improved form and record nine titles at Roland Garros.
Oliver Dickson Jefford: Novak Djokovic is the favorite for me. He's by far the best player in the world on his day and had a pretty decent clay build up. If he's going to lose to anyone, it will probably be either to Rafa Nadal in the semifinals or Andy Murray in the final
Moran Noyman: The favorite is Novak Djokovic. Djokovic is most likely to lose in the final to Andy Murray. Andy Murray beat him in Rome and was very close to doing it in Madrid as well. He's playing well the last couple of years on clay and Djokovic always struggles against him on clay, see Rome 2012 semifinal and Roland Garros 2015 semifinal.
Glenys Furness: Novak Djokovic. Andy Murray in the final. Recently beaten him in Rome plays like that and it's on
Tevon King: Novak Djokovic is the favorite to win the French Open. He's the favorite to win every tournament he enters but he hasn't dominated the clay court season. He reached the final of Rome and won in Madrid but lost early to Jiri Vesely in Monte Carlo. Djokovic has a decent draw but I think he will lose to Rafael Nadal in the semifinals.
Joshua Coase: He may not have lifted the trophy at Roland Garros yet, but there is no doubt that Novak Djokovic is the favorite to finally complete the Career Slam. There is no denying the loss to Wawrinka hit him hard last year, but the warm reception he received from the French fans at the trophy ceremony which followed seemed to really move him and will only help to motivate him more in his quest. Looking at the draw and speculating where he may slip up, my eyes immediately shift to the second week in terms of a potential upset, Nadal played well against the world number one in Rome, but it was not enough and I don't think it will be enough again if the two meet at the semifinal stage. The biggest chance of the upset I can see is Djokovic falling to Murray in the final after the Brit's recent triumph in Rome. Or perhaps it will be a repeat of last year's final, where Wawrinka will spoil the Serb's party once more.
Pete Borkowski: I'm taking Andy Murray as the favorite for one big reason. Before the draw, I would have said he was the co-favourite with Novak Djokovic and Rafael Nadal. But the fact that those two were drawn into the same half of the draw gives the Scot a clear shot to the final while only one of the other two can reach the final. Murray was also the most consistent player during the Masters 1000s on the dirt and will be the most confident going into Paris. In terms of who he may lose to, Murray has a really easy draw, so Nishikori in the quarters or Wawrinka in the semis are the only real threats.
Who is the dark horse for the title and why?
NA: Marin Cilic. The Croat has a nice draw and is coming off of a final in Geneva where he lost to Stan Wawrinka in two tight sets, including a thrilling tiebreak in the second. He's in the Swiss' quarter, but the pressure of defending the title might become too much for Stan and early loss could be on the cards, opening up a chance for the Croat to make a run.
PG: Kei Nishikori is my dark horse, although he may not perform to his best on clay or it is not his best surface by a long way I do think that his recent performance against Djokovic at the Rome Masters suggests to me that he can stick it with the best, but can he do it in a best of 5 match will be the biggest test for the Japanese.
JF: Kei Nishikori is the dark horse, with the Japanese star avoiding Djokovic and Nadal until the final at the earliest. His projected draw is still tough, with the likes of Fernando Verdasco, Nick Kyrgios and Richard Gasquet looming along the way, but if he gets to the quarterfinals he'll be fully match-tough for the final run-in.
ODJ: For me, the men's dark horse should be Dominic Thiem. The 13th seed has had a strong season so far and has had some strong runs and wins this year; no one will want to face him.
MN: The dark horse is Kei Nishikori. He's been playing at a very high level this year on clay and he's capable of taking out any of the top players and has shown it in his victory over Djokovic in the US Open semifinal in 2014.
GF: Kei Nishikori. Played very well against Djokovic in Rome, could spring a surprise again and get to the final
TK: Pablo Cuevas is a dark horse for the title because he's a good clay court player, he defeated Rafael Nadal in Rio during the South American gold swing. He played a very good match against Monfils in the French Open last year, unfortunately, he lost in five sets despite leading 2 sets to 1. Cuevas is seeded to face Berdych in the third round and he is more than capable of beating Berdych, who's not having a good year. Cuevas could face Ferrer in the fourth round and again Ferrer isn't having a good year either. Cuevas could reach the quarterfinals and possibly face Novak Djokovic and give him a good run for his money.
JC: Kei Nishikori is the most likely to triumph excluding the top four seeds, but due to their dominance, even though the Japanese player is seeded 5th he is still only a dark horse for the title. Nishikori missed an excellent opportunity to reach the semifinals in France last year but has been consistent thus far in 2016, reaching back to back semifinals in Madrid and Rome, playing well against Djokovic on both occasions. With the added experience of reaching a Grand Slam final in the past (US Open 2014), this may give him the added experience which could take him all the way.
PB: Kei Nishikori. The Japanese had a couple of close calls against Djokovic in both Madrid and Rome and put up a respectable fight against Nadal in the final of Barcelona. He seems to be at his best on clay. He has a decent draw, although a quarterfinal date with Murray is a big challenge, but it's not out of the question that he could finally put it all together. He's played well so far on the clay this year and should take some confidence into Paris.
Which top 10 seed has the most difficult draw and why?
NA: Richard Gasquet. Not even close. When you get a tricky lefty like Thomaz Bellucci in the opening round, you know it's not going to bode well for you. We can't even mention that his third and fourth round opponents potentially are Nick Kyrgios and Kei Nishikori.
PG: Richard Gasquet for me has the toughest draw out of all the top 10 seeds. His first round match is against Thomaz Bellucci who can perform on clay and it is his best surface, also further down the line the Frenchman could get Nick Kyrgios and looking at recent matches between them, then that could be a tricky one for Gasquet. If he was to make it further he could face Nishikori in the fourth round, who beat him at the Madrid and Rome Masters not long ago. Also Gasquet's best result at the French is Round 4, so he will need the crowd to be vocal during his matches if he to have any chance.
JF: Richard Gasquet, without a doubt. The world number 10 faces clay-courter Thomaz Bellucci in his opening match, with Kyrgios and Nishikori his projected opponents just to reach the quarterfinals. Despite facing Bellucci first, it's hard to see the Frenchman not progressing to at least the third round where it begins to get very challenging.
ODJ: 9th seed Richard Gasquet has such a difficult draw. He's been drawn in the same section as 5th seed Kei Nishikori, who beat him twice in the clay court season, and starts against the tricky Thomaz Bellucci. Furthermore, 17th seed Nick Kyrgios will probably be his 3rd round opponent.
MN: Tomas Berdych got the most difficult draw. David Ferrer in the round of 16 and Novak Djokovic in the quarterfinal, two players he typically struggles against. Tough luck for him.
GF: Nadal - Novak in the semifinals is no joke.
TK: Nadal has a very difficult draw. His projected third round opponent is Fabio Fognini who gave him problems in 2015 and he is very good on clay albeit coming back from injury and in the last 16, he could play Dominic Thiem who's having a good 2016 and he's decent on clay too. Should Rafa come through those 2 matches, he will possibly play Tsonga in the quarterfinals and he will have the home crowd on his side. Djokovic in the semifinals will be the ultimate test for Rafa but he showed encouraging signs against Djokovic in their quarterfinal meeting in Rome. Nadal will most likely play Murray or Wawrinka in the final who have both beaten Rafa on clay in the last 12 months. It's tough but Rafa will relish the challenge as he is looking for la Decima.
JC: Richard Gasquet is seeded ninth, yet has an incredibly unfortunate draw. I expect him to navigate past a potentially awkward first round clash against Thomaz Bellucci, but a third round meeting with Nick Kyrgios and then a possible 4th round meeting with Nishikori make for tough reading for the Frenchman.
PB: Tomas Berdych. He has one of the toughest opening round matches, as he takes on Vasek Pospisil. Berdych has never beaten the Canadian in their previous two meetings. Clay court specialist Pablo Cuevas is looming in the third round, and Monaco, David Ferrer or Feliciano Lopez are potential fourth round opponents. He's also in Djokovic's quarter so best case scenario is a grind that ends in the quarters.
Which non-seeded player could make a run into the second week and why?
NA: Kyle Edmund. The Brit, whose best surface is clay, is placed in Isner's section meaning a potential second round showdown with the big American is on the cards. Despite the injury issue coming in, Edmund will be a major threat especially if he meets Isner. A potential third round showdown with inconsistent Frenchman Benoit Paire could most definitely open the door for Edmund.
PG: I would like to say Pella could make a good run, mainly because he has a decent draw. If he can get past Simon in R2 then the Argentine would likely face Dimitrov and Troicki and let's face it, Dimitrov has had a dreadful season and Troicki doesn't always perform to his best on Clay and Pella can play on Clay.
JF: Borna Coric. The young Croatian faces Taylor Fritz in an exciting first round encounter, but after that, he'll like his chances of setting up a fourth round match with Djokovic. Bernard Tomic is his probable second round opponent, with Roberto Bautista Agut next up. Both prefer other surfaces and give Coric's fans plenty of reasons to be positive.
ODJ: He may be unseeded for the first time in a while, but Grigor Dimitrov has a decent draw here. He starts against 22nd seed Viktor Troicki and the other seed in his section is 15th seed Gilles Simon. The Bulgarian is capable of beating both, and could start a resurgence here.
MN: Grigor Dimitrov can make it to the second week.. He's got Viktor Troicki in round 1 who is an unpredictable and vulnerable player. Frenchman Gilles Simon in R3 will be much tougher but I think Dimitrov is talented and capable enough to take him out as well if he plays his best tennis.
GF: Aljaz Bedene, not a bad player on clay, if he is clear of injury no reason this Brit can't have a solid run.
TK: Nicolas Almagro has Kohlschreiber in his opening round match but Almagro is a three-time quarterfinalist at Roland Garros, losing all of his matches against Nadal at that stage but if he beats Kohlschreiber, he could have a very good run. Tsonga is lurking in that section but Almagro has beaten him before on clay and David Goffin is also in that section of the draw. It's an open draw but it could have been a lot worse for Almagro. The Spaniard is looking to get back to the top 30 after suffering from injuries the past couple of years and picking up a title a few months ago will bring back that belief for the Spaniard.
JC: Grigor Dimitrov is a dangerous unseeded player lurking in the draw. He will face the 22nd seed Victor Troicki in round one but I feel that it is a very winnable match for the former Wimbledon semifinalist. A second round clash against Dennis Kudla would also be very winnable and the Bulgarian would have every chance of taking down 16th seen Gilles Simon in round three to set up a meeting with the defending champion.
PB: Juan Monaco. The Argentine has a clay court title this year and just made a big run in Rome, beating Stan Wawrinka on route to the quarterfinals (although he did have to withdraw after that win). He's in a decent part of the draw, with a pair of Spanish seeds who should not give him too much trouble. He's managed to avoid any of the favorites until at least the quarterfinals, so a deep run is entirely possible if he's healthy.
Which first round matchup intrigues you the most and why?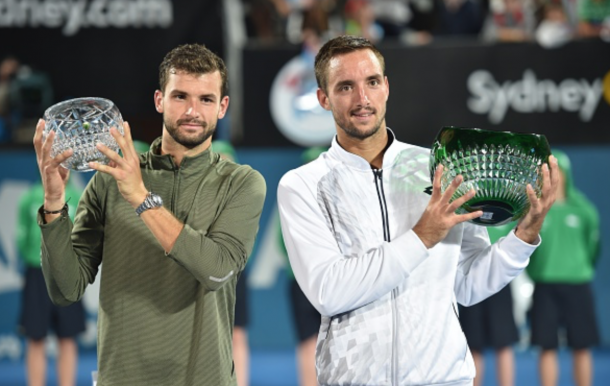 NA: Andreas Seppi - Ernests Gulbis. The Italian has proven that he's solid from the back of the court and can be a headache for even the best players sometimes, I'm looking at you Roger Federer. Gulbis can be a headache to not only himself but fans and his coaches as well because of how erratic he can get. As a former semifinalist who's gone by the wayside, Gulbis can still pack a punch, but he'll need his head on straight to get past a very professional player like Seppi.
PG: The stand-out match is Coric - Fritz, two NextGen stars coming up against one another, although Clay isn't their best or preferred surface, that match will always catch your eye. Fritz has recently broken into the top 100 and it doesn't look like he will be leaving anytime soon, Also this could be a 5 setter. Borna Coric on the other hand has impressive wins over Nadal and Murray and can trouble anyone.
Another match that intrigues me is Gasquet - Bellucci. Both are highly talented athletes, can strike the both cleanly and despite not living up to expectations they have had a good career. Their matches on clay have been close, with both their clay meetings going to a deciding set. The crowd will make this interesting with a Frenchman involved, I would be surprised if this match was to be finished in three sets.
JF: Philipp Kohlschreiber - Nicolas Almagro. Almagro loves clay, and this match-up could go either way with the Spaniard leading their tight head-to-head 5-4. Kohlschreiber is the higher ranked player but has only won two of their four previous matches on clay, with the first victory being way back in 2004. Almagro has won their previous two, and it would not be a surprise for his German opponent to become the first seed to exit on the men's side.
ODJ: The match that interests me the most is the match between Viktor Troicki and Grigor Dimitrov. They played an epic final in Sydney and both got off to a good start this season, though have fizzled out a bit since and both will be looking for a big win to start their campaign.
MN: Viktor Troicki - Grigor Dimitrov. The Serbian, seeded 22, is a player I love to watch. I think he's an underachiever and should have won more titles and done better in grand slams. He came back strong after the suspension and is playing well at the moment. His opponent, the young Bulgarian, is highly talented and a player you always enjoy to watch and he can also beat anyone in my humble opinion, on any surface. Their round 1 match should be a real cracker.
GF: Berdych v Pospisil - After the humiliation in Rome and departing company with his coach I want to see if Berdych can bounce back
TK: Troicki and Dimitrov are definitely one of the first round matches to watch. Dimitrov's poor form has seen him become unseeded in the French Open and he has a poor record here. Troicki and Dimitrov had a highly entertaining match in the final in Sydney at the start of the year which Troicki was triumphant. This match could be a five-set thriller with plenty twists and turns.
JC: Steve Johnson - Fernando Verdasco is most definitely a popcorn match. Both players have graced the upper echelons of the game in years gone by and both have bags of ability. It should prove to be a very entertaining contest, expect lots of exciting shot-making!
PB: The first round is a little bit dull, so I'm going to go with Grigor Dimitrov - Viktor Troicki. What makes this interesting is that Troicki is seeded and Dimitrov is not. If the Bulgarian plays well, he could be a very dangerous non-seeded player. But he's had a terrible clay court season. That being said, Troicki is an opponent that he should be able to upset if he plays well. Either we'll see an upset here or maybe be entertained by another Dimitrov meltdown.
Which young gun/rising star puts their name on the map or proves they're the real deal and why? Note: Must be 23 or younger
NA: Kyle Edmund. See answer to question four.
PG: I would say Dominic Thiem (obviously), mainly because he is winning titles and pushing the best of players, although he has yet to put a run together now would be the ideal time. 4 of his 5 titles have come on clay and if he is to prove he is the real deal he is going to have to up his game because his draw is quite tough and could be tested.
JF: Much has already been said about Dominic Thiem in recent months, but the Austrian is yet to make a real mark at Grand Slam level. The Austrian's breakthrough at the top level is likely to come on clay, and he'll be a popular pick to progress to the second week in Paris. A potential third round match against young German Alexander Zverev would be brilliant for fans of the next-generation, but it's a meeting with Nadal which could be the highlight of the fortnight. Thiem already holds a win against the 14-time Grand Slam champion and has pushed him hard in all three of their meetings on clay.
ODJ: Borna Coric faces fellow young gun Taylor Fritz to begin with, though should win that match and he has a decent chance to make the second week here. It could be a first big major run for him.
MN: Dominic Thiem. Watching Thiem playing this year had led me to the conclusion that he's the best among the young players. He's confident in his abilities, fears no one, and a solid and stable player. He's cool under pressure and very strong mentally. I see him doing well here and if he makes the round of 16, Rafael Nadal will have a tough battle on his hands.
GF: Kyle Edmund, if recovered from Nice then I believe he will do well. Taking Goffin to 5 sets in the Davis Cup on clay was a great match, if he can repeat that kind of performance and last 5 sets no reason he can't go far
TK: Nick Kyrgios is seeded 17th at the French Open this year and his draw is relatively favorable. Gasquet or Bellucci is his possible third round opponent. Gasquet and Kyrgios have history at Wimbledon the past couple of years with one win apiece. Kyrgios' potential fourth round opponent is Kei Nishikori, which should be a very good match. Nishikori knocked Kyrgios out in Madrid and in Paris on a big stage, you wouldn't put it past Kyrgios to make the quarterfinals. Kyrgios is only 21 and he has already made the quarterfinals at 2 grand slams. His friend Andy Murray is a potential quarterfinal opponent but a quarterfinal finish for Kyrgios will be very respectable with Wimbledon on grass his favored surface on the horizon.
JC: Alexander Zverev has been making the headlines throughout this season so far. Aged just 19 years old, there is no doubt that the German is destined for a successful career if he continues to grow and improve. Zverev reached his maiden ATP World Tour final in Nice this weekend. He looks set to compete in an entertaining first round clash against Herbert and who knows how far he can go this fortnight.
PB: Jiri Vesely. The main reason I'm taking Vesely is the draw. He has a decent draw, with a winnable first round match before a battle with Philipp Kohlschreiber in round two, who is not that strong on clay. The Czech upset Djokovic in Monte Carlo, showing that he is capable of great things on clay. This is his golden opportunity to have a breakout.
Which top 10 seed gets upset first and why?
NA: I'm going with a two-way tie for this one. I'm going for Gasquet and Berdych to lose to Kyrgios and Cuevas respectively. Without a coach and off a horrible tournament in Rome, clay-court specialist Pablo Cuevas will most definitely be a threat to even put more damage to Berdych's menality. Despite beating him on grass last year, Gasquet just can't stan with Kyrgios' fire power and all-court game.
PG: I hate to say this, but Gasquet could be the first top 10 casualties to go home this year. He has a tough draw and if Bellucci turns up in the right frame of mind, then Gasquet could find himself out in round one and he doesn't always play his best tennis here and four R4 appearances being his best run.
JF: It's hard to see any of the top 10 being knocked out in the opening round, but Gasquet has the toughest opening match so it's likely to be the Frenchman despite winning all three of their meetings.
ODJ: I can seed 9th seed Richard Gasquet having a rough tournament and losing to Nick Kyrgios in the 3rd round, or perhaps even Thomaz Bellucci in the opening round.
MN: Richard Gasquet will be the first top 10 seed to get upset. He has got a really tough first round against Thomaz Bellucci who came close to taking out the world number 1, Djokovic, in Rome just a week ago and even delivered him a bagel in the first set. If he does manage to pass the Italian, he's projected to meet Nick Kyrgios in the third round and that is destined to be an even tougher match for him.
GF: Wawrinka - He has not been playing well lately, although in the ATP event this week he has gone deep. I still think over 5 sets he will struggle to repeat last year.
TK: Raonic could fall to Janko Tipsarevic in the first round. Tipsarevic is back from a heel injury and clay isn't Raonic's favorite surface. It is a very tough opener for Raonic against the former US Open quarterfinalist. It will be a big win for Tipsarevic if he can pull it off.
JC: Richard Gasquet is the top ten seed I expect to fall first. Kyrgios leads their head to head 4-2 and I expect the Australian to win that match if he turns up motivated. Even if he wins that match I cannot see the Frenchman getting past Nishikori in round 4.
PB: Tomas Berdych. There are three members of the top ten I think will lose in the third round. I'm saying Berdych will go first because I could also see him losing before that point. Again, he has to overturn an 0-2 record in the first round and even if he manages that, Cuevas will probably get the better of him in the third round. To add to that, Berdych has really not accomplished anything on the clay this spring, so he is vulnerable.
Who are your finalists and champion? Why?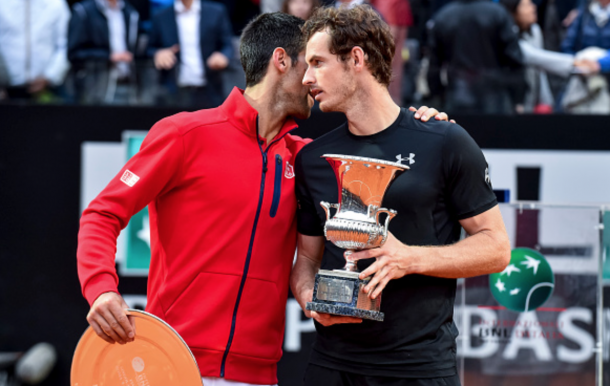 NA: Rafael Nadal and Andy Murray with the Spaniard taking a historic 10th title. It's been ages, near two years since Nadal has beaten Djokovic which came at the French Open. However, this is his ground, his turf, and the further he gets here, the more dangerous he is. Djokovic may own the mental edge with all these wins, but what may haunt him mentally is never getting over the hump here, which is why I have Nadal with the edge in his half. Murray's draw is very straightforward, and I see him getting to at least the semifinal with no problem. With his newfound clay-court prowess, he should be a finalist as well. Murray and Nadal are 1-1 on the clay this spring but taking Nadal down on Chatrier in a best-of-five might just be too much, which is why Nadal edges Murray here.
PG: Djokovic - Murray with Murray being crowned champion. Both are playing very good tennis and we will see a new winner. Both draws are quite kind to them and Murray has been playing exceptional on clay this season. He is the only player to reach the semifinal at the Rome, Madrid and Monte-Carlo Masters which is impressive. Also, Djokovic is in red hot form. Despite losing early in Monte Carlo he did win Madrid and made the Rome final and on his day he can be indestructible although he has never won this tournament before.
JF: This will finally be the year that Novak Djokovic completes the career Grand Slam. A semifinal against Nadal will take a lot out of him physically, but with the experience of last year's stunning defeat to Stan Wawrinka in the final, he'll edge past Andy Murray to win his fourth Grand slam title in a row.
ODJ: I think this is Novak's time. He wasn't always at his best in Rome and Nadal and Murray are both close, though Djokovic has won the big matches against both of them in the past few seasons and I can see him probably beating Nadal in the semifinal, and then Murray in the final to take that elusive French Open title.
MN: My finalists are Novak Djokovic and Andy Murray. The world top 2 players have faced each other in the last two masters' finals, in Madrid and Rome, and I see no reason for them not being the last two standing here in Paris again. With all due respect to the "King of Clay", Nadal, these two are the best at the moment, even on his favorite surface. For the champion, I have to go with Djokovic for no reason other than he is due to win it finally. Ok, and also because he's the best player in the world and the best player on clay this year in my opinion.
GF: Andy Murray & Novak Djokovic. - difficult to say really but I'm leaning towards Murray. If he continues to play like he did in Rome, with that improved 2nd serve, I see him being very difficult to beat.
TK: I'm going for Rafael Nadal to regain the French Open title which will be his 10th title in Paris overall. Nadal was struggling in 2015 but he has shown signs of his former self in 2016 so far on the clay court season. He won the Monte Carlo Rolex Masters and he defeated Andy Murray and Stan Wawrinka en route to the title. Nadal will overcome Novak Djokovic in a quality semifinal match and the player he will beat in the final will be Andy Murray. Murray will be pleased with his draw but it gets tougher with Nishikori and Wawrinka as he possible quarterfinal and semifinal opponents. Murray has been playing very good tennis on clay in the past couple of seasons. He defeated Nadal last year to win the Madrid masters and he pushed Djokovic close in the semifinals last year at Roland Garros. Murray defeated Nadal in Madrid again this year but fell short to Djokovic in Madrid, however, he got his revenge by defeating him in the final of Rome. Should everyone hold up, it should be a good tournament with plenty of twists and turns but I think Nadal will beat Murray in four sets in the final.
JC: I think it will be a Djokovic v Murray final as it has been in Madrid and Rome and in the Australian Open of course. These two players are the undisputed top two in the world and after watching their epic semifinal last year I think we will see them do battle again on court Philippe Chatrier this year. My heart says Murray to win, but my head says Djokovic. We shall have to wait and see, but I'll go with Murray in five sets.
PB: Rafael Nadal d. Andy Murray. Paris brings out the best in Nadal and even though his last two Masters 1000 events were disappointing, he is coming into Paris with more confidence and a higher level than he has probably since 2013. He was very close against Djokovic in Rome and if he fixes those problems, he can beat the Serb in Paris. As good as Murray is playing, Nadal over five sets on Chatrier is an extremely difficult test. Not to mention if Nadal is in the final, he's playing well and confident, which is too much for anyone