Milos Raonic, a hopeful contender for the top ranks this year, began his French Open campaign on a high note as he dismissed Janko Tipsarevic in straight sets, 6-3, 6-2, 7-6 through firing a total of forty one winners and ten aces. This was Tipsarevic's first match at a Grand Slam since the US Open last year as he sought to make a robust return to the grandest stage of the tennis court, but this prospect was quelled by the Canadian on Court 2 today.
Raonic Gets Through First Two Sets With Ease
It was the eighth seed who began proceedings with his threatening serve which he expectedly held in quick time, but Tipsarevic was able to hold off on his end only until game four, when he was broken by Raonic courtesy of a string of errors from the Serb's side. This ended up being severely costly for the Serbian, who did not let Raonic win a single point in his next two services games. Had he been able to hold his nerve in the fourth game, the story could have gone differently.
Although Raonic was able to break Tipsarevic quite quickly, the set as a whole showcased a high quality of service from both sides. Both players were able to win every point on their first serves, and there was only the one sole break point opportunity which made the difference. In essence, the Canadian was able to capitalize on a moment's weakness and gain the advantage in the scoreline.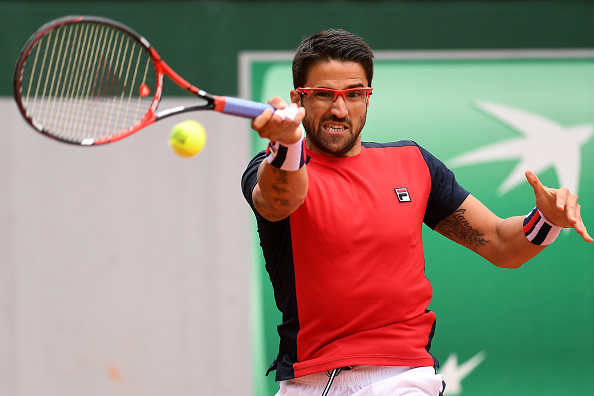 The second set began with Tipsarevic's confidence visibly shaken as he gave away three points during his first service game with a double fault and two errors. The Canadian accelerated even more here—holding his first service game to love and breaking his opponent's serve in the very next game. He followed this up with another love service hold to heighten pressure on the Serb. This paid off as Raonic was able to fend off Tipsarevic in a difficult service game and then break him once again in game seven. By hitting eleven winners and winning all of his first serve points once again, the Canadian was able to snatch this set away from Tipsarevic quite easily as well.
The Serve Machine Fends Off The Spirited Serb
It was the third set where Tipsarevic gained a new resolve to attempt to undo the up and coming eighth seed for a final time. The set was a lot more balanced as the Serbian hit a total of sixteen winners to Raonic's twenty and both players managed to unearth break point opportunities.
The crowd knew they were in for a more thrilling set when Tipsarevic's very first service game went to deuce a total of two times with the Serb managing to hold his nerve and hold despite facing break point opportunities. This initiated a string of relatively simple holds from both sides until game five, when Tipsarevic found himself in a situation very similar to the first game—this time however, he was unable to fend off the eighth seed and gave him the break of serve with a forehand unforced error. As Raonic consolidated this breakthrough with a convincing hold of serve in the very next game, it seemed the show was over.
This was not the case, as Tipsarevic made one last attempt to gain entry back into the match in game ten, when he hit a backhand and forehand winner in succession to finally break Raonic's unbreakable serve for the first time in the match.
In Tipsarevic's next service game, a double fault and a couple of tremendous points from the Canadian's side helped gain the latter three break point opportunities, but miraculously the Serbian got out of the service game alive by hitting three sublime winners one after the other. Raonic holding serve in the next game meant the set was going to go to the tiebreaker.
It was Tipsarevic who gained the early advantage and mini-break at 2-0 but the Canadian was unfazed and made the scores even at 2-2 by forcing an error off his opponent. The players traded breaks again but remained even until 5-5, when Raonic decided it was time to capitalize and force another error off Tipsarevic to gain a match point opportunity at 6-5. The eighth seed did not need to be told twice, as he finished the match off in style with a forehand winner.
Although this is definitely not the outcome that Tipsarevic would have hoped for, he can take solace from the fact that he was able to match the Canadian's intensity in the final set.
As for Raonic, he can be very pleased with his performance and a relatively simple first round victory. He will hope to continue his form into the next round, where he plays Adrian Mannarino.