 Viktor Troicki of Serbia, the 22nd seed in Paris, played his third round match of the French Open on the Suzanne-Lenglen court on Friday evening. His opponent was the home crowd favorite, Frenchman Gilles Simon. The 30-year-old Serbian started the match shakily but he was soon the one in control of it and Simon, who seemed exhausted, was no match for him and couldn't really give him a fair fight. The Serbian won it 6-4, 6-2, 6-2 in two hours and 13 minutes and in the fourth round, he will face the third-seeded Swiss, Stan Wawrinka, who beat another Frenchman, Jeremy Chardy, in three sets as well, 6-4, 6-3, 7-5.
Troicki Takes the First Set 6-4
Troicki started the match the better of the two and quickly went 2-0 up but he couldn't maintain his lead for long and Simon levelled it at 2-2 after a few unforced errors from the Serbian. In the fifth game, Troicki missed two break-points and let Simon off the hook. At that point, it felt like fans were going to have a long match on their hands, but Troicki had another idea in mind and after holding in the sixth game, he broke the 16th seed again to go 4-3 up on the scoreboard. Troicki then consolidated his break to make it 5-3. Both players held their next service games, respectively, and the first set is ultimately won by the 22nd seed, 6-4.
Troicki Breezes through the Second and Third Sets
Troicki started the second set strongly as well and got an early break in the third set. He consolidated his break and went 3-1 up on the scoreboard. Simon held in the fifth game and made it only 3-2 but from that point, he lost seven games on the trot and Troicki found himself two sets up and 4-0 up in the third set. Simon managed to win two more games and at 2-5 down, the crowd was still hoping for a miracle comeback from him at 2-5 and were cheering hard for each point he won, but Troicki wasn't fazed by it as he served out the match 6-4, 6-2, 6-2 in two hours and 13 minutes.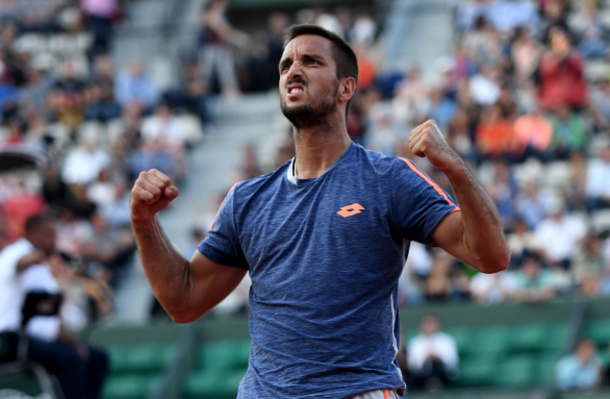 A Look at the Final Match Statistics
The Serbian served better overall in the match. He had four aces and three double faults as opposed to no aces from Simon and three double faults as well. The 22nd seed actually had only 56 percent first serves in versus 72 percent for Simon but he won more points behind his first serve - 80 percent as opposed to only 49 percent for the 16th seed. He was also more successful at the net, winning 83 percent of his points versus only 63 percent for the Frenchman. The ratio of winners to unforced errors was -10 for both which shows Troicki forced more errors on his opponent than his opponent forced on him; a fact not surprising seeing his powerful strikes.