Two of the ATP World Tour's rising stars face-off on Saturday at the 2016 French Open with a spot in the round-of-16 at stake. Both of these stars were part of Rafael Nadal's draw. However, with Nadal's shocking withdrawal from the tournament due to a wrist injury, the draw has opened up nicely for the winner of this battle. Both of these youngsters have bright futures on the tour, and either could feasibly make a deep run at Roland Garros.
The winner of this match would have potentially faced off with the nine-time champion, thus his departure opens a new door of opportunity. The world number 15 and world number 41 have faced-off two times in their young careers, with both meetings happening this year on clay. Thiem was victorious in both battles, both going three sets. Expect a fun matchup of young talent to open the day on Court Suzanne Lenglen!
Thiem and Zverev rack-up impressive second round victories
Both of these up-and-coming stars had impressive victories in round two. The 13th seed from Austria overcame Guillermo García-López in a tough battle, 7-5, 6-4, 7-6 (3). This marks the world number 15's first-ever appearance in the third round at Roland Garros.
Throughout his second round victory, Thiem hit 44 winners as compared to 43 unforced errors. Going forward, he will need to clean up that margin, should he want to make a deep run in Paris. Nonetheless, it was enough to get him through into the third round.
Zverev also had a nice victory in the second round. He defeated French qualifier Stephane Robert 6-1, 3-6, 6-1, 6-4. This victory is very impressive for the 19-year-old from Hamburg, Germany. The current youngest player in the ATP World Tour top 50 has already had record-breaking success in Paris, reaching the first and second rounds for the first time in his young career. However, Thiem presents a much larger challenge for the German than Robert did in round two.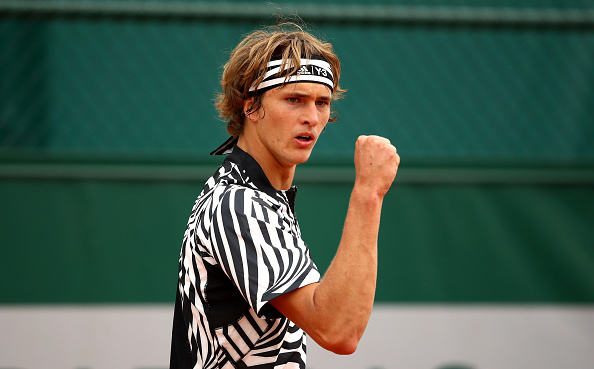 Match Analysis
This has every inkling of being an incredible match to begin the day. Look no further than the first two meetings of these stars. Both meetings have occurred this year, on clay as well. Thiem has won both matchups, in three sets. Expect this match to go beyond three sets. Both of these youngsters have incredible power, talent, ability and a high tennis IQ. Thiem most recently defeated Zverev in the 2016 Open de Nice Cote d'Azur finals. Before that, Thiem defeated Zverev in the 2016 BMW Open in Munich in the semifinals.
Expect both players to take advantage of second serve returns early on. Breaks will be hard-to-come-by; thus it will be imperative that each competitor take every chance to gain an edge. This could very well go five sets; however, yours truly expects a four-set thriller, possibly with a tiebreak thrown-in.
Both of these stars will be around for the next decade, and will both be in prime position to win Grand Slams down the road. With Nadal's disappearance from the draw, the winner of this match has an incredible chance to make the quarterfinals, and from there, anything is possible.
Prediction: Dominic Thiem in four sets