Elena Rybakina eased into the second round with a routine win over Anastasia Detiuc.
Rybakina storms out to big early lead, holds on to win first set
The Russian has a very powerful game and she used it to full effect to jump out a big early lead, breaking Detiuc in her first two service games. The Moldovan was unable to do much of anything on the eighth seed's serve and before she knew it, Rybakina had built a quick 4-0 lead. Detiuc eventually would settle down with a couple of holds and took her opportunity to break the Russian's serve, but it was too little, too late as she was down 5-1 when she made her charge. Now only leading 5-4, Rybakina was never in danger and she regrouped to serve out the opening set 6-4 in 38 minutes.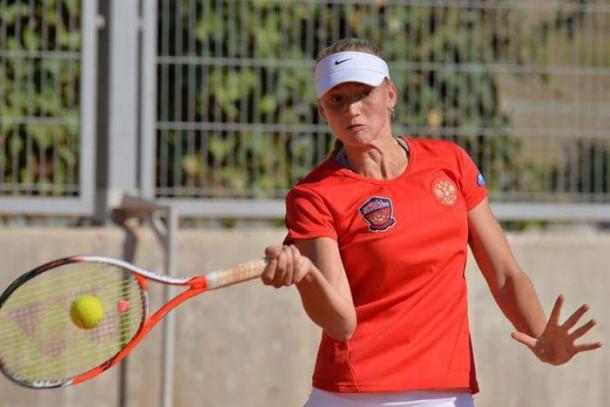 Detiuc jumps out to quick lead, fades as Rybakina closes fast to win set and match
The tables were turned to begin the second as Detiuc held on to her serve in a long first service game. Her chance to break Rybakina's serve came in much quicker fashion and she summarily took it to lead 2-0. The Moldovan is tall with a good serve, but it let her down the very next game as Rybakina erased her deficit straightaway, breaking back. Detiuc would immedaitely restore her advantage, breaking for a 3-1 lead, but as quickly as she regained the edge, it was gone, Rybakina breaking back to get the set back on serve. That was the first of five straight games the Russian won to close out the set and match and confirm her spot in tound two.
Bilardo up next
Rybakina's next opponent will be Italian qualifier Federica Bilardo. Bilardo defeated Paraguay's ​Lara Escauriza by a score of 6-2, 6-2.