After Timea Bacsinszky's win over Pauline Parmentier, her press conferences became one of the highlights of the week with some of the questions she answered.
Bacsinszky's About Friendship on the WTA
The first question she answered was about friendship on the WTA circuit, especially with Pauline Parmentier, "I think you can have some type of friendship. Look at how I work with the other players on the tour. Well, I'm more or less friends with some of them. But I'm not looking for any type of conflict with any player whatsoever. It"s totally useless. So I"m really in favor of peace. If there is one of them who doesn't want to speak to me, I'm not going to come to her and speak to her. That"s the way I am."
"But then if I feel there is a feeling with some players, then, yeah. We"ll meet -- well, perhaps not during all the tournaments. But, for instance, Pauline, well, if we"re at the same hotel, sometimes, for example, in Rabat we played, both of us, and in the morning at breakfast I was alone and she asked if she could sit and have breakfast with me. And of course we did that. We had breakfast together."
"But I wouldn't say this is deep friendship. Well, you see, I know some things about her. She knows some things about me. But my friends in Switzerland, it"s totally different. I have a group of friends. That"s different type of friendship, and, you know, with the players, it"s not as deep. Because I think that if you have this very profound friendship between two female players -- well, it might happen, but then if they play semis in a Grand Slam, you know what might happen? They might bicker and they might fight in a certain way, like girls do."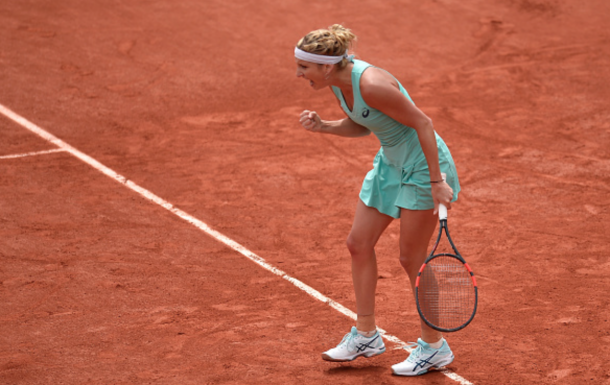 Bacsinszky On Behavior On and Off the Court
Another interesting topic that the Swiss discussed was about on-court behaviors and off-court behaviors, and even talked about Alexandr Dolgopolov. "Knowing someone well is something that helps you understand their tactics during the match. For instance, if someone is well organized in life, I don't think that this person on a court will do anything and everything, you know. I can't really say, I can't give you more examples, but I was thinking, you know, what"s the name? There is a Ukrainian player who is amazing, a Ukrainian player -- Dolgopolov. That"s the name. I don't think in life he"s very organized. I don't know. I don't know. What happens on a tennis court is something that mirrors the person you are. I have the impression, you know, those are just my beliefs and what I think, maybe someone is going to say, No, no, no, not at all. But, you know, these are the little things that you can see in the locker rooms. If a girl folds her towels away, et cetera, everything is clean and neat, if during a match you can break her game, maybe she's going to be lost."
The Swiss Compares Men's and Women's Tennis
The final topic she talked about was the popularity between men's and women's tennis, "What I expect is not to be in the spotlight. You know, to be in the spotlights, you have to deserve it. I"ll never think, Okay, why are they talking more about Stan and Rog when I"ve just won a match? Look at all the titles they have. I have perhaps something like 10% of Rog"s titles or wins. This would be my dream. And sometimes, you know, it"s not contrary -- not the contrary, no, sorry, I was saying something totally silly."
"But anyway, there was a moment when I thought or I felt, rather, it was last year, Federer had two matches that he won, and, you know, but he had done that before, but for us it's different. If you want people to talk more about yourself, play better. Be better. You know, you can't expect anything else."
"Being ranked 50th in the world, I wouldn't expect anybody to praise my games. You know, it"s very nice to be 50, to be around 50. But then some people are doing better than that, so if there is less buzz, less buzz, about women's tennis, I don"t know what the reason is. It"s been the case for years and years. So what's the point in fighting and struggling and saying, Okay, we shouldn't talk about women"s tennis this way. We should change -- no, it"s a fact. Either you accept it or not. People talk about men"s tennis. You know, I don"t want to go against this trend. I"m trying to do my best. And that's about it.Then if people talk about me, that's good. If nobody talks about me, you know, what's the saying, I think in French we say, to live happily you have to live in the dark. That's good for me. I don"t want to always be in the spotlight."