American Taylor Fritz put himself on the map last year with his string of ATP Challenger titles in the fall. Thanks to his success and earning a career-high ranking after the Challenger titles, the ITF crowned him the Boys' World Champion and was given his award after Day 10 of the French Open during the ITF Champions Dinner.
Challenger Titles Put Taylor On Notice
Even before his run of Challenger titles in the fall, the 18-year-old was put on notice thanks to an interview with ESPN's Chris McKendry during the US Open. At the time, the American was junior world number one and was just coming off a hitting session with some of the top players in the men's game. These players were duly impressed hitting with Fritz, which put some people on notice about how impressive he could be in the future.
In October, Fritz won his first Challenger title, winning the Sacramento Challenger title over fellow ATP NextGen star, Jared Donaldson. He followed up that title with a win at the Fairfield Challenger, defeating Dustin Brown in the final. The American nearly won a third title in Champaign but fell to Henri Laaksonen in the final.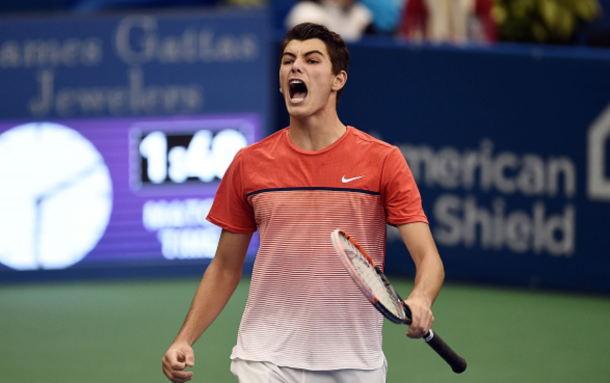 Career Year in 2016 So Far
Fritz kicked off his 2016 right where he finished 2015 with, winning a title. He won the Happy Valley Challenger as his warmup to the Australian Open and then qualified for the first Grand Slam of the year where he led countryman Jack Sock two sets to one before dropping the match in five sets. He made the most of his wild card entry in Memphis, making it all the way to the final, giving eventual winner, Kei Nishikori, his money's worth in the final, losing 4-6, 4-6. The American then made the quarterfinals in Acapulco to follow that up. Fritz is currently at a career-high 67 in the rankings and is set to move up to 64 despite his first round loss at the French Open.