It was a difficult day at the office for Romanian number one Simona Halep yesterday. The Romanian was leading in her match against Sam Stosur when it kicked off, but the rain and delays forced her into some trouble as she fell in two tight sets to the former US Open champion. She talked about the conditions in her press conference where she was none too pleased about what went on.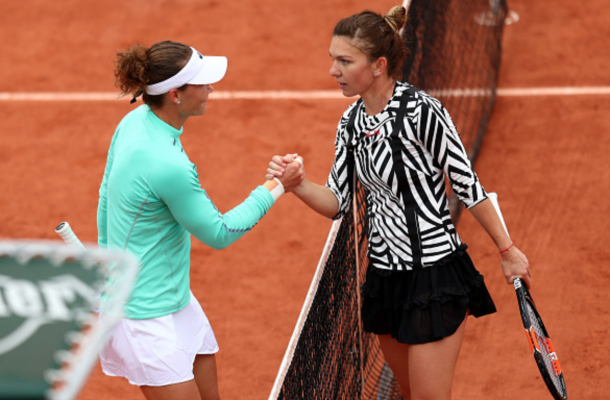 Q. How difficult were the conditions out there with how wet and heavy it certainly looked?
SIMONA HALEP: "I cannot comment about the conditions. I have no words. It was impossible to play, in my opinion. And to play tennis matches during the rain I think it's a bit too much. But everyone was in the same situation, and who was stronger won today."
Q. Aga Radwanska said the same thing. She said this wasn't a 10,000 tournament. She tried to stop the match. Did you at any point have an occasion where you said, This is really ridiculous?
SIMONA HALEP: "No, because I knew I have no chance to change anything. I think was not a good idea to say something because you say without reasons. No one cares about the players in my opinion. I don't care that I lost the match today, but I was close to get injured with my back, so that's -- that's a big problem. But like I said, no one cares. We have just to go and play."
Q. Did you want to start the match or did you realize just that it was bad once you got out there and you started playing? Were you unhappy that they started the match at all today?
SIMONA HALEP: "Yeah, I was. Because the court was not good. The balls were wet, completely wet during the match. So I think it's too difficult to play tennis in these conditions. I felt some pain, yeah, in my back, in my Achilles. Is normal. Sam was stronger and she played better today, and these conditions I think are good for her because she has a lot of topspin."
Q. Why do you think they played, if you think it was impossible? If it was impossible to play, why do you think the organizers were pushing to continue?
SIMONA HALEP: "I don't know. We have to ask them. Maybe they are scared because the tournament is going -- the days are going on and they don't play matches. But is not our fault. Is not their fault. But the decisions were not, I think, the best."
Q. You suggested that the conditions may suit Sam or suited her today. How deep do you think Sam can go in the tournament this week?
SIMONA HALEP: "She has a chance. If the courts stay like this she has a chance to go till the end, in my opinion. She played really well today, and her ball was heavy today, heavier. It was good for her. I mean, I have nothing to complaining about. I played okay. I tried to do everything I could. That was my level today. But she played a very good match."
Q. Very recently Goffin walked off the court. Granollers. Are you ever going to get to a stage where you have the power to say, No, I'm not going to play in these conditions? Are you that kind of person?
SIMONA HALEP: "No, I'm not that kind of person, and I will never do that. But I hope that all the people that are working for the tournament. In this case they take the right decisions. Is not my style to do that. But what happened? I don't know."
Q. They stopped -- they didn't like the conditions, so they walked off.
SIMONA HALEP: "The players? Both of them?"
Q. Yeah.
SIMONA HALEP: "Good. (Showing thumbs up.) Well done to them."
Q. Were you able to play today at all without the frustration, or was just the frustration about the conditions difficult for you to just get over to play your game?
SIMONA HALEP: "Yeah, I was frustrated about waiting three days and about playing in the rain. That was the biggest problem for me. I didn't feel sure on court, safe on court. This is not right to happen, but the game was good. I mean, in my opinion she played really well and she deserved to win. Her ball was very heavy to return, and her serve especially. She did a great match."
Q. After Madrid and before this weather happened, did you feel you were playing well enough to win this title?
SIMONA HALEP: "I was very far because I finished in the fourth round, so I was far to think about the title, but I think that I had a chance. If the courts are dry here I have a chance, because I like the conditions when it's normal weather. In Madrid was different. That's why I played so well. I like those conditions, yeah. But I didn't think about title. I was very far."
Q. With how much you say you like the normal conditions here, how frustrating is it to have a match -- to lose at this tournament because of the conditions
SIMONA HALEP: "It is. I cannot describe in words now. I take it like it is. Many other top players lost today. It is how it is and we have to go ahead. I mean, tomorrow I have to think about the next tournament, grass season."
Q. Did you talk with any of the tournament referees or organizers even when you were off-court after the match or anything to express your feelings?
SIMONA HALEP: (Shaking head.) "I will not".
Q. On Sunday it took a little bit of time before your match was moved out on Court No. 1. From our perspective it looked like it could have started earlier. Can you give us any idea of what the discussion was behind the scenes on that?
SIMONA HALEP: "Nothing. They just wanted to wait to play on center court, but I think everyone knew that is not going to be a chance there. They put doubles matches before us. When I went to ask to play on Court 1 -- doesn't matter which court, just to play, because we know that it's going to rain and it's going to be late, but they took the decisions to put doubles and then us."