 The quarterfinal field in the boys' singles draw at the 2016 French Open was set on Thursday, with third round action being completed. Up-and-coming tennis nation Canada led the charge, with three Canadian boys advancing to the last eight, the only country with multiple quarterfinalists
Results
Canada, who are the reigning junior Davis Cup champions, saw all three of their boys advance on Thursday. Fifth seed Denis Shapovalov, eleventh seed Félix Auger-Aliassime, and Benjamin Sigouin, the three boys who formed Canada's championship team last year, all advanced, albeit in very different fashions. Auger-Aliassime had the easiest match, defeating Jurabek Karimov in straight sets. Shapovalov was broken late in the first set to drop it but bounced back to cruise through the final two sets in a 5-7, 6-3, 6-2 victory over ninth seed Miomir Kecmanovic. Sigouin had the toughest test. After splitting the first two sets with Alexei Popyrin, the pair engaged in an epic third set, eventually won by Sigouin 13-11.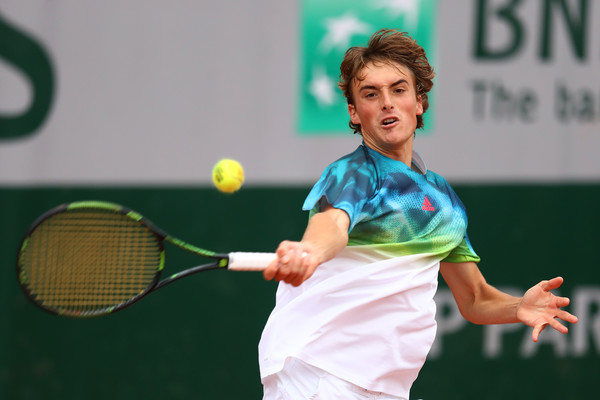 Top seed Stefanos Tsitsipas won a topsy-turvy match with American Nathan Ponwith. After cruising through the opening set, Tsitsipas was blown out in the second, only for the top seed to bounce back and return the favour in the deciding set. Tsitsipas emerged victorious 6-1, 2-6, 6-2 to set a quarterfinal date with Shapovalov. Second seed Mate Valkusz was not so lucky, as he was sent packing in straight sets by fourteenth seed Genaro Alberto Olivieri. The Argentinian will face-off with Auger-Aliassime in the quarters.
The French fans got to enjoy a tight battle between local boys as Geoffrey Blancaneaux and Corentin Moutet. The match went the distance, with Blancaneaux narrowly edging his countryman 7-5, 3-6, 7-5. He will take on Segouin in the quarterfinals. Marvin Moeller had the easiest third round match. The German blew out Alberto Lim with the loss of just three games. He will do battle with Nicola Kuhn of Spain in the lone quarterfinal match not featuring a Canadian. Kuhn defeated American Gianni Ross in straight sets.
The quarterfinals will take place tomorrow on the outer courts at Roland Garros.