Samantha Stosur has had her fair share of struggles over the past few years because of a lack of consistent results and failure to beat players she should beat thanks to mental troubles. However, she's gotten it back on track, with a semifinals showing at the French Open.
Q. How much satisfaction do you get out of not necessarily playing your best and still finding a way to win in that situation?
SAMANTHA STOSUR: "Yeah, a lot. At this point in time I could careless how I played if I won. Look, it was really tricky today. She has all different sorts of paces. Sometimes she gives you nothing and then she can really hit it. It was really tough out there today, so to get through that in straight sets, I'm really happy."
Q. How crucial was that triple break point save I think down 4-2 in the first set? You let a little, Come on after the first point, and then after that seemed to spark you. Can you talk about that?
SAMANTHA STOSUR: "Obviously that was a big moment. 5-2 is a hell of a lot different to 4-3. And then it's probably even more so when they have just had three break points and really almost feel like they are in total control of the match. That was really big to get out of that game. I kind of slowed the ball down a little bit and realized I wasn't able to hit winners and necessarily get rewarded straightaway in the points and just tried to work it a little bit more. Yeah, that started working and I was able to get on a bit of a roll then from that point on. Yeah, that was I guess a really crucial part of the match."
Q. Seemed to suck the life out of your opponent, as well. Did you sense that, that she had realized she let quite a few opportunities slip? You rattled her confidence. Did you sense that?
SAMANTHA STOSUR: "I think it's probably pretty normal losing four games straight and lose the set to be a little bit down. Having said that, then she got a 3-1 lead in the second set, as well. I guess whatever she was feeling, if it was a negative kind of impact from that point, she didn't obviously dwell on it for too long and bounced back well in that second set. I got back down again and had to kind of reset and re-evaluate what was going on. It was kind of like that the whole way through. Okay, what's happening now? I have to do this; gotta do that. Always trying to adjust and find a way."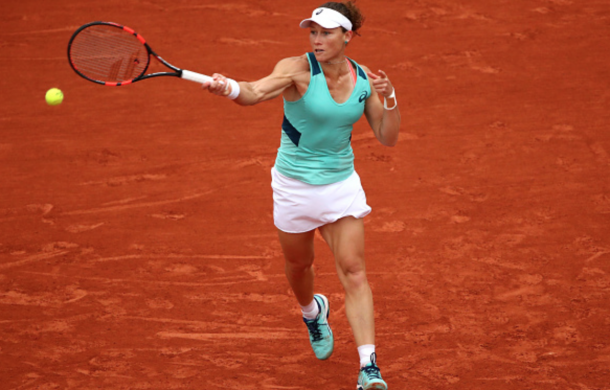 Q. How do you recalibrate when you have a match, especially in a Grand Slam, where you play really well and then you come out and can't quite find your form? I think that happens to a lot of tennis players. If you're able to kind of share how you differentiate your expectations when that happens and how unpredictable I think it is from match to match in a slam?
SAMANTHA STOSUR: "Yeah, obviously the same goes for two weeks. It's very hard to play your best tennis every single day. I guess given the way the weather has gone, tomorrow is only my second day off of the tournament. It's hard to I guess kick that, you know, same feeling and momentum and everything going every single day when it gets draining, I guess. I think typically whoever wins a Grand Slam, they don't always play their best tennis every single day, but they find a way to win. That's what I was able to do today. I still thought I played well, and I played an opponent playing well and had been the whole week. It's not easy, and not everything was always on my racquet today. Like I said, to get through it no matter what the circumstance, I'm very pleased with that."
Q. What are your thoughts on your next round opponent? What are you going to do tomorrow?
SAMANTHA STOSUR: "Have a sleep-in and try and relax a little bit. (Smiling.) Yeah, it's going to be a tough one against Garbiñe. She's 3 or 4 in the world at the moment. She's had a great couple of years. She has had some good wins this week obviously to be this far. She hits the ball hard and flat and she's very aggressive. I watched a little bit of the match she played with Sveta on TV. I'm expecting a tough one. I will have to play well, and if I'm not playing my best I will have to find a way and do something that's going to hopefully put me in a position to do well."
Q. I suppose it's been quite a while since you've gotten this deep at Roland Garros and your ranking is not as high as it was when you were going deep here. Did you get the sense people had written you off? How satisfying is it to do it?
SAMANTHA STOSUR: "Yeah, I mean, I think tennis in general is very reactive. You can have a great year or two and then you have a slump and everyone writes you off. I think even people write off Roger and Rafa. If they will write them off they will write off everyone else. But I think it all really comes down to how you feel about what you're doing. If you feel like, you know, one, still healthy, doing everything you need to, training well, training hard, and feel like you can still compete with the best players in the world. I always still felt like that. There has obviously been a few dips along the way there. It's important to, I guess, really believe in yourself and what you're doing and know if I keep doing this I can turn it around."
Q. You were saying the other day and have been saying once you're at the top of the game that doesn't go away regardless of the slumps. How hard, though, was it to constantly believe, I'm a Grand Slam champion, and it is still there, that it hasn't gone away?
SAMANTHA STOSUR: "It's very hard sometimes, but I think at the end of the day it's probably true. (Smiling.) But, yeah, it doesn't necessarily make it any easier. Sometimes it makes it harder knowing you have been able to accomplish something as good as that. Yeah, a lot has happened I guess since I won US Open and since I was in the top 10 for a few years. I guess I wasn't thrilled with my ranking, with where it was recently, so... Yeah, you've got to find a way to get back up there and constantly tell yourself, if you're doing the right things, it can come back. Like I said the other day, things can turn around very quickly. If you're doing that and you've got it in you, then I do believe you can, you know, have a resurgence."
Q. Can you tell us what changed in the last five years? I mean, what is the difference in the game of Sam Stosur that won the US Open and right now?
SAMANTHA STOSUR: "I think I probably move better now. I think part of me in some ways -- I probably have more belief in some ways now than what I did then because it's all unknown. You don't know if you can do that. Now I know I have done that. I know I can do it. But the hard part is now replicating that and making it happen in the biggest tournaments. I think the last couple of years, you know, in the big WTA events and Grand Slams I kind of let myself down with a poor match. I guess the worst thing for me is when I beat myself. I know I've got all these weapons, but sometimes it's hard to put it together. I think over the last five years I've got a lot better at winning matches that I'm not necessarily playing my best tennis but I have been able to adapt and find a way to win. I think that's probably the biggest thing that's improved in those last, yeah, five years."
Q. At what point do you start to really believe that you can win the whole thing? Do you currently think that that's a realistic thing? 1 in 4 chances at this point.
SAMANTHA STOSUR: "Yeah, 4 of us left out of 128. 25% chance of winning at the moment. Yeah, you can't get ahead of yourself. I'm not thinking anymore about, you know, being in that position as what I was before I played my first round, to be honest. I know that this next match is going to be very hard. Yeah, there are only a handful of us left now and we all want it really bad. It's not going to be easy from this point on. It's no easier than what it was a week and a half ago."
Q. Your backhand has been quite something. It's been pretty resilient throughout the tournament. I think in the past you have said you and Dave have both had the philosophy of you back your strengths. Can you talk about the work that you have done on that backhand? It's held up really well here.
SAMANTHA STOSUR: "Thanks. (Laughter.) I guess even so, we haven't spent, you know, a ton of time hitting backhands every practice session. I think when you're playing well and setting up points well and I'm in control of it, then it really can be a strength. Yeah, I feel like I have been hitting it very well. I have been able to mix in the slice. Probably hit too many slices first six games of the match. Kept constantly telling myself to hit over the ball. I guess if I'm telling myself that it's a good thing. I guess a lot of it is the mindset I have got on it. If I'm putting myself in a good position on the court and wanting to hit it, then I know it can be a good shot. I've got to really do that."
Q. Speaking of Dave, I mean, every match here potentially could be your last one with him. I was just wondering if at any stage this fortnight you have had that conversation, like this could be our last match. Has it added an emotional or significance to the tournament given that's what's happening afterwards?
SAMANTHA STOSUR: "No, we haven't spoken that this could be the last match. Probably won't speak about it now before the next one, either (smiling.) Yeah, obviously we both know that we don't need to necessarily have that conversation beforehand, but regardless of what happens now, I have had a great tournament and I really want to keep it going. But it is nice to have -- I mean, it's not just this week though. I have had a really good clay court season. I guess it's all been in the buildup to this event. That's, I guess, what's really pleasing. I have had a good buildup, and to follow through with a really good Roland Garros. Yeah, whether it's the next match or the one after, then it is what it is. It's nice to have a really good tournament to finish on."