 Mexican fans flocked the Sierra Madre Club in North Sultana recently to see two of the sport's greatest competitors face off yet again on the hard court. Andre Agassi would fall to Pete Sampras 6-0, 6-4. Yet, somehow that wasn't the most important news of the day. Agassi stunned the crowd when he announced after the match that he would be stepping away from the game he's known nearly his entire life.
An era officially ends
At 46 years of age, Agassi has long since stepped away from the ATP World Tour. After compiling a career record of 870–274, which included 8 Grand Slam titles, Agassi said back then he could no longer compete at the sport's highest level due to severe back pain.
However, fans have still been able to catch glimpses of the former world number one. He has spent the last several years competing on the Senior Tour. Now, that has come to an end as well.
Just moments after his loss to Sampras, Agassi told the crowd of his decision- he was retiring permanently from senior circuit, effectively ending his competitive career.
"I want to announce that this is the last time I'm going to compete, I am proud to have been against one of the greats and I'm glad that was in Monterrey," said Agassi.
Tearsed down his face as he saw a somber reaction of appreciation from the crowd.
Another look back at a storied career
Though it's been more than a decade since Agassi stepped away from the ATP tour he left an indelible mark upon tennis. The American made his first big tennis news at the young age of nine when he played football legend Jim Brown in a match in which his father had originally wagered his own house. The young Agassi would eventually only win $500 that day, but he went on to win millions as he recorded eight grand slam championships, including the 2003 U.S. Open.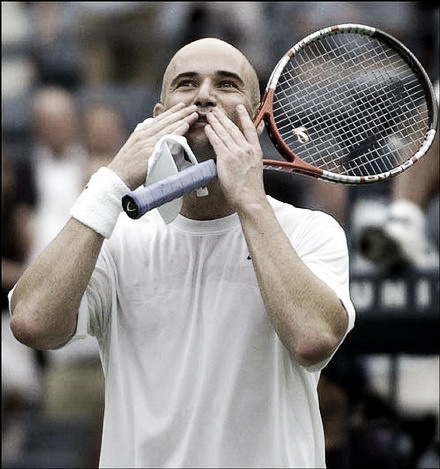 Now, Agassi officially leaves it all behind. But he will always remain a legend of tennis, both at home and abroad. His iconic status was evident in his farewell address to the Mexican crowd.
Sampras may have won the match, but the loudest applause was reserved for Agassi. He walked off the court through a throng of cheers, a sure sign that he has long etched his name in tennis history.