 British number one Andy Murray overcame yet another slow start at the French Open to overcome crowd favorite Richard Gasquet to advance to another semifinal in Paris.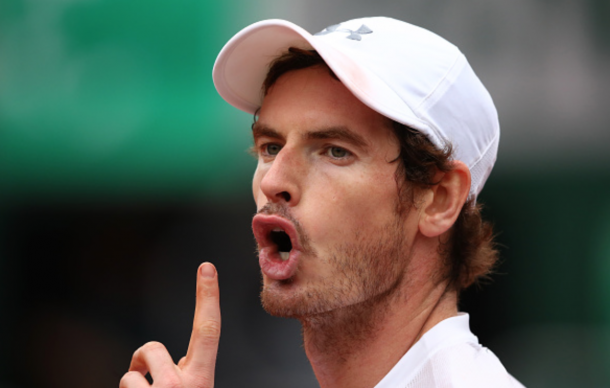 Q. You have been around a long time, but when you're a set and 3-1 in a tiebreak playing in a stadium and everyone is cheering for the other guy, what kind of thoughts are going through your head?
ANDY MURRAY: "It wasn't actually too bad, to be honest. I have played in worse atmospheres. For sure the crowd were behind him, but it wasn't too bad. But, yeah, you know, I was creating a lot of chances and wasn't taking them, so I needed to -- you know, that stretch of five or six points was huge from 3-1. I served double fault 2-1 in the tiebreak, and then my next two serves were aces. Got a good contact on a return at 3-All, and I remember at 3-2 hit a dropshot and he had a backhand which hit the tape, and, you know, those points there changed the match."
Q. Can you talk us through your dropshot strategy, especially in that first set? You stopped doing it later on in the match. What was going on there?
ANDY MURRAY: "Well, it was working at the beginning, and obviously got myself into a good position in the first two sets. I mean, I was 5-3 up in both, serving for it, and, yeah, obviously played too many. But in the end, I mean, physically I think he was struggling. I don't know if, in a way, they kind of worked in the long term, but I wasn't getting loads of success sort of towards the end of the sets. But then in the second-set tiebreak, first point of the tiebreak I hit a winning dropshot; the 3-2 point, you know, I won the point, as well. And yeah, for sure there was too many. But I don't know if, in the long run, that made it tougher physically because he was having to run for a lot of them."
Q. Just sort of looking at the tournament as a whole, how happy have you been with your form?
ANDY MURRAY: "Well, I think I played some really good stuff today. I do think I played well. Obviously, the match could have been maybe more comfortable had I done a bit better serving out the first two sets. But, you know, aside from that, you know, I was playing some good stuff. I finished the match extremely well, I think. It wasn't easy for me today. You know, I played two guys where you get zero rhythm, you know, against Karlovic and Isner. Then a two-day break where you're barely hitting any balls because of the conditions. It was 30, 40 minutes of hitting. Then coming out and playing a completely different match today, I thought I did well for the most part in, you know, a tough atmosphere, too. It's not bad."
Q. Obviously, you've got to look after your own business, but how tough is it to sort of keep your eye off what's happening in the other side of the draw and sort of not think to yourself, I'm sort of pleased that their schedules are getting pretty tough now on the other side?
ANDY MURRAY: "Yeah, I mean, I haven't given it loads of thought. Obviously, you know, your job is to take care of your own matches at these events. Obviously the weather has been challenging the last few days for, I mean, everyone involved. Especially the players in the top half it's been tricky, for sure. But you have got to just try and concentrate on yourself. Right now tennis players during these events have to be selfish and look at their own matches and try their best to get through them. It's been a tough few days for everyone, but especially the players in the top half."
Q. What did you do all day yesterday? I mean, we saw you on the television briefly. You and Delgy coming out and having a little round. But what do you do to fill your time when you can't practice?
ANDY MURRAY: "Yeah, I mean, we hit for 35, 40 minutes in the morning and it rained the whole practice pretty much. We hit off-site. The day before we hit indoors for 40 minutes, which is completely different conditions to obviously what we're playing outside. And then, yeah, you just hang around and wait. Kind of had the feeling yesterday that, you know, we probably weren't going to play. You've got to be ready. It's a slam quarterfinals. You can't just sort of totally switch off, either. So just long days where you're thinking a lot about the match, and, you know, whether you're getting on or not. Weather at times looked good and then they were playing through rain. Didn't know if they were going to have to stop. So not much you can do."
Q. You have to be on-site. What do you do? Do you play Scrabble? Jigsaw? Do you play cards? What?
ANDY MURRAY: "Yesterday, no. I watched a little bit of tennis when it was on. Slept a little bit. Saw my physio a couple of times. I did some stretching with my trainer. I can't remember exactly what time we got canceled. I think it was 5:45, 6:00. Then went back to the house where we're staying and did a few crosswords; had some dinner. That was it."
Q. Your fourth semifinal here. You don't have to face Novak or Rafa this time, but I'm sure you'll see Stan as just as tough an opponent.
ANDY MURRAY: "Yeah. I mean, obviously the last two years here he has played great tennis. After he got through the tough first round here against Rosol he's played I think, you know, very well. I didn't see his match today. But, yeah, again, he's been at the top of the game now for a number of years, you know, and is still improving. Been a little bit inconsistent this year, but obviously won the tournament last week and has been playing better with each match here. It will be obviously very tough. He plays well on that court, so I'll have to play great tennis to beat him."
Q. With your form on clay in the last 12 months and also the way you played today, is this the most belief you personally have had that you could actually win this tournament?
ANDY MURRAY: "I get asked that question a bunch before the tournament, kind of after Rome, as well. Last year was similar. I came in not having lost on the clay and played some really good tennis. I don't know. I mean, I believe I can win the event. Whether I do or not, you know, we'll have to wait and see. But I believe it's possible and only a couple of matches away now. Yeah, just give everything I've got the next few days."
Q. You talked on court about the match looking an entertaining match for the crowd. Are you actually able to enjoy that process while you're in the middle of the match, or is it something that retrospectively you see was a good match to watch? And are there particular sorts of players that you get more pleasure from playing?
ANDY MURRAY: "Well, I don't know whether there was a lot of variety in the points we played today. I think there were different sort of rallies, , shots, angles, dropshots, lobs. Well, I don't know. Not everyone finds that entertaining. Obviously some people like different game styles. I think there was a lot of good points in the match, a lot of sort of quick reaction, reflex sort of points, and that's normally the case with Richard. You know, he's an extremely talented guy. You know, unbelievable single-handed backhand, as well. Yeah, when you're out there I personally find it quite stressful. I don't know what the other players say, but I'd say most elite sportsmen find sort of competing in their biggest events pretty stressful."
Q. I know your target isn't just to reach the final, but how big of an achievement would it be to have made the final at all four slams?
ANDY MURRAY: "Yeah, I mean, obviously, you know, it would be nice. I think, you know, this stage of my career to sort of do things that I have never done before, you know, is nice. That's one of the things that sort of motivates me and drives me. That's why my results on clay over the last couple of years have, you know, been really special to me because I never expected that really, and it had come, you know, in the latter stages of my career. So if I was able to make the final here it would be, yeah, big for me. But I'm here to try and win the tournament, not make the final. You know, that's my goal for the next few days."
Q. You were talking about how difficult it was after playing big hitters like Karlovic and Isner. Is it too simplistic to say that you can put Richard and Stan in the same bracket, because they have both got these beautiful one-handed backhands or are they completely different, as well?
ANDY MURRAY: "Yeah, I mean, they obviously have some similarities, but, you know, Stan probably hits a flatter ball. You know, Richard plays with quite a lot of height and spin. Stan definitely plays a bit flatter off his forehand and can hit his backhand flat, as well has a bigger serve. But there are similarities there, for sure. So, you know, at least I got used to playing against a single-hander today who can use the angles, change the direction up the line. So for that it was good preparation, but Stan definitely serves a little bit bigger. Not sort of -- not like Richard is easy to break, but Stan is a tough guy to break when he's serving well."