 Bulgarian Tsvetana Pironkova enjoyed a brilliant run to the French Open quarterfinals which ended at the hands of Samantha Stosur.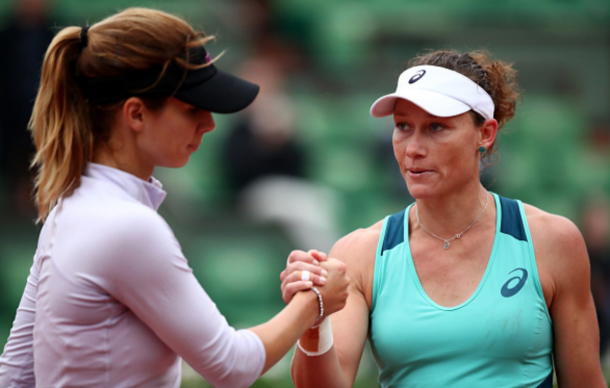 Q. What were your thoughts on that match?
TSVETANA PIRONKOVA: "Very tough match. Obviously I had a lot of chances, which I don't feel very good about losing, obviously. But still, Sam played really well today. I tried. I tried everything, but she just beat me."
Q. What do you think turned around the tiebreaker from 5-1-up?
TSVETANA PIRONKOVA: "Yeah, well, it's a tiebreak. Especially on that stage of the tournament nerves are also playing in the game. I was nervous. I did some silly mistakes here and there. She did some good rallies. Yeah, obviously she was better than me today."
Q. Were there things that you were able to do on the court today that you thought were effective against Sam? And what were those?
TSVETANA PIRONKOVA: "Yeah. I noticed that if my ball, my strokes, are deeper, she struggles. I tried to be aggressive all the time because that's when she was struggling. But she had a great variety. I mean, her strokes are not typical. They jump really high. She's also playing on the net. She's doing slice shots, great serve, great overhead. She didn't miss a single overhead. And, yeah."
Q. Thoughts on your two weeks in Paris? Not so bad, huh?
TSVETANA PIRONKOVA: "No, not at all, actually. I cannot be unhappy. I'm very happy with these two weeks. I had great emotions here; I played great matches; I had great wins. It's one of my best runs."
Q. In terms of the Olympics, is that something that's on your mind at all? Obviously you moved up the rankings quite a bit this week, but have you talked to the Federation and all that about getting into the Olympics?
TSVETANA PIRONKOVA: "No. I still haven't had the chance to talk with them. From what I heard from the media is that I will be around No. 70 for Monday, and that gives me a pretty good chance to qualify for the Olympics."
Q. What tournaments on grass are you going to be playing, do you think?
TSVETANA PIRONKOVA: "Oh, good question. I was thinking about that right now. I haven't decided yet for sure what tournaments I'm going to play before Wimbledon, but I'm really hoping that I will get in Eastbourne because my old ranking, 102, it's close with my old ranking. I'll be very happy if I get in there because that's one of my favorite tournaments. It's a great event."
Q. Last question from me: The leg; we saw it was taped up. Is it serious at all or because you played so much and it was maybe a little bit strained? Are you worried about it as we get to grass?
TSVETANA PIRONKOVA: "I don't think it's super serious. Obviously I wasn't 100% physically today. I did have some troubles with my leg, with my quads and my ankle, as well. I think it's just tiredness. Too much tennis (smiling.) I'm going to try to recover the best way now. Maybe take a few days off and see how it goes."
Q. Talking about Sam one last time, she's won a Grand Slam but it's some years ago. I don't know, how do you see her? She's a little older now, but she's, yeah, more experienced. She looks quite athletic. What do you think? Can she win another Grand Slam maybe here?
TSVETANA PIRONKOVA: "Yeah, sure. Why not? I don't think age is a factor that much anymore. Obviously players are playing until much older age than they used to be playing. She looks fit. She's playing well. She's hitting well. She's fighting till the end. She's playing semifinal now, so obviously she has her chances."