 World number four Garbiñe Muguruza made history on a cool Saturday afternoon at Roland Garros, stunning world number one Serena Williams 7-5, 6-4 in an hour and 43 minutes to capture her first Grand Slam title, becoming the first Spanish woman to do so since Arantxa Sánchez-Vicario did it 18 years ago. With this win, Muguruza will now rise to a career-high of number two in the world next Monday, sitting less than 1,600 points behind Williams in the rankings.
Muguruza Clinches Decisive Break En Route to Taking Opening Set
After three quick-fire service games in terms of balls struck from both women, it was unsurprisingly Williams who was looking to draw first blood, earning herself the first break points of the contest. However, Muguruza didn't reach this stage of the competition just to crumble under the pressure; some wonderful hitting paired with superb shot placement enabled her to move Williams all over the court, thus allowing her to dictate from the back of the court. As a result, she would go on to hold for 2-all, saving both break points in the process. After passing her first real test of the encounter with flying colours, Muguruza began to swing more freely and hit with much more authority, consequently earning herself a trio of break points. This time, it was Williams' turn to dig her way out of trouble. After saving the first two break points with some big serving, the world number one cracked under the pressure; a double fault securing the first break of the match for Muguruza.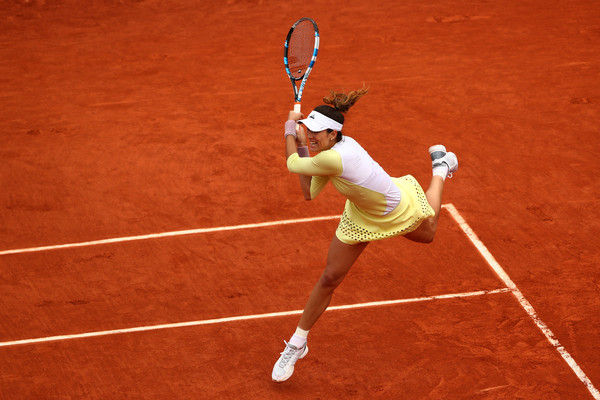 After hitting two double faults to open the following game, the fourth seed was able to take advantage of a series of errors from the world number one before hitting a bullet of a forehand down the line to consolidate the break and lead 4-2.
Relatively unfazed by her inability to convert her early opportunities, Williams coolly and calmly held to serve to stay in touch with Muguruza, the score now 4-3 in favour of the Spaniard. That hold proved to be beneficial for Williams as just a game later, she would find herself with yet another opportunity to break the Muguruza serve and this time around, she made no mistake. As the fourth-seeded Spaniard missed the mark with a backhand, things were now square at 4-all in the opening set, with little to separate both women. With the momentum now in favour of the American, Williams was able to counter the pace beautifully en route to holding and putting herself within one game of a one-set advantage.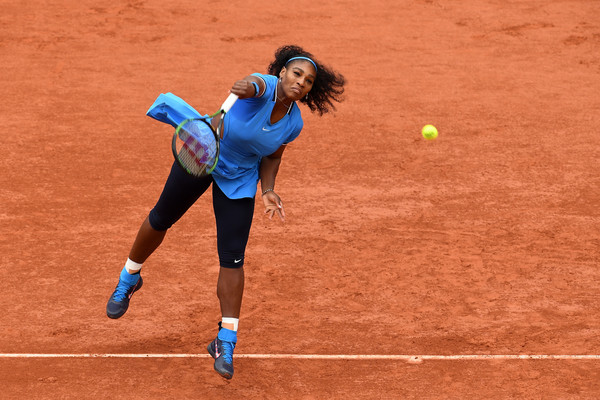 Unlike in their encounter at the Wimbledon final 11 months ago, Muguruza did not crack under the pressure when serving to stay in the set, trailing 4-5. This time around, fearless hitting proved to be the difference as the world number four held her nerve, as well as her serve, to restore parity at 5-all. Continuing with the same attacking mentality, one felt it was only a matter of time until Muguruza broke once more, which she was able to do moments later with an absolute barrage of forehands straight at Williams. Now with the chance to serve for a one-set lead over the world number one, Muguruza seemed to let the pressure get to her when she went down two break points, but quickly regrouped to hang on to her precious one-break advantage, and ultimately take the opening set 7-5 at the third time of asking.
Muguruza Captures First Grand Slam Title
Picking up right where she left off after impressively serving out the opening frame, Muguruza broke to open the second set after Williams netted a backhand, one of her 22 unforced errors on the day. However, despite some marvelous ball striking, the Spaniard was unable to consolidate the early break as Williams came roaring back with the help of a double fault from Muguruza to draw level at 1-all. But, the breaks didn't stop there. Continuing to swing for the fences while painting the lines, the fourth seed quickly found herself up a break once again, now a set and 2-1 to the good.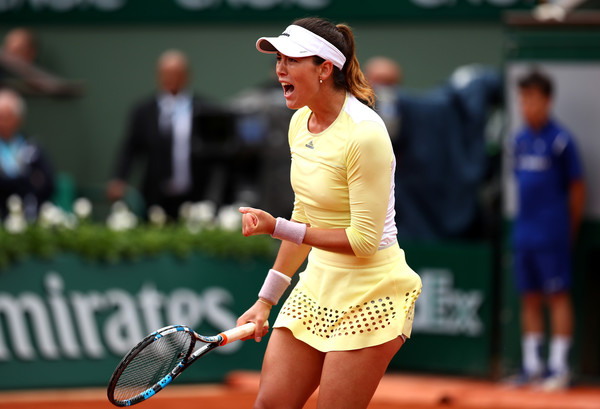 After a trio of breaks to open the second frame, the match went with serve for the next five games of the match, with the server not facing a single break point in the process.
But in a tense ninth game with Muguruza leading by a set and 5-3, the Spaniard was slowly beginning to close in on her maiden Grand Slam singles title. With Williams struggling to find her rhythm, Muguruza capitalized on a trio of unforced errors from the American to give herself two championship points, alas she did not take them as Williams upped the ante with some great serving. This pattern continued for the remainder of the ninth game with the Spaniard having more championship points—four in all—but Williams refused to lie down, saving each championship point with some emphatic hitting, before ultimately holding to force Muguruza to serve for the title.
Leading 7-5, 6-4, the 22-year-old Spaniard knew this was her best chance to claim the title right then and there, having already squandered four championship points just moments earlier. Remarkably, Muguruza barely put a foot wrong; a trio of errors from Williams bringing up at least three more opportunities for the fourth seed to capture her maiden Grand Slam singles title. On the first and fifth overall, Muguruza successfully drew Williams into the net before hitting an inch-perfect lob winner to seal the impressive 7-5, 6-4 victory.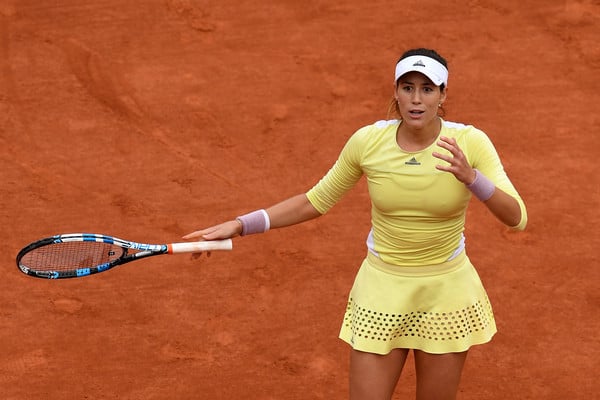 After a split-second of confusion regarding whether or not Muguruza's lob caught a piece of the baseline, the line judge confirmed it was in, meaning it was "jeux, set et match" for the 22-year-old Venezuelan-born Spaniard. After falling onto her back, the emotions began to pour out of Muguruza, who was greeted by a very gracious Williams, who commended her on an incredible effort and great match.
"I can't explain with words how this day means to me. You work all your life to get here," she said in her speech, still in utter disbelief. "I want to really congratulate Serena because she's one of the best players."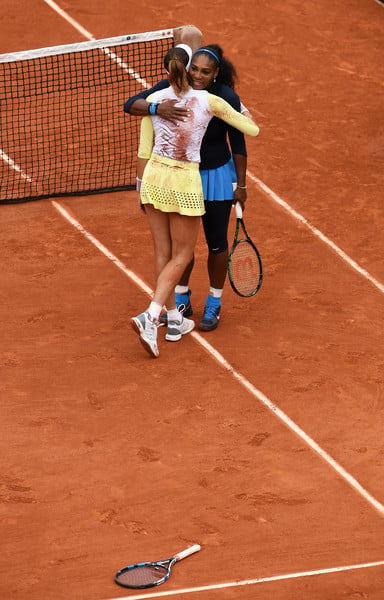 "Of course, I want to say thank you to my team: my coach, everyone there, Oli [my agent] and Cecilia and my family for sure," she continued.
"Well, I've grown up playing on clay, so for Spain and for me, this is just amazing," she said. "I know [tennis] is very traditional in Spain, but Venezuela is in my heart also, I also play for them."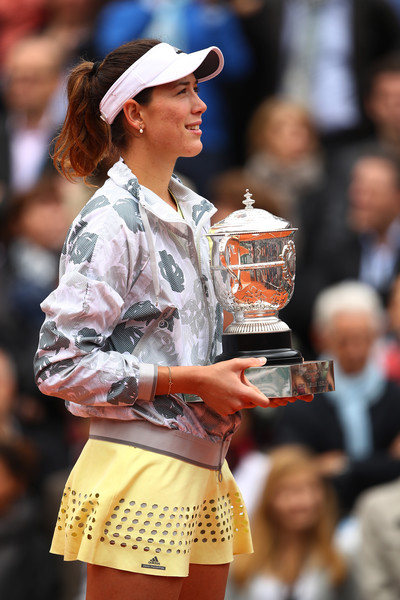 For Garbiñe Muguruza, not only is she a Grand Slam champion, but she will also be the new world number two next Monday, putting herself less than 1,600 points before Williams, whose dominance has kept her at that position since February of 2013.