 Muhammad Ali passed away early Saturday morning after a long battle with Parkinson's Disease. While many mourned the passing of "The Greatest of All-Time", some took a different approach in remembering him. Earlier this week, Andy Murray met Mathias Bourgue at the French Open. Borgue pushed the Brit to five sets. After the match, Bourgue's coach talked about how Muhammad Ali had a presence in the Frenchman's game.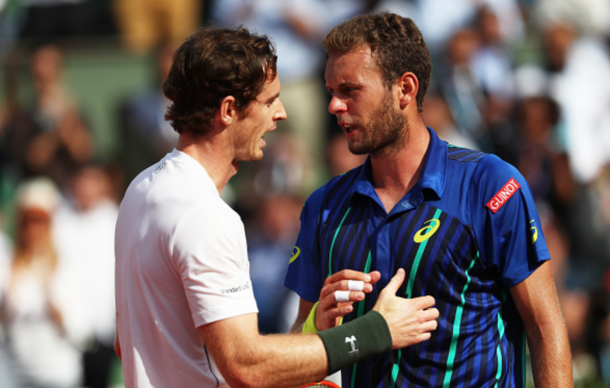 Bourgue's Coach Speaks to the Press
Before the match, Olivier Malcor, the coach of Mathias Bourgue, said that Bourgue was watching highlights of Ali before the match because he had made him do it. Bourgue then spoke to the press about what watching the Ali videos made him feel when walking out onto Court Philippe Chatrier
"And he said 'When I box, I wanna box in front of a big crowd.' It was very emotional. I think I entered the court with the right mindset. Even if I was a bit tense in the first set. I felt good."
In his first ever main draw, Bourgue put on a show on the main court of Roland Garros. After dropping the first set to Andy Murray, not surprisingly, the Frenchman turned it on to take the next two sets to get that French crowd fired up. However, Murray took the final two sets to advance to the third round. Despite not winning, Bourgue earned himself many new fans along the way because of his phenomenal efforts.
The 22-year-old is now set to move to a new career-high ranking of 153, moving up 11 spots from his former career-high of 164. The Frenchman is still a long ways away from earning automatic spots in the main draws of Grand Slams. However, with his performance, it's looking up for the young Frenchman.