 In a hard-fought match, Roger Federer claimed another victory in the Mercedes Cup, this time over qualifier Florian Mayer. With the win, the Swiss player reached a milestone, moving into second place for most wins on the ATP World Tour.
The match was not without its challenges, however. Both sets went to a tiebreak. Yet, Roger Federer rose to the occasion in both to advance in Stuttgart with a 7-6(2), 7-6(1) win.
Momentum on grass
After defeating Taylor Fritz in his opening round match in Stuttgart, the number three player in the world has steadily gotten more comfortable playing on grass once again. He would keep that momentum going against Mayer.
The beginning of the match signaled just how difficult the win would be. Mayer, the 32-year-old qualifier, pushed Federer to deuce and had two break opportunities. Federer dug deep to stave them off, gliding on the grass to return serves with ease back across the court. Federer's ability to fight back from a break-point were emblematic of how he summoned his best tennis when he was under the most duress.
The first set was largely an affair of who could hold serve, and both men responded. The Swiss would be challenged once again in the fifth game of the set, but would claim victory in yet another game that went to deuce.
He would then go on to create his own opportunity for a set point, but a return sailed wide and the set would eventually be settled in a tiebreak. There, the Swiss put forth some of his best work. He rolled the German in the tie-break, barely breaking a sweat. Federer only failed to win two points in the break and claimed the set 7-6(2).
More of the same
Mayer was still determined to put up a competitive fight. After fighting hard to save two break points, the German would claw his way to claiming his own break and gave himself a 2-0 lead in the second set. The small victory would be short-lived, however. Federer broke right back in the following game and consolidated with a hold of his own.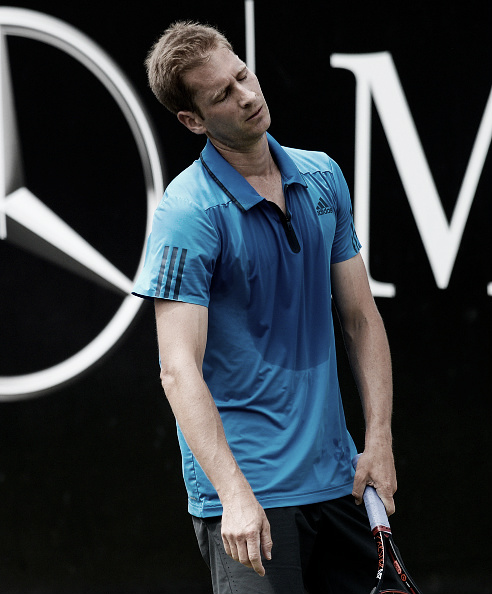 Once again, the set plunged into a contest of each men holding serve. During the final game of the set, the world number three faced three set-points. He saved all three breaks and sent the game to its final tie-break.
Once again, the Swiss saved his best tennis for last. He rolled Mayer in the break and dropping just a single point to claim victory on the day. He now moves on to face Dominic Thiem in the semifinal.