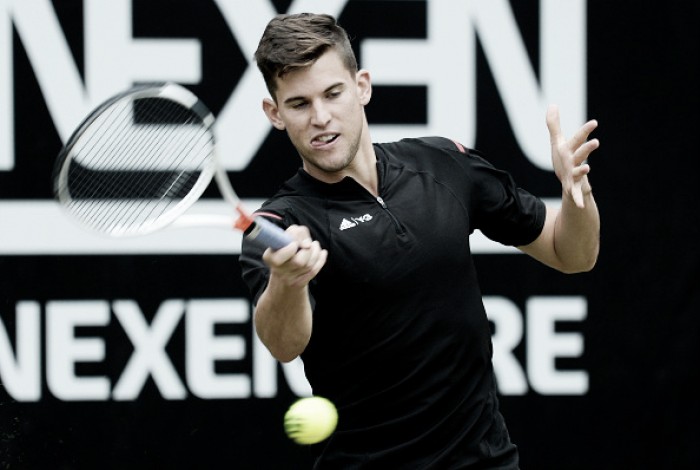 Coming into the match, Dominic Thiem and Roger Federer had met twice with each player coming out victorious. Their third meeting was their first on grass, and it was Thiem who came away with the 3-6, 7-6(7), 6-4 victory in the semifinal of the Mercedes Cup. The battle of old - young lasted an hour and 56 minutes and featured two of the best one-handed backhands in tennis today.
Federer Strikes First
Similar to most sets on grass courts, the first one featured plenty of net play and impressive volleys. While Thiem showed off his improved serve-and-volley, his execution was lacking. The first three games went without a deuce or break point, and Federer held a 2-1 lead. However, at 40-30, he made a crucial error: double faulting to give his adversary some hope. A backhand driven too long and a forehand dumped into the net gave away the break for Thiem, while Federer took an important 3-1 lead. Holds on either side brought the score to 4-2 in favor of the world number three before Thiem was given a chance at redemption. The Austrian responded to a 30-0 hole with three straight points won--the third a beautiful backhand down the line--to see his first break point chance. Federer quickly dispelled any hope by winning three straight points of his own. With a 5-2 lead, the Swiss legend just needed one more hold to win the set, and that's exactly what he did--taking the set, 6-3.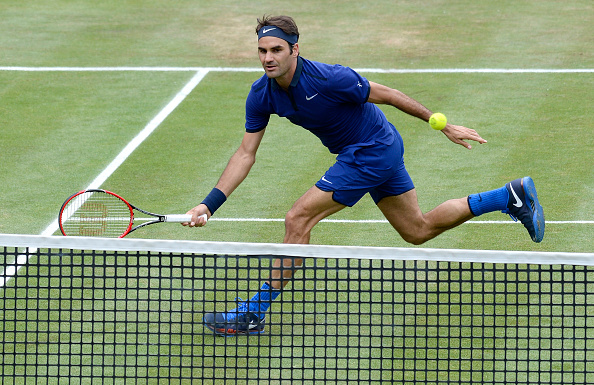 Thiem Survives
After losing the first set, Thiem came out scorching; meanwhile, Federer looked rather flat and nothing like his first set self. A break in the second game began a fierce run for Thiem. With a 0-30 lead, the world number three was in prime position to set up triple break point, but a four-point run by the world number seven consolidated the break with a hold at 30. Thiem, holding a 3-0 lead, was hungry for more, and he didn't stop eating in the fourth game; a quick 0-30 lead of his own set up an eventual second chance to break in the set. Errors were piling up for Federer, and he was broken again when he botched a backhand volley.
One more hold for Thiem put him up 5-0 with a bagel just on the horizon. However, Federer hasn't been bageled in a set since his very first grass court match, and he was not about to end that streak. He finally got his first hold of the set at 15, and things started to go his way again. The top seed broke serve in the next game to trim his deficit to three games at 5-2. Like clockwork, Federer held again, broke again, and suddenly, he was one service game away from evening the score. A hold at 30 got the job done, and the score was 5-5. The rain began to sprinkle--warranting a complaint from Federer--but play continued. Fighting the elements and a tennis legend with momentum, Thiem kept his composure and held at 30, despite a double fault early in the game. Still on fire, Federer quickly sent the set into a tiebreak, holding at love in a game that came and went in the blink of an eye.
The tiebreak began with some big hits followed by double faults from both players. With the score knotted up at 5-5, neither player wanted to give an inch. Federer saw his first match point after a perfectly-placed crosscourt volley brought the score to 6-5. But a point later, the Swiss legend couldn't finish at the net, so the score went back to even. The Austrian couldn't convert on a serve-volley attempt, and Federer held another match point. That chance lasted as long as it took Thiem to rocket a backhand return across the court. At 7-7, Federer hit a drop shot into the net. Thiem saw his first set point of the match, and he capitalized. He was flawless on an overhead at the net--winning the tiebreak 9-7 and taking the set just before another rain delay.
Thiem Closes It Out
After the weather rained on their parade, Thiem and Federer continued into a tight first game. It was Federer who came out with a hold after two deuces, and the third set began with him leading, 1-0. The 34-year-old quickly followed it by jumping out to a 15-40 lead with two break points. Thiem, however, won the next four points--rocketing home an ace in the middle of a forehand error spree by Federer. Leaving no room to be broken, the world number three held serve at fifteen. In a moment of déjà-vu, Federer held another 15-40 lead and another pair of break points. Moreover, the story was the same: he lost the next four points with one coming via an ace down the middle.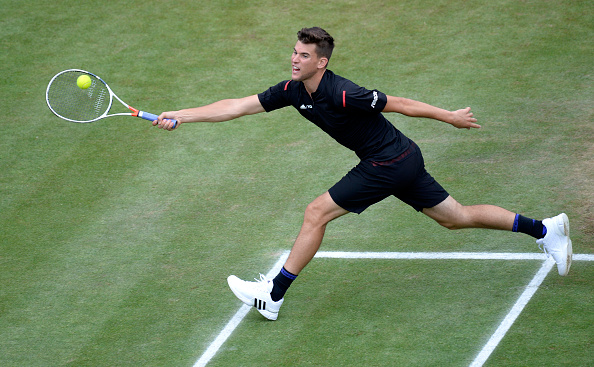 The two competitors held for the next two games to keep the score even at 3-3. Then, Thiem saw his first break point chance of the set, and he capitalized rocketing a forehand at Federer at the net. The volley hit the bottom of the net, and the Austrian took a 4-3 lead into a third rain delay. When the delay finally ended, play resumed with two quick holds. That brought the score to 5-4 with Thiem serving to win the match. The Austrian took the first three points with ease, and he held three match points. Federer saved one, but a backhand driven long put the match away.
Once Thiem settled down his serve and began using more spin rather than speed, his first serve started hitting more--changing the dynamic of the match into his favor. Nonetheless, the match could have ended much sooner had Federer put away one of his two match points. Credit to Thiem for fighting through.
Continuing his rise to stardom, Thiem put away his idol who is twelve years his elder. In his post-match interview, the beaming 22-year-old said, "To beat the best ever on his best surface, you need a lot of luck."
A 3-6, 7-6(7), 6-4 victory will be enough to send Thiem to the final, where he will meet the winner of Philipp Kohlschreiber - Juan Martin del Potro. The Austrian has never beaten either of those players in three meetings (two against Kohlschreiber, one against deal Potro).