 In 2008, Stan Wawrinka scored the biggest win of his career at that point at the Olympic games in Beijing, albeit in doubles, with a gold medal. On that occasion, his partner was his legendary compatriot Roger Federer. The pair would team up again in London, although this time they fell early.
Four years later, Wawrinka and Federer are still the only big names is Swiss men's tennis, making them the logical pairing to represent their country once again at the upcoming Summer Olympics in Rio. However, the fact that Federer will be playing mixed doubles, along with some injury trouble for the Swiss number one, there may be some doubt as to whether Federer and Wawrinka will team up again.
The Swiss number two commented on the possibility of teaming with Federer again during a press conference at the Aegon Championships, along with his hopes for the upcoming grass court season.
Another Olympic Run
When asked about whether or not he and Federer would look to add another Olympic medal to their resumes, Wawrinka explained that he knows about as much as the fans do. When the Olympic question came up, the Swiss said, "I do not know it, it does not depend on me. He will surely play singles and mixed doubles and comes from an injury. We cannot speak about it via mobile phone. We will have to see each other in person and then lay our cards on table."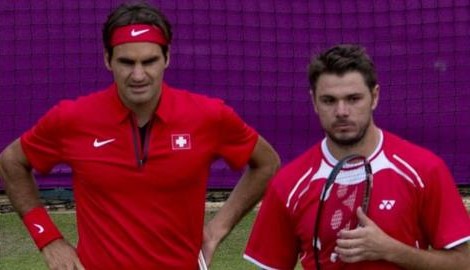 Federer has had an extremely difficult year with injuries, being limited to only five tournaments through the first five-and-a-half months of the season. Considering how much he already intends to play in Rio, adding men's doubles seems like a lot for the soon-to-be 35-year-old. Wawrinka and Federer will next be reunited in London for Wimbledon, so that would be the earliest possible date for an answer.
In the Meantime
Before worrying about the Olympics, Wawrinka is focusing more on the upcoming grass court season. The Swiss number two recently added former Wimbledon champion Richard Krajicek to his coaching team, hoping for some improved results.
When asked about what he hopes to achieve with Krajicek, Wawrinka explained that "The goal will be to improve my game and my position on court, volleys, play more aggressive maybe adding something new. In the recent years on this surface I have improved, but I think there is space to improve even more, for example being more confident closing the points at the net."
Wawrinka will be competing in this coming week's Aegon Championship at the Queen's Club in London.