 Dominic Thiem came from a set down to win a rain-delayed, two day final of the Mercedes Cup against Philipp Kohlschreiber.
Kohlschreiber wins stop and start first set in tiebreak
In a rematch of the Munich final, won by Kohlschreiber, this final was plagued by weather delays. The first was at 1-all in the opening set, the second occurred for a brief moment in the first set tiebreak with the German up a minibreak 3-2. Kohlschreiber slipped on the wet grass, nearly twisting his ankle and the match was halted. Despite the best efforts of everyone involved, the match had to be held over due to the constant rain. Upon the restart of the title match on Monday, Kohlschreiber put the tiebreak away in style, winning the final four points to take it 7-2 and with it, the first set.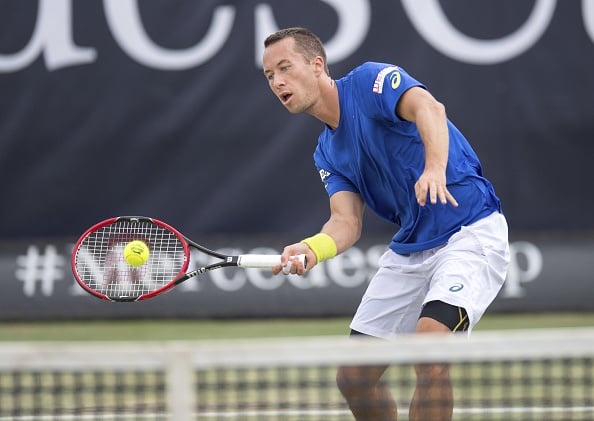 Thiem rebounds to take second set, force decider
The Austrian is bursting with confidence after his recent run of form, including a semifinal appearance at the French Open and he shook off the loss of the first set by breaking Kohlschreiber straight away to begin the second set. The rest of the set was dominated by the server until Thiem served for the set at 5-4, a game that saw the Austrian fight off two break points during a long 13-point game, the last of which was his third set point, taken with aplomb, the set wrapped up and the match level at one set all, a third set to decide the champion.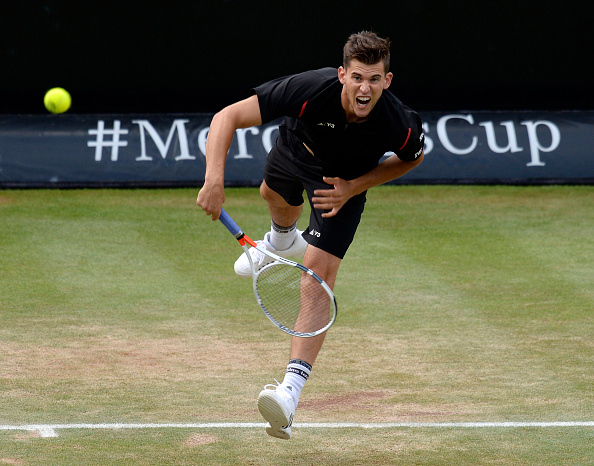 Thiem edges Kohlschreiber for first grass title
Kohlschreiber's serve was under attack immediately in the final set as he fought off two break points in his first service game to hold. He wasn't as fortunate next time he stepped to the line, Thiem needing just a single break point to claim the edge. After the Austrian held comfortably twice, he was on the attack again at 4-2 up, creating a break opportunity, Kohlschreiber summarily holding. The German had his chance to level the set, a break point coming his way for the first time since the end of the second set, but Thiem fought it off to hold and move within one game of the title at 5-3. After Kohlschreiber held, he made one final run, Thiem serving for the championship at 5-4. Kohlschreiber had two final break opportunities, but could convert neither and the set and the victory was Thiem's, 6-4 in the decider.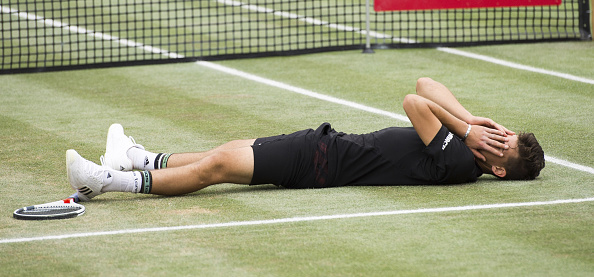 Thiem a man for all surfaces after latest championship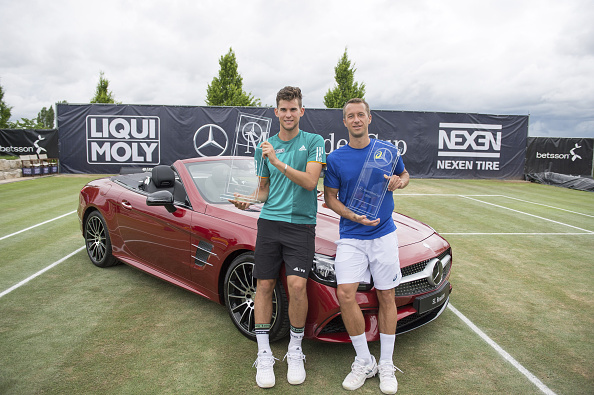 This is Thiem's fourth title of the year and he has now won at least one tournament on every surface this year: Acapulco on hard courts, Buenos Aires and Nice on clay and now the grass of Stuttgart.