 The announcement of Simona Halep's withdrawal from the Aegon Classic in Birmingham with an Achilles injury, which starts on Monday, came as a surprise for everyone as Halep seemed to be feeling well physically in the past couple of months.
The Injury history.
The Achilles injury is an old issue Halep has been dealing with. A problem which started at the Guangzhou tournament last fall, Halep continued playing in pain at the WTA Finals hoping she could endure, and overcome her problem and recover during the off season. It all seemed to be just fine until she landed at the first tournament of the year in Brisbane. The pain was back and she had no other choice but to pull out of the tournament.
It all went downhill from there for the Romanian number one, having the first two months of the season being tormented by injuries, first round losses and a lack of confidence. But according to an old saying, after the rain, the sun will shine again, and Halep picked up the momentum and won Madrid and reached the fourth round at the French Open.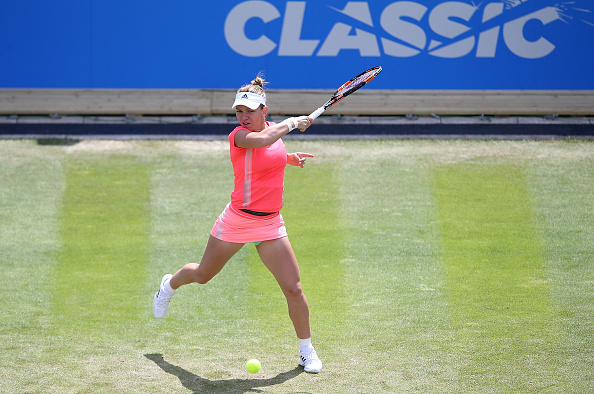 Halep's Statement on the injury.
In a statement released after her withdrawal, Halep explained what this new Achilles problem means, but she also assured everyone that this is not a serious problem: "I started to feel it since I got here. I have some fluid inside the tendon so the doctor says I have to rest for a few days. It is nothing serious but it's a bit sore. I have almost two weeks to recover before Wimbledon so I will take a few days rest and then some treatment and then start to play again."
She then went on to express her disappointment for not being able to play her first tournament on grass. "I'm really disappointed. This was my first tournament and it was important to have some matches but I cannot change things. It's important to take care of my body, I would like to come back next year for sure. It's my second time here and I like this tournament. I hope to come Back next year and I look forward to having another chance to play in front of fans here."
As Halep mentioned in the second part of her statement, this would have been only the second time playing at the Aegon Classic, last year she reached the quarterfinals, losing to Kristina Mladenovic in a third set tiebreak, and her future plans remain unsure. With Wimbledon starting June 27th, Halep will have plenty of time to address her Achilles issue and maybe even ask for a wildcard at the Aegon International Eastbourne, which is set to start the week before Wimbledon. Either way, a good preparation for the third Grand Slam of the year is much-needed for Simona Halep as she has no points to defend. Last year she lost in the first round to Jana Cepelova, but a lot of points are there for her to win and increase her ranking.