 Indian doubles specialist Rohan Bopanna has said that he does not believe that he and Leander Paes' style of play are compatible or complementary but has respected the All India Tennis Association's decision to pair the two of them together for the Rio Olympics as they believe the pair have a very good chance at winning a medal.
Bopanna wanted to play with Myneni
Previously, Bopanna expressed his feelings by saying that he wanted to play with 125th-ranked Saketh Myneni for the Rio Olympics after reaching the top ten in the doubles rankings, which then gave him the chance to choose the choice of his partner providing the national federation accepts the decision. However, this was then rejected and the AITA decided that Bopanna and Paes should be the Indian's entry for the upcoming Rio games ensuring that Paes will participate in his seventh Olympic Games at 42-years-old.
Bopanna then released a statement saying, "I have much admiration for Leander Paes and his many achievements, but unfortunately we have not been able to put together a good combination despite our best efforts and I do not believe our styles of play are either compatible or complementary. Considering that this is a team event where two individuals need to gel together to do well, regardless of individual achievements, it is the team and the combination that matters. The AITA Selection Committee has now made its decision after due consideration of my representation and has selected the team for the Olympics. I respect this decision and look forward to participating in Rio."
Meanwhile, the 42-year-old who is ranked outside the top 50 in doubles sent out his own statement out via his Twitter account, saying how humbled and honoured he is to play for the Indian flag in the upcoming Rio Olympics.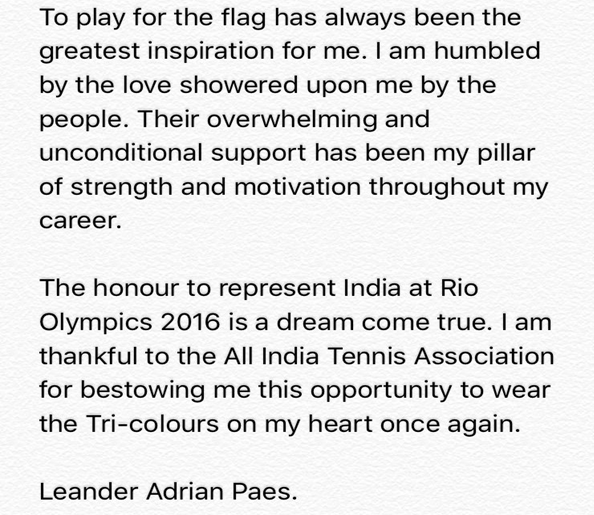 ​