 Third seed Milos Raonic and former Wimbledon quarterfinalist Bernard Tomic will both look to reach their first career grass court final when they do battle in the semifinals of the Aegon Championships on Saturday. The two men, both of whom have been considered to be future major champions, will look to take another step and build momentum going into Wimbledon by reaching the final of the Queen's Club.
How They Got Here
Raonic has been brilliant so far in London, having yet to drop serve so far in the tournament and seemingly getting stronger in every match. His toughest test came in the first round, when he took on another young Aussie, Nick Kyrgios. The Aussie number one took the opening set in a tiebreak, but his inability to solve the Canadians serve cost him, as Raonic would bounce back to win the next two set. He won a power battle in round two with Jiri Vesely before cruising past sixth seed Roberto Bautista Agut with the loss of just five games. The Canadian is in form entering the semifinals.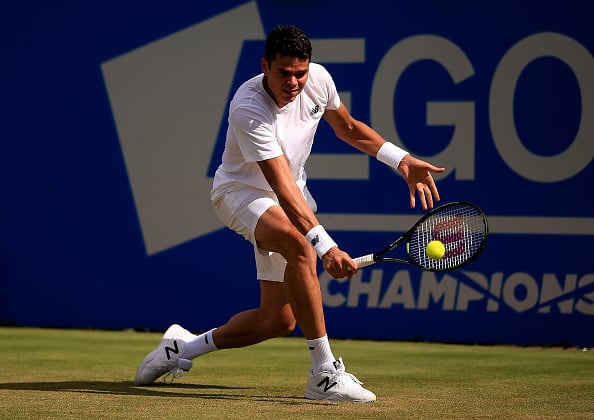 Tomic has had a much tougher run to the semifinals, needing three sets in two of this three matches. He faced a potentially tricky first round opponent in the form of Kevin Anderson but was untroubled in a straight sets win. In the second round, he dropped the opening set to the red-hot Fernando Verdasco before coming back to win the next two sets. Things got even tougher in the quarterfinals when he took on s-Hertogenbosch runner-up Gilles Muller in the quarters. In a tight service battle, Tomic wore his opponent down, eventually prevailing in three sets.
The History
Not only has Raonic never lost to Tomic in their previous three meetings, not only has he never dropped a set, but Tomic has never broken Raonic's serve in their three previous meetings. This will be their third meeting of the year, with Raonic winning two tiebreaks in Brisbane, before Tomic retired down in the second set of their match in Indian Wells. They have never played on grass.
Can Tomic Solve Raonic's Serve?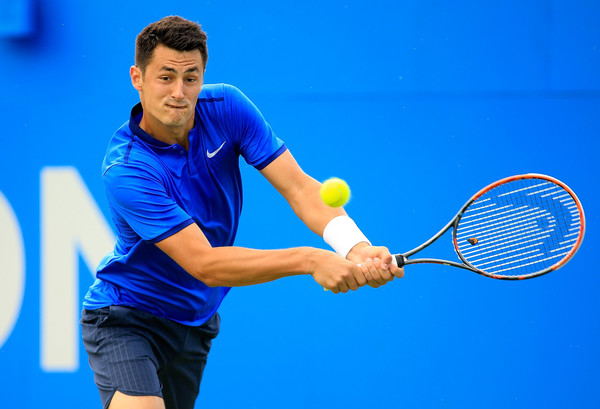 The big question is whether or not the Aussie can do what none of Raonic's opponents so far have managed to do and what he has never done before; break Raonic's serve. The Canadian has done a good job limiting chances, only facing a handful of break points in his first three break points. Tomic is going to need to have one of his best return days if he wants to win. Raonic is one of the best tiebreak players in the world, and is particularly strong against the Aussie, winning all three of their previous tiebreaks. The Canadian has also managed breaks against some stronger servers than Tomic. If the Aussie does not bring his A-game on return, he will be in serious trouble.
Will Raonic's Grass Dominance Continue?
On top of his dominant serve, the Canadian has been tactically brilliant so far on the lawns of the Queen's Club. He's been crushing winners, charging the net, and committing very few unforced errors. Under the guidance of John McEnroe, the Canadian has been playing textbook grass court tennis. With his power, he will very tough to beat on this surface. Now, Tomic is a crafty opponent. He's very good at breaking player's rhythms. The Aussie is going to be doing his damnedest to break Raonic's rhythm.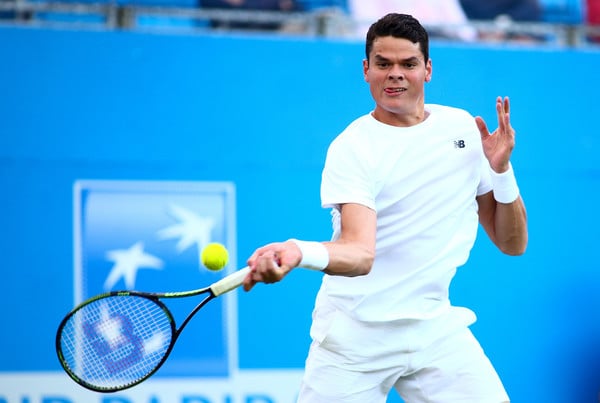 This match is very much in Raonic's hands. If he connects with his serve and attacks with his forehand, it will be very tough for Tomic to pull the upset. That being said, the Canadian needs to keep the foot on the gas. He can't let off and give Tomic opening. Raonic needs to step up into the court, take his forehand early and charge in when he gets the chance. If he keeps Tomic on the back foot, the Aussie does not have the weapons to turn the tables.
Prediction: Raonic in two sets
Raonic is red hot at the moment and it's going to take someone stronger than Tomic to stop him. The power of Kyrgios and Vesely or the consistency of Bautista Agut probably had better chances of taking out the Canadian. Tomic does not have the ability to rule the rallies and out-hit Raonic. Raonic is playing better than he was going into their past meetings, and Tomic struggled in all of those matches. It's unlikely anything will change in London.