 There was a time when Grigor Dimitrov seemed guaranteed to one day hoist a major title. He was starting to contend with the best players on the tour and was scoring victories on all surfaces. But ever since his run at Wimbledon in 2014, Dimitrov has been a shadow of that player.
Entering Wimbledon, the former semifinalist is hardly being considered relevant, let alone a threat to go deep in the tournament. Will the All-England Club be the place where Dimitrov turns things around, or will the slump continue?
Notable Results to Date
There are very few positives to speak of recently for Dimitrov. He has reached a pair of finals this year but lost both. First, he reached the final in Sydney, losing an epic third set tiebreak to Viktor Troicki. His second final was nowhere near as close, as he lost the third set of the Istanbul Open final 6-0 to Deigo Schwartzman.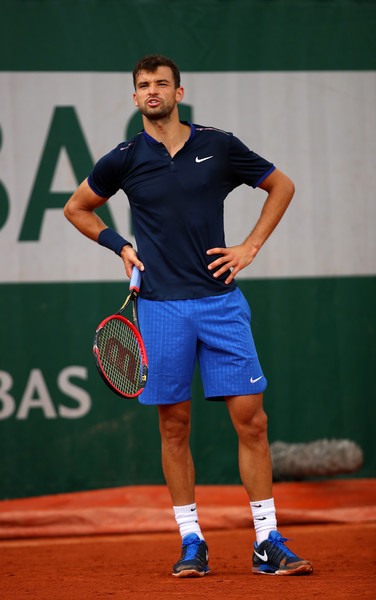 He's currently on a six-match losing streak with his last win coming back in April in the semifinals of Istanbul. He's only won four sets in those six matches, with two of those sets coming in a five-set loss at the French Open. He's only made it past the quarterfinals of three events this year. However, he did score an upset win over Andy Murray in three sets in the third round of the Miami Open.
Best Grass Results Leading into Wimbledon
In his career, the Bulgarian has been solid on grass. He has a 26-18 record and won a title at the Aegon Championships in 2014. However, that feels like a lifetime ago based on Dimitrov's current grass form. He's 0-2 this year on grass, losing in the first round of both his events. He lost in straight sets in the first round of Stuttgart to Juan Martin del Potro and followed it up by dropping a three-setter after winning the first set to Janko Tipsarevic at the Queen's Club.
You would have to go back to 2014 to find good results for Dimitrov on grass. In 2015, when he was coming off a fantastic grass court season the year before, he went 3-2, losing in the second round of the Queen's Club as the defending champion and followed it up by crashing out in the third round of Wimbledon.
Best Result at Wimbledon
The best fortnight of Dimitrov's career came on the lawns of the All-England Club. In 2014, the Bulgarian charged through to the semifinals and gave eventual champion Novak Djokovic a stern test in the last four. The 11th seed that year in London only dropped two sets on his way to a quarterfinal showdown with the defending champion Andy Murray.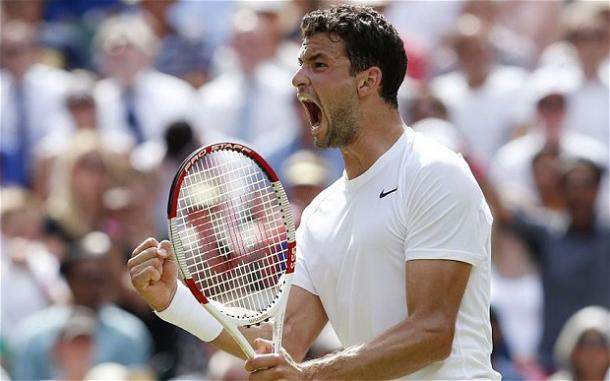 In the quarters, Dimitrov blew the reigning champion off the court, crushing him in a straight-sets blowout which included a 6-1 and 6-2 set. This victory was seen as Dimitrov's coming out party. He faced a massive uphill battle in the semifinals against Djokovic but did not go away quietly as he took the second set and held set points in the fourth-set tiebreak, narrowly falling short of a fifth set. After this run, it was believed that it would be the first of many for the young Bulgarian.
How Dimitrov's Game Translates to Grass
His style of play should, and at times does, work very well on grass. He has strong groundstrokes that he can hit very flat or slice effectively. He moves very well and is strong at the net. Add a strong serve to the equation and you have a very strong grass court player. When he is on his game, his strong all-court game makes him a very big threat on the grass. It would only make sense that Baby Federer, a nickname he held when he was young because his style was similar to that of Roger Federer, would be good on grass.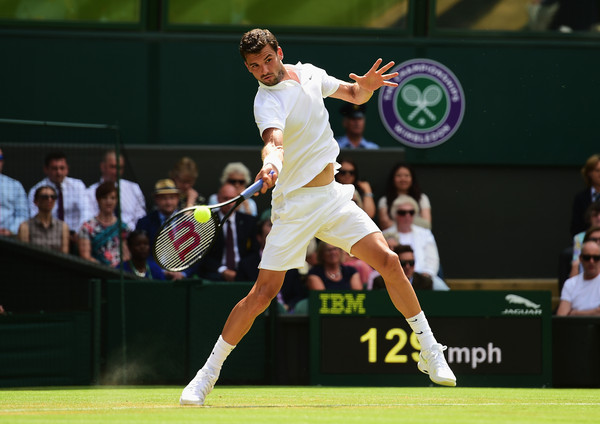 The problem, of course, is him actually playing his game effectively. Grass is never a place where you want to be stuck on defence and part of the problem for Dimitrov is when he's not attacking, he tends to be stuck back scrambling, which is a position that nearly impossible to win from on grass. Dimitrov needs to be using his weapons to attack with consistency. He has the shots he needs to be successful, but he needs to use them correctly.
Dimitrov is currently ranked 39th in the world, meaning he will almost definitely not be seeded at Wimbledon, which starts next week.