 Puerto Rican qualifier Monica Puig overcame tricky conditions on a rainy Monday afternoon to blitz British wildcard Naomi Broady 6-1, 6-1, booking her place in the second round of the 2016 Aegon International, where she will meet fellow qualifier Ana Konjuh.
Puig Breaks Thrice En Route to Securing Opener
After a pair of quick-fire holds to begin the match, it was clear that Puig had settled in the quicker of the two; the cooler conditions allowing her to dictate the majority of the exchanges, as Broady was evidently struggling to find her range early. As a result, it was the Puerto Rican who made the first move, proving she needed no second invitation as she drew first blood to take an early 2-1 lead.
Despite what initially appeared to be an early onslaught from the Brit, Puig stayed calm; her ruthless power bailing her out of a potentially sticky situation and with it, the consolidation for a 3-1 lead. From there, things quickly went from bad to worse for Broady as she was struggling to keep pace with Puig, with her backhand most noticeably breaking down under pressure. Taking full advantage, the 22-year-old Puerto Rican wasted no time in earning a second break, before consolidating once more to take a commanding 5-1 lead.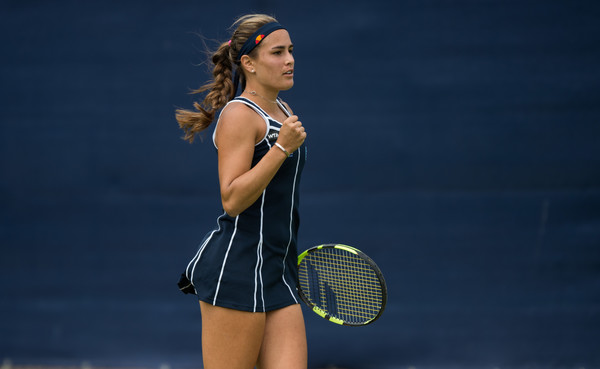 Serving to stay in the set, Broady appeared to have everything under control when she rushed out to a 40-0 lead, but a late onslaught from Puig ultimately turned that game right around; a streak of five consecutive points winning her the opening set 6-1, as an untimely double fault from the Brit handed the set over on a silver platter.
Puig Overcomes Late Slip to Seal Victory at the Perfect Time
Picking up right where she left off, Puig wasted no time in breaking for the fourth time after opening the set with a hold at love, thus taking a 2-0 lead, to which she would consolidate with relative ease to extend her advantage to a set and 3-0. To the credit of Broady, the British wildcard refused to go down quietly, saving a pair of break points at different stages of the fourth game to get on the board, which was perhaps just what she needed to turn the match around.
However, Puig had other ideas. Firmly putting her foot on the accelerator, the Puerto Rican quickly washed away any hope of a break for Broady with an emphatic hold to re-establish the three-game cushion. With the weather slowly turning into a combination of fog and light rain, it was clear that the qualifier was showing no signs of slowing down; a netted backhand from Broady giving Puig a seemingly decisive double break, and an opportunity to serve for a place in the second round.
Despite skidding and taking a tumble on the slick grass court midway through the game, Puig regrouped. With the help of her ruthless firepower and admittedly the errors of her British counterpart, the Puerto Rican was able to serve out the victory in impressive style, sealing a 6-1, 6-1 victory in exactly an hour, around ten minutes before play was suspended due to inclement weather.