 Caroline Wozniacki reached the third round in Eastbourne with an impressive performance over Australian Sam Stosur. The Danish player started off hot and barely let up as she blasted forehand after forehand against her opponent and only dropped three total games in the match. She walked away with a 6-2, 6-1 victory.
Wozniacki takes advantage
Wozniacki's match against Stosur was originally scheduled to be played a day before. However, unfavorable weather conditions forced a postponement of play. Wozniacki spent that time brushing up on her soccer skills. The Dane's tweeted a display of soccer "talent" that quickly went viral as she awaited her match.
When the match did finally start, it was all Wozniacki. She began with a slight struggle, given the fact Stosur had two chances to break. Yet, the Aussie failed to convert on both. In the subsequent game, it was then Wozniacki who gave herself to break opportunities. After Stosur saved one to take the game back to deuce. She would eventually overtake the Australian and take a 2-0 lead in the first set.
Stosur had a 40-0 lead before she eventually lost serve to her Danish opponent.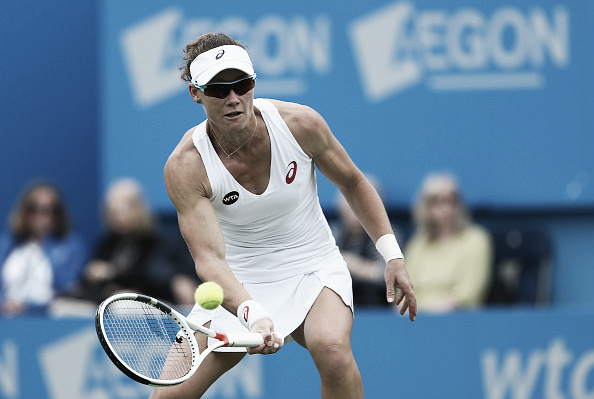 Wozniacki would again save break points to take a 4- lead later in the set. It would be the last time she would face a break.
A Danish victory
The 37th-ranked player in the world frankly embarrassed Stosur in the second set. Again, Wozniacki would easily hold to begin the set and then claim a break to begin 2-0.
She then reeled off a of games, dismantling the Aussie's serve with ease and regularity. Stosur was able to claim only one game in the set. Wozniacki took the set 6-1, playing perhaps her best (and most efficient) game of the year.
The win against Stosur was Wozniacki's first against a top 20 opponent since her defeat of Angelique Kerber in Tokyo in 2015.
Wozniacki now moves on to the round of 16 to face Monica Puig. The two women have played once before, in Miami. It was a three-setter that Wozniacki managed to win. However, Wozniacki is still struggling to win her first title of 2016.