 Three years ago, Bob and Mike Bryan made history at Wimbledon, winning the title to wrap up their fourth consecutive major, the non-calendar year Grand Slam. The Bryans were at the height of their powers but have not returned to that level since, only claiming one major title in the last three years. After a down year in 2015, they are starting to show flashes of their championship form again in 2016. Can they break their drought at Wimbledon?
Notable Results to Date
The Bryans brothers have reached five finals so far in 2016, winning three of them. They reached their first final in Delray Beach, falling in an epic third set super tiebreak 13-11. They would well and truly find their feet when the tour moved to clay, claiming titles in Houston and Barcelona before winning their first Masters 1000 title in almost a year in Rome. Their good run of form continued all the way until the final of the French Open, where they were defeated by Mark and Feliciano Lopez.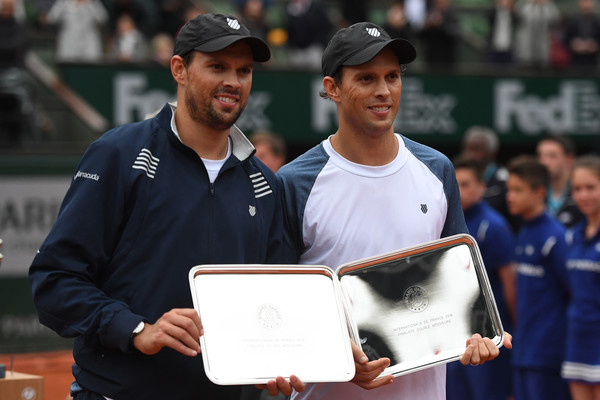 Best Grass Results Leading into Wimbledon
It has not been a bad month of June for the Bryans, but it has not been great either. They've played a pair of events, in Stuttgart and Halle, reaching the semifinals of both. While a pair of semifinal appearances are good results and would make most pairs happy, it was surely disappointing for the most dominant doubles team in the history of the men's game. They also lost those matches to lower-ranked pairs.
Best Results at Wimbledon
Statistically speaking, Wimbledon has been one of the Bryans's better majors. Their 66 match wins at the All-England Club is their highest total at any major. They've reached seven finals, claiming victory on three occasions. They have been extremely consistent at Wimbledon, reaching at least the quarterfinals every year since first reaching the final in 2005. Their first title at Wimbledon, coming in 2006, completed their career Grand Slam. They also won the Olympic gold medal when the All-England Club was the venue for tennis at the 2012 Summer Olympics in London.
The Bryans first big runs came at the All-England Club, reaching back-to-back semifinals in 2001, their first major semifinal, and 2002. They first reached the final in 2005 in the midst of their dominant 2005 season when they reached all four major finals. While they were defeated on that occasion, they would return to the final the following season and this time claimed a four-set victory for their first Wimbledon crown.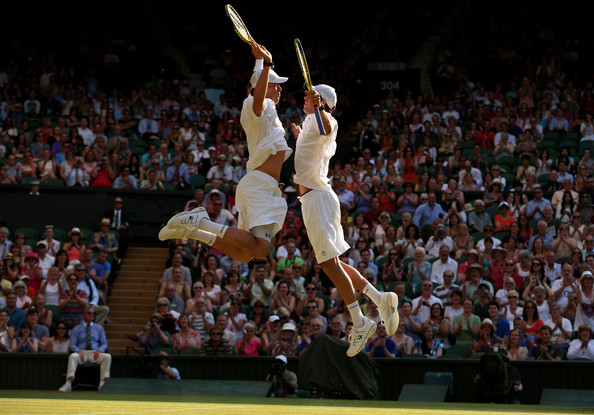 Their title defence would fall short in the final a year later and would have to wait until 2011 to claim their next title, finishing runner-up in 2009. They would have to battle through a pair of epic fifth sets just to reach the final. But they were untroubled in the final, winning in straight sets.
The next time the Bryans would make the final, in 2013, they came in having won the last three major events, with their most recent loss in Grand Slam play coming at the All-England Club. Seeking the non-calendar year Grand Slam, the Bryans were as strong as ever, not dropping a set on their way to the semifinals. They would battle through a five-setter in the semis before wrapping up their "Bryan Slam" with a four-set win in the final.
How the Bryans' Game Translates to Grass
While the Bryans have historically done well at the All-England Club, they've been stronger on hard courts and even clay of late. Their last grass court final came at Wimbledon in 2014, which they lost in five sets to Pospisock. Since then, all of their finals have come on hard courts or clay. On top of that, of the three major finals they've played since that last Wimbledon final, two have come on the slow clay in Paris. It seems like they now play their best on slower surfaces.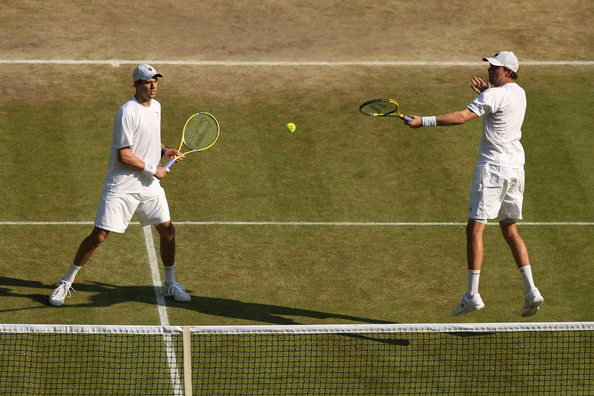 That being said, like most doubles teams, the Bryans play an aggressive style that works well on grass. The twins both possess strong serves, good groundstrokes, and are extremely efficient at the net. On their best day, they can out-hit any other team on the planet. The slick grass usually works well for aggressors.
The downside is that it is easier for other teams to step up and attack the Bryans on grass and not give them a chance to dominant points. The advantage they have on slower courts is that it's easier for them to gain control of a rally even if they're behind. That is much harder to do on grass. If a team comes out swinging, like Pospisock did in that 2014 final, the Bryans can be caught back on defence which in doubles is never a good position to be in.
The Bryans are seeded fifth at this year's championship.