 World number one Novak Djokovic enters Wimbledon having just shed the biggest monkey on his back, or finally winning a French Open title. The 12-time Grand Slam champion had failed on multiple occasions to complete his career Grand Slam; however, he finally took home the title this year, defeating Andy Murray in four sets, cementing his status as one of the best to ever take a tennis court.
After falling to Stan Wawrinka in last year's French Open final, Djokovic was determined to claim the trophy this year. Now, having achieved his goal, the Serbian superstar makes the transition to grass. He is the defending Wimbledon champion and has won the title in SW19 two years in a row, defeating Roger Federer in both championships.
Notable results to date
Unsurprisingly, Djokovic has had a great first half to his 2016 season. The world number one has a record of 44 wins compared to only three losses. At this point, he has six titles so far this year. In addition, he became the first player in the history of the ATP World Tour to break $100 million in prize money, reaching the mark even before Roger Federer.
Djokovic claimed his first title this season in Doha, brushing back Rafael Nadal in impressive fashion. The Serbian number one continued his momentum by easily claiming the 2016 Australian Open title, where he is tied for the most titles in the tournament's history. He defeated Andy Murray to claim his sixth title down under. Up to this point, the 12-time Grand Slam champion remained undefeated.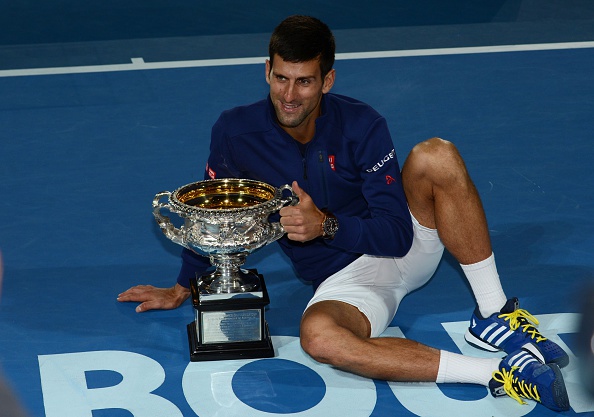 That streak soon ended, however. He was forced to retire during a match in Dubai as a result of an issue with his eye. Following this small hiccup, Djokovic returned to his normal self and his hard court game continued to be too much for his opponents. The four-time Indian Wells champion returned to the desert in search of his fifth title. He did just that, defeating Milos Raonic to win the title at the 2016 BNP Paribas Open in Indian Wells.
At this point, Djokovic was unbeatable. That trend continued in Miami, where Djokovic ran through the draw at the 2016 Miami Open before topping Kei Nishikori in the final to claim his sixth title in Miami.
At the end of the first part of the hard court season, Djokovic won four top-level tournaments, including one Grand Slam title. As he has been able to do successfully for many years, he transitioned to the clay very well, but not right away.
In his first clay tournament in Monte Carlo at the 2016 Monte-Carlo Rolex Masters, Djokovic was shocked in the opening round, losing to Jiri Vesely. Suddenly, Djokovic's entire clay court season was being questioned.
Nonetheless, the world number one bounced back, to no one's surprise. He took down Andy Murray in Madrid to win the 2016 Mutua Madrid Masters. His strong run on clay before the French Open continued with a finals appearance in Rome at the 2016 Italian Open before heading to Paris.
At Roland Garros, Djokovic finally ended his long and drawn-out quest to complete his career Grand Slam, taking his first French Open title with a four set victory over Andy Murray.
There is no doubt that the pressure to win a Roland Garros title mounted on Djokovic over the years; however, now, the pressure has been vindicated. This can only allow the world number one to play even more freely and with more confidence. This does not bode well for his competitors at Wimbledon.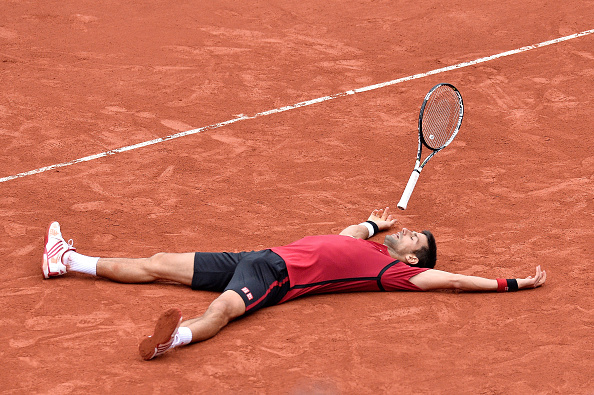 Best grass results leading into Wimbledon
Similar to many years past, Djokovic did not play any grass court tournaments leading up to Wimbledon. He did, however, practice for most of the week in SW19. As shown by his three past titles, this is usually not a problem for the Serb, as his game translates very well to the grass courts.
Best result at Wimbledon
Early on in his career, Djokovic seemed to enjoy the grass at All England Lawn Tennis and Croquet Club. He reached the third and fourth rounds in his first two appearances, respectfully. In 2007, he broke through, making the semifinals before retiring against finalist Rafael Nadal, who later fell to Federer in an epic final. The next year's championships, however, Djokovic fell back, losing in the second round.
Over the next two years, he progressed gradually, reaching the quarterfinals in 2009 and then the semifinals in 2010. The Serbian number one capped the progression off in 2011, when he won his first Wimbledon title, defeating Nadal in the final. He has added two more titles over the past two seasons, defeating the king-of-grass, Roger Federer, in each one.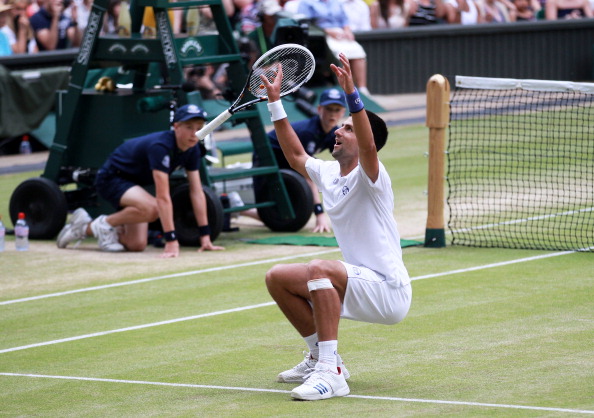 How Djokovic's Game Translates to Grass
As demonstrated by his three career Wimbledon Championships, Djokovic has evolved his game to the grass. Overall, his game translates well to all three surfaces. He found his home early on the hard courts. Eight of his 12 career Grand Slam titles are on hard courts.
However, over the past few seasons, his grass-court game has gotten better and better. His serve often creates a one-two punch scenario, where he is able to end points quickly off of a big and well-placed first serve. His clean groundstrokes are suited well for the grass, where technique becomes imperative for success.
The addition of Boris Becker to the Djokovic coaching team has elevated his game as well. Becker won three Wimbledon titles back in his playing days, thus his experience on the surface undoubtedly helped Djokovic.
As always, Djokovic has to be considered the favorite for the title. World number two Andy Murray could loom for the world number one in the second week, as could world number three Roger Federer, whose Wimbledon outlook is murkier as a result of his recent back injury. However, the seven-time Wimbledon champion can always be a dangerous threat on the grass.
Nonetheless, the ATP World Tour better watch out. Djokovic is knocking off records left and right. With a victory in London, the Serbian number one would become the first man in 78 years to win five consecutive Grand Slams, and the first man since Rod Laver in 1969 to win the first three in one season.
Should he later win the 2016 U.S. Open, Djokovic would win a calendar year Grand Slam, something rarely achieved in the sport of tennis. This was last done in 1969 by Rod Laver.
Djokovic has a great shot. His run begins next week in London.