 Even if grass is not her favourite surface, Kazakhstan's Yulia Putintseva will begin her campaign at the All England Lawn Tennis and Croquet Club with a good form acquired during a very positive 2016 in terms of results. The Russian-born player had already kicked-off a good season, reaching three quarterfinals and one semifinal, with three wins over top 20 players and reaching her best ranking of 35.
Notable results to date
Putinsteva had begun her 2016 campaign after a difficult end to 2015, in which, after her first WTA semifinal reached in Bastad in July, she managed to win only one match in a WTA main draw until the end of the season.
She collected her first good result of 2016 by reaching the third round of the Australian Open, defeating sixteenth seed and former number one Caroline Wozniacki in the first round. In Kaohsiung, the following week, she reached the second WTA semifinal of her career, falling to first seed Venus Williams in straight sets.
It's Venus's sister, world number one Serena Williams, who stopped the Khazak's run in Indian Wells: Putintseva, who defeated 27th seed Kristina Mladenovic in the second round, took on the battle only for the first set, losing it 7-2 in the tiebreak, before falling apart in the second set, won by the American with a clear 6-0. Putintseva's lost their only previous meeting, at 2013 Mutua Madrid Open, with a similar result, losing the first tiebreak and falling by a 6-1 score in the second set.
She found more consistency as the clay season had finally begun, reaching two quarterfinals in a row in Charleston, where she defeated Sabine Lisicki and Venus Williams before surrendering to Sara Errani, and in Rabat; she then reached undoubtedly her best result in career in her run to the quarterfinals at the French Open.
She kicked off her Paris campaign with a quick 6-1, 6-1 to Alexandra Wozniack, and then continued her run with a double 6-1 to 28th seed Andrea Petkovic and a double 6-1 to Karin Knapp. In the fourth round she met 12th seed Carla Suárez Navarro, and again she claimed the victory without dropping a set, with a double 7-5.
On her maiden major quarterfinal, she met first seed and defending champion Serena Williams, and managed to win a set against the world number one for the first time. Up a set and a break to the American, Putinsteva failed to hold her advantage in the second set, and then surrendered in the third, not showing a great improvement since their previous meeting.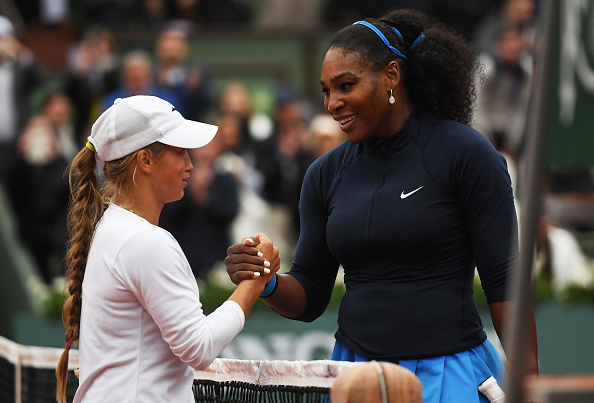 Grass results leading up to Wimbledon
Putintseva couldn't't claim a great run on grass; she was in the main draw in both Mallorca and Eastbourne, but both times she fell right in the first round. In the brand new Spanish tournament, the Khazak fell in straight sets to qualifier Sorana Cirstea, with a final 6-3, 6-2 scoreline.
She showed a better performance one week later in Eastbourne- down 2-6 in the first set against another qualifier, Kateryna Bondarenko, she managed to rally back and win the second one 6-4, but eventually lost the third set 4-6, marking her second straight first round loss on grass court.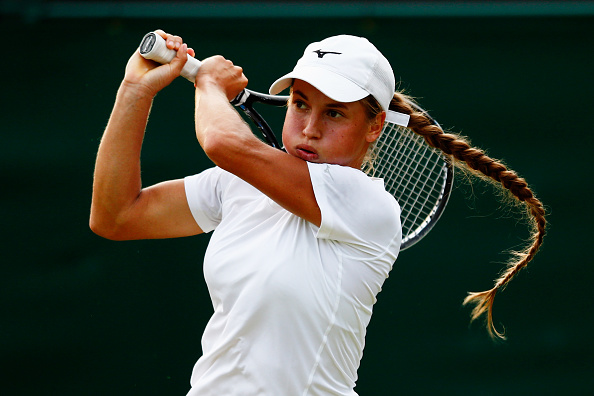 Best Wimbledon result
21-year-old Putintseva had competed in Wimbledon only twice prior to this year's edition, winning only one match overall.
She made her debut in the main draw - she had never played qualifications - in 2013, where she lost in straight sets to 20th seed Kristen Flipkens in the first round. She won her only match in 2015 edition, defeating Marina Erakovic in the first round, but falling in the second to 16th seed Venus Williams. Putintseva had competed two times in the junior edition of the tournament: she reached the semifinals in 2010, losing to Krystina Pliskova, and the quarterfinals one year later.
The match she won against Erakovic remains the only WTA main draw match she has won on a grass court.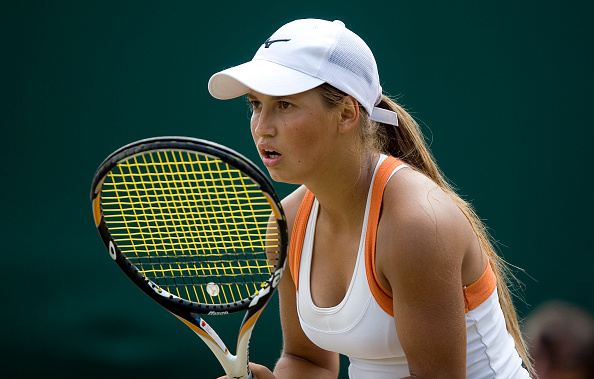 How Putintseva's game translates to this surface
As her record suggests, grass is not the best surface of Putintseva's game, which is better suited for the slower clay courts. She is not a big server or a powerful hitter, and therefore her game isn't very effective on a fast surface like grass.
Nevertheless, she is not without weapons as she enters the competition. Her capacity of varying her game, hitting both groundstrokes and slices, her drop-shots and capacity to close points at the net could help her advance in the tournament.
Putintseva also already showed to not be intimidated by such big stages; her fiery attitude, and her tendency of fighting for every point are qualities by her side even in the most difficult of circumstances.
She will begin this year's Wimbledon campaign against Marina Melnikova; if they both advance, she could potentially meet Serena Williams once again in the quarterfinals.