 With Wimbledon around the corner, the writers of Vavel USA made their pick for the third Grand Slam of the year.
Who is the favorite? After looking at the draw, who are they most likely to lose to and why?
Pathik Gamana: I would say Andy Murray is the favorite. He has a good draw and having hired Ivan Lendl to be on his team again he has a great shot. Also, he just managed to win Queens title for the fifth time and he usually does well at Wimbledon having won the title there.
James Froud: Novak Djokovic is the favourite at every event he enters, and who could possibly write-off the Serb's chances of winning a third title in a row? Sam Querrey could possibly trouble the top seed in the third round, but his first real challenge is likely to be in the quarterfinals if he meets Milos Raonic. The big-server has John McEnroe in his corner, and a well-thought out gameplan from one of the greatest players in history could give his player a huge chance of causing the upset. A potential semifinal against Roger Federer would still mean he's the favourite, but Federer can never be ruled out when playing at SW19.
Tevon King: Djokovic is the favourite to win Wimbledon but he could lose to Federer in the semis as Federer did it in the semis in 2012. Plus, if you're going to best Djokovic, it's going to be before the final.
Paul Choi: Novak Djokovic. There isn't much to discuss about that. Milos Raonic is probably the most likely to beat him in the quarterfinals, with his recent grass court form, however, it won't happen. At most, it will go to four sets.
Jake Best: The favorite coming in has to be world number one, Novak Djokovic. Having finally won his first French Open title, all of that pressure has been lifted, allowing the Serbian number one to play more free. He is playing amazing tennis as of late. It will take a near-perfect performance for someone to beat him. Looking at the draw, I do believe he would be most likely to lose to third-seeded Roger Federer in the semifinals. Should Federer make it to the semis, he would have shaken off any rust and would arguably be playing at a high-level again. When Federer gets it going on grass, he is as dangerous as Djokovic.
Who is the dark horse for the title and why?
PG: I would say Milos Raonic is a real dark horse. Having just hired John McEnroe, I believe he will make Raonic a real threat and a true contender for the title. Raonic also made the Queens final and coming close to defeating Murray. Plus his game is really suited for the grass courts.
JF: Milos Raonic, as McEnroe's appointment, will slowly take him from a challenger to a real Grand Slam contender. McEnroe's presence may come just a bit too late to take real effect at Wimbledon, but he's certainly well favoured in the dark horse category. A player every top seed wanted to desperately avoid.
TK: Raonic reached the final in Queen's and he should have beaten Andy Murray in the final, he has a favourable draw and if he beats Djokovic in the quarterfinals he could go all the way.
PC: Nick Kyrgios. Having previously reached the quarterfinals here, if he plays the way that he did in 2014 against Rafael Nadal, he will be tough to beat.
JB: My dark horse is former U.S. Open champion Juan Martín del Potro. The Argentinian can be extremely dangerous on grass. Everyone remembers his marathon semifinal match against Djokovic in 2013 at Wimbledon, in what became the longest semifinal in Wimbledon history. However, he could face Stan Wawrinka in the second round. If he finds a way to upset the two-time Grand Slam champion, the draw should look out. His big serve and ferocious forehand translate extremely well to grass. Don't forget, he skipped most of the clay-court tournaments to prepare for the grass.
Which top 10 seed has the most difficult draw and why?
PG: Dominic Thiem looks like he could be troubled. His first matchup is against recent Halle finalist Florian Mayer. In his side of the draw, there are the likes of Stan Wawrinka, Tomas Berdych and Juan Martin Del Potro who can all play on this service and have made it to the quarter-finals and beyond.
JF: Stan Wawrinka, purely down to his first two projected rounds. He's due to meet young American Taylor Fritz in a first round clash on Tuesday, before the possibility of facing Juan Martin Del Potro, with the Argentine still not yet back in the world's top 100. Wawrinka should have enough in a best of five format against Fritz, but Del Potro could catch him cold, due to exiting Queens early, and defeat the two-time Grand Slam champion on arguably his worst performing surface.
TK: Marin Cilic has the most difficult section of the draw as there are plenty of big hitters in his draw. Sergiy Stakhovsky, Borna Coric, Ivo Karlovic and Kei Nishikori are in his section. Federer potentially awaits in the quarterfinals
PC: Milos Raonic. Not only is he in Djokovic's quarter, but he would most likely have to get past Kevin Anderson on the way, the massive server that had a two-set advantage over Djokovic last year.
JB: Eighth-seeded Dominic Thiem has a very difficult draw. Coming into Wimbledon, the young Austrian is peaking at the right time; however, his draw is not friendly. He begins against Florian Mayer, who just beat him in Halle. His quarter is extremely tough, with the likes of Alexander Zverev, Stan Wawrinka, Tomas Berdych, Bernard Tomic and Juan Martin Del Potro. Should he make it through all of that, Thiem could face Murray in the semifinals.
Which non-seeded player could make a run into the second week and why?
PG: I would have to say, Del Potro. He is a threat on grass and in 2013 he made the semi-finals losing out to Djokovic in four sets and although he is coming back from an injury, this is a player no one would want to face.
JF: Juan Martin Del Potro. If the former US Open champion can get past Wawrinka in the second round, it would not be a surprise to see him progress all the way to the last eight. If he builds momentum and shock defeats follow, he could go even further and possibly contend for the title.
TK: Del Potro to make the quarterfinals and knock out Wawrinka in the second round. I think that Wawrinka is vulnerable in the earlier rounds.
PC: Borna Coric. The Croat faces 23rd seed Ivo Karlovic in the first round, who he could possibly score a win over.
JB: Once again I go with del Potro here. Back in his prime, he was a very dangerous player on the grass. His game translates extremely well. However, his biggest test will come in round two against Wawrinka. The Swiss number two doesn't have a perfect grass game, but he has played better as of late. Both players have giant serves and powerful groundstrokes. Would be a great second round matchup, one that del Potro would have a great shot at winning.
Which first round matchup intrigues you the most and why?
PG: Florian Mayer - Dominic Thiem. The Austrian is peaking coming into this event and is ranked inside the top ten for the first time, but Florian Mayer as I said before is coming from a final from Halle and could potentially trouble Thiem if he possesses the weapons that we know he can.
JF: Bernard Tomic - Fernando Verdasco. One of the toughest matches to call, with both players capable of playing lights-out tennis and then immediately dropping off to hand their opponent's the impetus. A match which many predict will require the full five sets.
TK: Gilles Simon - Janko Tipsarevic has five sets written all over it and Simon could be 2 sets to love down and still beat Tipsarevic due to having good endurance and Tipsarevic is coming back from injury too.
PC: Nick Kyrgios vs. Radek Stepanek. Both players with big personalities, Stepanek has the capability to perform spectacularly in unexpected moments. The Czech led Andy Murray two sets to love at the French Open this year.
JB: To me, Taylor Fritz vs. Stan Wawrinka promises to be an amazing matchup. Fritz is one of the young stars waiting to break-through. He played well against Federer in Stuttgart, pushing Federer to three sets. Wawrinka can be shaky on the grass. This should be an exciting matchup!
Which young gun/rising star puts their name on the map or proves they're the real deal and why? Note: Must be 23 or younger
PG: I would say Dominic Thiem only because he is coming off some really good wins and can trouble anyone. Although this isn't his best surface, winning Stuttgart has really opened everyone's eyes and shown that he can play on grass.
JF: Nick Kyrgios. His draw is littered with entertaining clashes right from the start, meaning that if he can progress through them all, others may start to take notice. He labelled Wimbledon as his favourite slam, and could play Andy Murray in the fourth round. He may not defeat the Brit, but pushing the world number two to the brink could earn the Australian respect, and show he can mix it with the very best.
TK: Alexander Zverev to have a good run at Wimbledon, he has a good serve on grass and Berdych's a potential third round opponent but he's struggling in 2016. Zverev could get through his draw as he has a potential fourth round meeting with Thiem.
PC: Alexander Zverev. The 19-year-old German is seeded for the first time at a Grand Slam at 24th and has a chance to do some damage. He could possibly make his first run into the round of 16 if Berdych is upset early, or if he beats Berdych.
JB: I think this tournament will be a major test for Dominic Thiem. He has a very rough draw. He has played very well over the past two weeks on grass, taking the title in Stuttgart and reaching the semifinals in Halle. I believe that he will continue his strong play, despite his tough draw.
Which top 10 seed gets upset first and why?
PG: Kei Nishikori could get knocked out early. If Sam Groth's serving is up there then he can trouble the fifth seed, who in recent hasn't always played well here even though he is due a good run.
JF: Stan Wawrinka, given he may have to play Fritz and Del Potro back-to-back. Their gap in rankings may seem to make it an upset, but Del Potro will always like his chances of taking the number four seed on upon the lawns of the All England Club.
TK: Wawrinka to lose to Del Potro in the second round of Wimbledon. Stan doesn't excel on the grass although he has reached 2 quarterfinals in the last two editions.
PC: Kei Nishikori. The Japanese star has never performed particularly well on the grass, and his counterpunching game and lack of an overwhelming serve do not serve him well. He faces Australian Sam Groth in the first round, who possesses one of the biggest serves on tour.
JB: I will pick Stan Wawrinka to be the first top ten seed to lose. I think that del Potro has an incredible opportunity here to knock off a top-five player on arguably his worst surface.
Who are your finalists and champion? Why?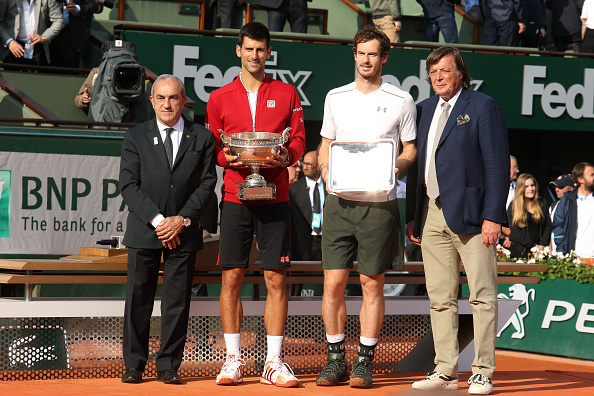 PG: Andy Murray to defeat Novak Djokovic in four sets. These two are just out of this world at the moment and have contested the past two Grand Slam finals and I fear this isn't going to be the end of it.
JF: Novak Djokovic d. Andy Murray – Milos Raonic and Roger Federer could yet have their say, but it's tough to call anything else but another Djokovic-Murray final which has already occurred in both other major finals in 2016. Murray has never lost a set when facing the three-time champion at Wimbledon, prevailing in the 2013 final as well as the 2012 Olympics semifinal. That said, it would only take a brave man to predict anything other than a Novak Djokovic victory, which would enable him to head to the US Open looking to win a calendar Grand Slam.
TK: Murray to win Wimbledon. Djokovic has never beaten Murray on grass let alone taking a set. Murray has been consistent in 2016 and reuniting with Lendl will give Murray more confidence and Djokovic could get tight as he is chasing the Calendar Golden Slam.
PC: Novak Djokovic d. Andy Murray. There is not much to explain. Murray recently won a record 5th title in Queens and is having a hot year. However, Djokovic will continue his dominance unless something bizarre happens.
JB: My heart wants to pick Federer to beat Djokovic in the semifinals. I do believe that if the Swiss Maestro can make it to the semis, he will have a shot. However, I will go with Djokovic to reach the finals. On the other side of the draw, it's too tough to pick against Murray. I will pick Djokovic to defeat Murray in the finals to claim his fourth Wimbledon title.