 Bulgarian tennis star Grigor Dimitrov is off to a much-needed positive start at the 2016 Wimbledon Championships. The former top 10 player is no longer regularly seeded in Grand Slam tournaments, but that didn't dampen his mood or have any affect on his play so far. It certainly was no deterrent as he used his signature grind-it-out style of excellent shot making to best American Bjorn Fratangelo 6-3, 6-4, 6-2.
Unseeded but undeterred
Dimitrov has had a disappointing last couple of years on the ATP Tour. The Bulgarian number one has seen his prospects go from being one of the most sought-after players on tour to one many expect to disappoint them time and time again. Unfortunately, over the last two years, he has largely fallen to those expectations.
Today, in his first round match, he was determined to proceed with a different outcome. And he did.
The right-hander began the match firing on all cylinders. The Bulgarian didn't lose a single point in his opening game of the match. He forced Fratangelo into an error and then quickly volleyed for back-to-back winners, approaching the net with a new level of confidence that has rarely been seen from the 25-year old recently.
Later, in the sixth game of the set, Dimitrov forced another error upon Fratangelo as he hit a shot to his forehand. The lost point gave the 37th-ranked Dimitrov a break opportunity. In the subsequent point, Fratangelo unleashed yet another error, this time from his backhand, and this time also forced by Dimitrov. All told, it led to a 4-2 lead for the top Bulgarian on tour- a lead he quickly used to close out the set 6-3.
Ending a streak
Dimitrov was seeking to put an end to a terrible streak he has been on lately. He has lost six straight consecutive matches, including 5 first round matches over the past several weeks. The losses were punctuated by a complete meltdown in Istanbul last month.
Today, the young player kept his cool.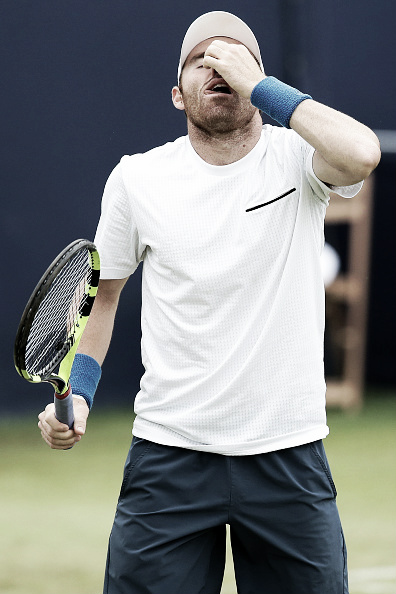 Dimitrov broke Fratangelo in the very first game of the second set. Unsurprisingly, the break came as the result of yet another unforced error by Fratangelo. The American number nine posted an unforgivable 36 unforced errors in the match. That particular error the begin the second set gave Dimitrov the only break he would need to walk away with the second set.
By the beginning of the third set, it appeared that Dimitrov had all but broke then will of the 22-year old Fratangelo. The American added another 11 unforced errors and posted a dismal winning percentage on his first serve, winning only 40 percent. Fratangelo managed to win only two games in the match's final set. It was a loss that coupled his own mistakes with the steady and confident play of Dimitrov.
Raising eyebrows
Dimitrov made a little news after his first round victory as well. In a gaggle with the press after the match, he spoke about his new level of confidence and declared he had a fear of no opponent this time around at Wimbledon. That's when world number one (and reigning champion) Novak Djokovic peaked his head around the door.
Joking, the world's top player interjected "Are you sure?"
An amused Dimitrov retorted "No one. Not even you."