 Puerto Rican number one Monica Puig capped off an incredible week at the Rio 2016 Olympic Games with a historic 6-4, 4-6 6-1 victory over world number two Angelique Kerber to capture the island's first-ever Olympic gold medal.
Puig's Trademark Aggressive Game in Full Flight in Taking Opener
Having outdueled Puig in their two previous meetings, it was Kerber who would draw first blood; her world-class and irreplicable aggressive counter-punching skills on full display as she would successfully chase down a drop shot to break right off the bat. Puig, however, would strike back immediately, showing no signs of any nerves as she went toe-to-toe from the baseline, eventually resulting in the recovery of the early break. From there, both women would immediately put any early nerves to rest before cruising through each of their service games until the tenth game, when Puig saw the slightest chink in Kerber's armour and wasted no time in exploiting it.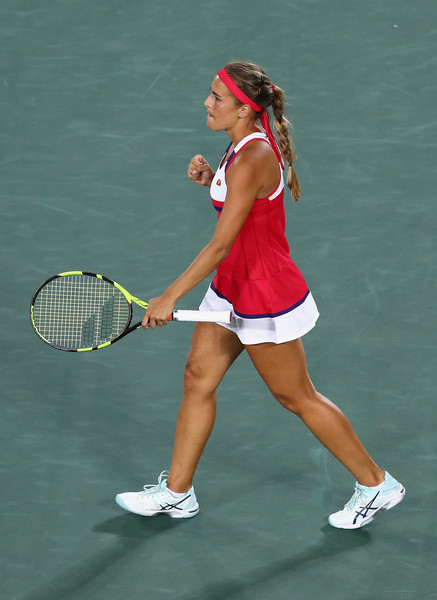 The German, known for her incredibly physically demanding style of play, was showing signs of discomfort when attempting to absorb Puig's pace; a few uncharacteristic miscues from Kerber making all the difference as Puig sealed the opening set 6-4 with another lethal backhand winner, undoubtedly her most reliable weapon on the night. Already a set to the good, could Puig close in Olympic history?
Kerber Strikes Back, Gutsily Forces a Decider
After receiving an off-court medical timeout in between the first and second sets, the trainer's treatment seemed to do wonders as Kerber returned to the court, rejuvenated and ready to force a decider. Much like in the opening frame, the German would strike first, breaking in the first game of the second set, but only this time, she would manage to consolidate, impressively doing so with a pair of back-to-back aces en route to mounting an early 2-0 advantage.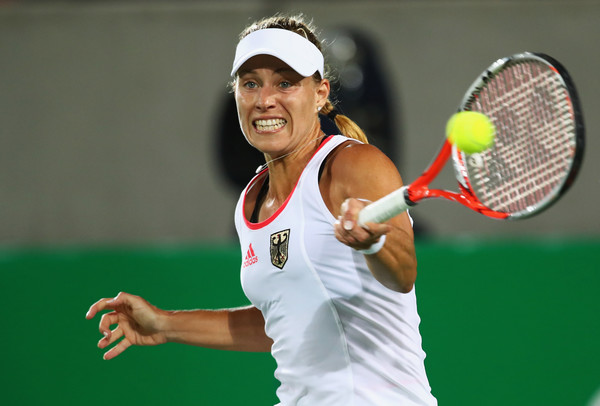 The world number two had a golden opportunity to go a double break to the good but was unable to take it, narrowly missing her signature forehand return down the line, as Puig would ultimately go on to hold in the third game. Once there, the set would go with serve until a pivotal moment in the eighth game seemed to turn the match on its head for the Puerto Rican number one.
With the help of some good fortune, Puig would outduel Kerber from the back of the court to recover the early break; a forehand drive volley from the German dumped straight into the middle of the net gifting the world number 34 the break back and tying things up at four-games-all.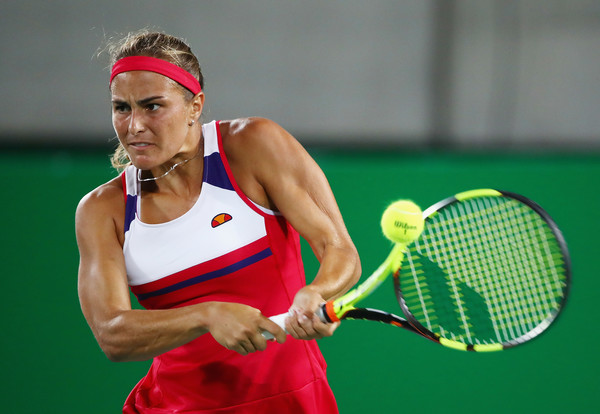 Within two games of making Olympic history, perhaps the stress of the occasion was proving too much for Puig as Kerber, once again showcasing her world-class defensive skills, would reclaim the one-break advantage moments after surrendering it and with it, a chance to serve to force a decider.
In a drama-filled tenth game filled with almost everything, Kerber held four set points, including a 40-0 lead, alas she was still unable to convert as Puig, quite simply, refused to back down. However, it was a case of fifth time lucky for the reigning Australian Open backhand; a wayward backhand from Puig just enough to get Kerber over the line and back in control as she took the second set, 6-4.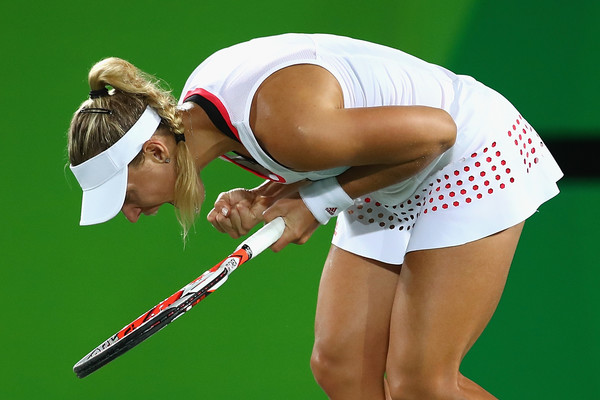 Puig Impressively Seals the Deal, Becomes Puerto Rico's First Olympic Champion
With a one-set shootout to decide the new Olympic champion, this time, it was Puig who would draw first blood, breaking en route to quickly building up a 3-0 advantage. Impressively, Puig was simply not content with a single break, as she would promptly go on to claiming the insurance break to take a commanding 4-0 lead, while Kerber's golden hopes were drifting away thick and fast. Not long thereafter would Puig consolidate the double break, now going just within one game of Olympic history.
Kerber, however, would show some fight in the following game, staving off a championship point before holding to get on the board, thus forcing the Puerto Rican to serve for the medal. With the match on her racquet, Puig quickly found herself down 0-40 as the magnitude and importance of the situation were finally beginning to set in.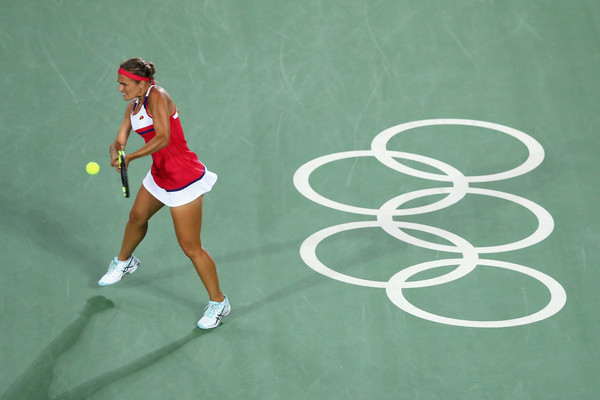 Astoundingly, the Puerto Rican would save all three break points, pushing the game to deuce and setting off a marathon sixth game in which Puig was serving to seal the deal, while Kerber was looking to continue her seemingly improbable comeback. In a game that spanned six deuces and 18 points altogether, there were several winners, as well as unforced errors, that swung the momentum back and forth before a wild forehand from Kerber sealed the deal for the Puerto Rican, sending Puig throwing her racquet into the air in celebration.
After securing a medal with her semifinal victory over Petra Kvitova Friday afternoon, Puig had already made history by becoming the first female athlete from Puerto Rico to win an Olympic medal. By virtue of her three-set victory over Kerber, the 22-year-old now stands as the only Puerto Rican—man or woman—to bring home a gold medal to the Carribean island.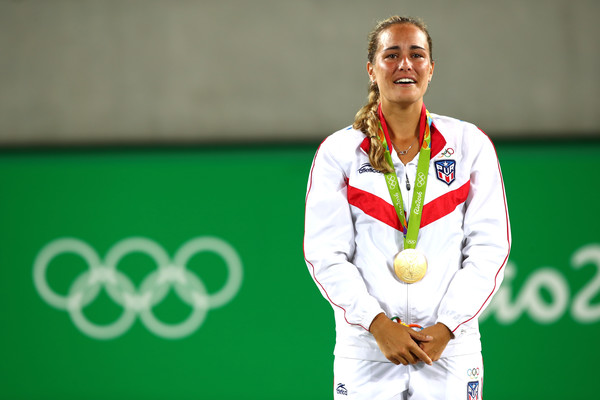 "This is for Puerto Rico. This is definitely for them," Puig said after the match. "They're going through some tough times right now, and they needed this. I needed this."
"I think I united a nation. I just love where I come from."