 Pierre-Hugues Herbert and Nicolas Mahut advanced to the semifinal with a 6-3, 7-6(4) over Robert Lindstedt and Aisam-ul-Haq Qureshi at the US Open. They will face Jamie Murray and Bruno Soares for a place in the final. The Brazilian/British pair defeated Chris Guccione and Andre Sa in two hours 23 minutes.
Herbert/Mahut grab early break
The French pair of Herbert/Mahut settled quickly in this match. They held with ease to get the match underway. In just the second game of the set, the world number one pair grabbed a double break point. Qureshi managed to save both of them to send the game to deuce, however, they gained another and after a double-fault from the Pakistani, the French team broke.
An ace from Mahut helped them consolidate their break as they went 3-0 up. It was the Swede Robert Lindstedt who held serve and their nerves as he and Qureshi finally got on the board at 3-1. With both teams holding serve from then on in and Herbert/Mahut with a break, they found themselves serving for the set at 5-3. They reached their first set point at 40-15 and after an unforced error from the team of Lindstedt and Qureshi, the 2015 champions won the set 6-3.
Herbert/Mahut pushed to tiebreaker; book spot in last four
Both teams looked comfortable in the set. Having struggled to get a game until the fourth game in the first set, Qureshi settled any nerves and held serve to love to get the pair on the scoreboard. They were followed by a hold from the world number two player, Herbert. After both teams got on the board in the set, they looked comfortable holding serve and putting one another under pressure.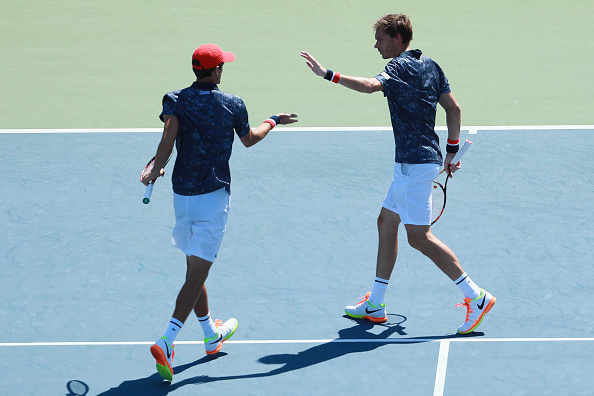 The closest a team got to breaking was in the 11th game. Herbert and Mahut sent the game to 30-all before going on to win the next point to bring up a first break point opportunity in the set. However, Lindstedt's big serving got the team out of trouble as they went on to hold and stay infront at 5-6. The French team held their serve to send the set into a tiebreaker. Just like the set, both teams looked deadlocked in the tiebreaker until the tenth point, when Herbert/Mahut went a mini-break ahead. From that moment they never looked back and served out a straight sets victory.
In a match that lasted one hour 24 minutes, the pair of Herbert and Mahut never faced a break point while also going on to hit eight aces as they progressed through to the semifinals and go one step closer to retaining their title.