 After ousting sixth seed Lucas Pouille in a three-set thriller at the China Open, Grigor Dimitrov sat down with the media to discuss his thrilling victory before setting his sights on an enticing quarterfinal clash with 14-time Grand Slam champion Rafael Nadal, whom he has taken a set off of in five of their last seven meetings, despite never coming out victorious.
Dimitrov Credits Composure Under Pressure for Make Seemingly Improbable Comeback
After dropping the first set in a tiebreaker, Dimitrov was the first to crack on serve, and soon found himself in serious danger of elimination. However, some good fortune from the Bulgarian and a late dip in Pouille's momentum allowed Dimitrov to get back on level terms in the second before delivering a shutout second-set tiebreak to force a decider. With the momentum now firmly in his favour, the world number 20 claimed a decisive break in the fifth game to serve his way to an epic three-set victory under the roof of the National Tennis Stadium.
When asked to reflect on what he felt made the difference in a match that could have gone either way, Dimitrov credited his composure for allowing him to stay in the moment, consequently allowing him to keep the belief in his own game.
"Yeah, I mean I was just believing, I think I was just believing today, especially [in] that second set," he said. "I mean, he was serving for the match and I felt that I was playing a good tennis, just missed a few, kind of, a few opportunities early on in the first set, and throughout the second, he was actually playing pretty good so the only thing I could do is keep myself, you know, composed, trying to hit every ball that I could and use every opportunity."
"It came a bit late but I'm pretty happy with it."
Dimitrov: "I Think That [Second-Set] Tiebreaker is One of the Best I've Ever Played"
One of the catalysts for Dimitrov's inspired comeback was his flawless second-set tiebreak, which he considers one of the best he has played. Without the loss of a single point, the Bulgarian brutally outclassed Pouille in all departments, coming up with an answer to everything the Frenchman managed to throw at him.
For Dimitrov, getting off to a quick start and presenting yourself with a clear statement of intent are essential keys for success in a tiebreak, both of which were used consistently in the second, and ultimately final, seven-point shootout of the match.
"I mean, that's just how it is, and I think the first two, three points of the tiebreaker are, I thought I was so solid, hitting my ball really well, keeping my baseline, serving well, 'aced' him a few times, and kind of, got into a great habit of just winning every point and the next thing you know, it was 6-0, and then grinding with an excellent shot to finish the set and I knew that mentally for him, that would, you know, be pretty tough to come back even though he still played [an] excellent third set," he noted.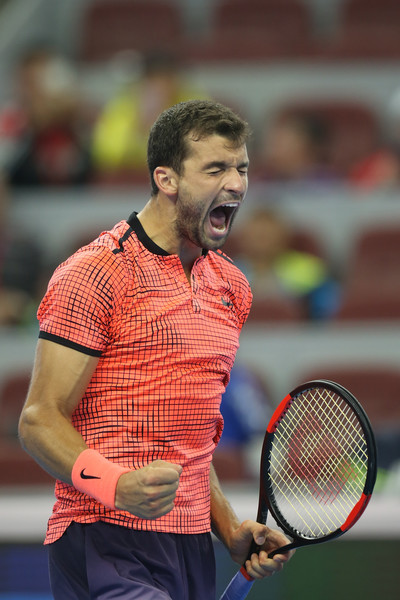 Dimitrov Looks Ahead to Last Eight Clash with Nadal
With his body "keeping up well" and his legs "in great shape," Dimitrov will now eagerly look ahead to his quarterfinal clash with 14-time Grand Slam champion and second seed Rafael Nadal, whom he has never beaten on seven previous occasions, despite taking a set off the Spaniard in five of those seven meetings.
"I think Rafa has been playing good tennis, especially that first match [against Paolo Lorenzi]," he said. "I came out there to see a few points, and you know, you kind of see that he's, I mean, he's Rafa at the end of the day. You know what to expect, you know that he's gonna put up a fight and nothing else."
Given his history against Nadal, the unseeded Bulgarian is well-aware of what is required to succeed against the former world number one. The question is: Can he get over the line this time around?