In their first match in over four years, Kei Nishikori finally scored a victory against Juan Martin del Potro. The Japanese was persistent with his attack to the del Potro backhand in their Swiss Indoors quarterfinal clash, eventually wearing down his Argentinian opponent for a straight sets victory. In a match full of long rallies and big hitting, it was Nishikori who controlled the pace and eventually scored a 7-5, 6-4 victory.
Del Potro cracks late
It was evident from the very first game what Nishikori was planning to do to stymie the red-hot del Potro. Nishikori directed every shot possible wide into the Ad court to the del Potro backhand, away from his mighty forehand. The tactic did not appear to be working well in the opening game, as a forehand passing shot from the Argentine set up a break point. However, he would miss almost the exact same shot on break point. Del Potro would have a second chance, but missed his backhand into the net before Nishikori held.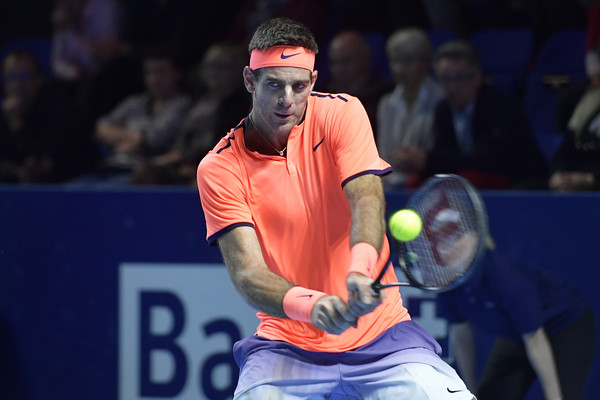 In the fifth game, a funny moment saw a del Potro shot clip the net cord and die on his side of the net. The Argentine picked up the ball and started dropping it on top of the net until it landed on Nishikori's side, fist pumping himself when he succeeded, my to the delight of the raucous Basel crowd. There was nothing funny about his next service game, as del Potro had to save five break points, with poorly timed double faults and errors from the Argentine extending the game, which he did eventually survive.
In the following game, it was Nishikori's turn to fall behind break point because of a double fault, but del Potro misjudged a Nishikori backhand, leaving it expecting it to be out only for it to drop in. As the set progressed, Nishikori's backhand assault seemed less and less necessary, as del Potro began struggling when he did hit forehands. At 5-5, the Argentine double faulted again to give Nishikori a break point and this time, he dumped a forehand into the net to surrender the break. The third seed would serve out the set 7-5, the first set he'd ever won against del Potro.
Nishikori hangs on for victory
The momentum was firmly in Nishikori's corner to start the second set as he raced ahead to a 0-40 in the opening game of the set. But del Potro, needing to avoid the early break to stay in the match, battled back to save all three break points and hold serve. However, Nishikori's assault on the del Potro backhand was keeping the Argentine from having any measure of control. Nishikori's persistence was rewarded in his next return game as del Potro drove a forehand long on break point to give the Japanese a break lead at 2-1.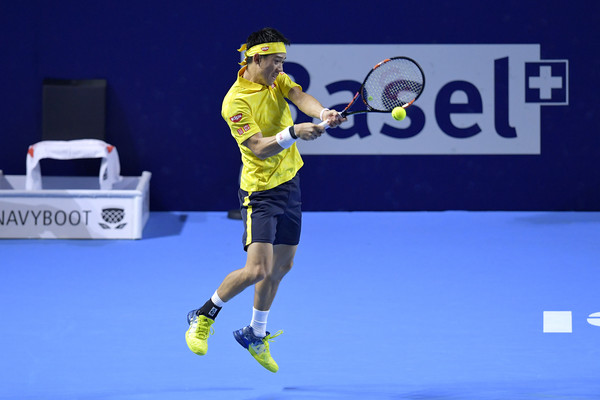 Looking to respond immediately, it was del Potro's turn to take a 0-40 lead, but as he had been at the beginning of the set, Nishikori was up to the task, saving all three before holding. The Argentine was not going away quietly and his own hard hitting seemed to be affecting Nishikori. The third seed's next service game was sloppy and he found himself behind 15-40. But three straight big serves, including two aces, turned that deficit into an Ad-40 lead, which soon became a hold for 3-2. That would prove to be del Potro's last chance, as Nishikori hung on to his remaining service games without facing a break point, holding three more times to take the set 6-4.
By the numbers
Del Potro fired 14 aces to his opponent's seven, but also had five double faults, many at the most inopportune moments, to Nishikori's one. The Japanese' service numbers were generally better than the giant Argentine, as he won 85 percent of his first serve points to del Potro's 78 percent, while adding 52 percent of second serve points while del Potro only managed 41 percent. Most importantly, both men saved eight break points, but Nishikori was eight for eight while del Potro still failed to save two.
Nishikori will play Gilles Muller in the semifinals.