 And then there were eight. The dust has now settled and for all but eight men, the ATP World Tour season is over. But for those lucky eight, there is still one more prestigious event to be contested: the ATP World Tour Finals. Last week's BNP Paribas Masters decided the final two spots to complete the field in London. With one event to go, a lot can still change among those eight in the rankings, so here's your final ATP Race to London update.
Race Update
Marin Cilic and Dominic Thiem wrapped up their spots at the tour finals in Paris, although in very different fashions. Cilic qualified by blasting his way past fellow London hopeful David Goffin, ending the Belgian's hope of qualifying which actually did Thiem a big favour, and stunning world number one Novak Djokovic, ending the Serb's reign in the process, on his way to the semifinals.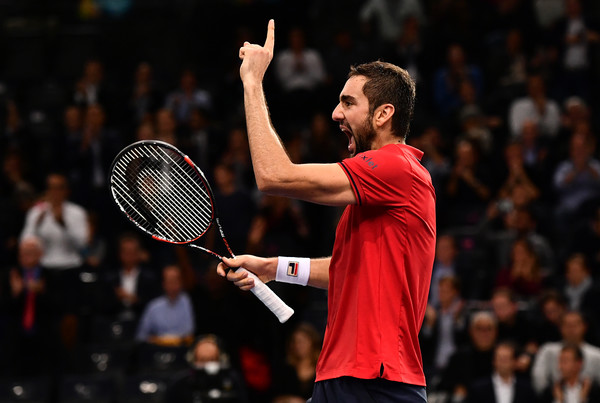 Thiem needed to reach the final to qualify outright, but lost his opening match to Jack Sock, meaning that he would need help to qualify. Lucky for him, he got that help. Most of the other London hopefuls also suffered early losses. Thiem did come within a set and a point of missing out, as Tomas Berdych needed to reach the semifinals to qualify and oust Thiem, but the Czech blew a 6-1 lead in the opening set tiebreak in his quarterfinal against Andy Murray before losing in straight sets which allowed the young Austrian to sneak into London in the eighth and final spot.
Perhaps nothing was bigger, however, in Paris than the power shift at the top of the rankings. Thanks to Djokovic's loss, Andy Murray was able to take over the top spot for the first time in his career, seven years after first becoming number two. Murray was challenged throughout the week, but needing only to reach the final to seal the number one ranking, it was handed to him on a silver platter as his semifinal opponent, Milos Raonic, was unable to play due to a leg injury, which meant the Scot strolled unchallenged into history. For good measure, he defeated John Isner to win the title and put some distance between himself and Djokovic.
Next Week's Action
There are no events on the schedule this week. The next and final event is the ATP World Tour Finals, which starts on Sunday.
ATP World Tour Finals
While this is the event this season has been leading up to and there's nothing else to qualify for, the ATP World Tour Finals can still shake up the year-end rankings. There are a few competitive races to take a look at in London. Here are a few scenarios of how the rankings could change during the tournament.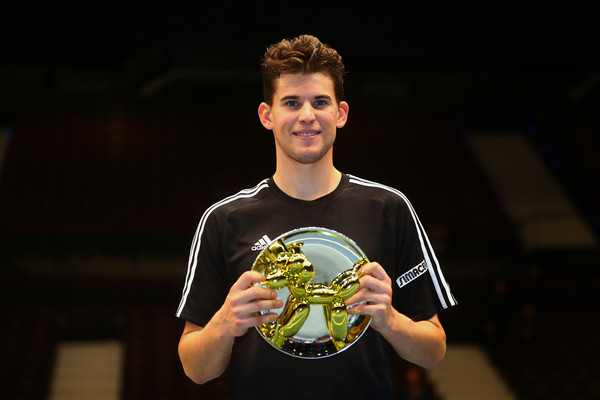 First off, the bottom of the field could be shuffled dramatically. Thiem, who sits ninth in the rankings (remember, Rafael Nadal is still eighth but withdrew due to injury), is only 410 points back of sixth place Gael Monfils. Were Thiem to lose all three matches, Nadal would actually stay in the top eight to start 2017. The Austrian would need to go undefeated in the round robin and have Monfils lose every match or he would have to reach the final and Monfils fall in the group stage to jump up to number six. Cilic is less than 200 points back of Monfils, meaning were he to win one more match than the Frenchman, he would pass him in the rankings. Monfils sits over 1000 points back of number five Kei Nishikori, meaning he would have to win the title and Nishikori could not leave the group stage if he hoped to pass him for number five.
The next three men, Nishikori, Raonic, and Stan Wawrinka are also within 410 points of each other. Raonic only trails Wawrinka by 65 points, meaning he just needs to outperform the Swiss by one win to jump up to number three. For Nishikori to reach a career-high of number three, he would have to reach the semifinals and have both Raonic and Wawrinka fail to do the same. For both Raonic and Nishikori, passing Wawrinka would mean a career-high ranking of number three. Nishikori's odds are actually fairly good considering that Raonic got hurt in Paris and his participation is up in the air, while Wawrinka has struggled mightily since winning the US Open.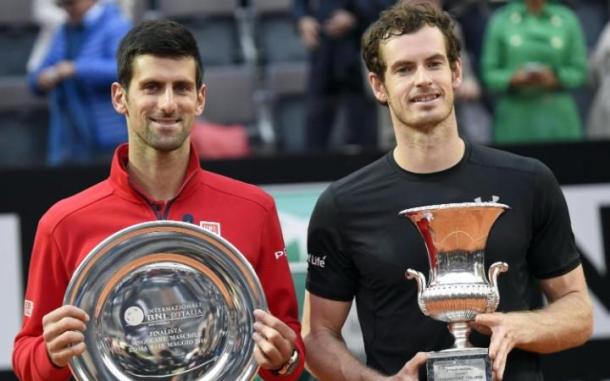 But the competition everyone cares about is the race for number one. Murray only needed to reach the Paris final to become number one, but winning the title put a strong buffer between himself and Djokovic. The gap is currently 405 points, but Murray will drop 275 after the tour finals by failing to defend his Davis Cup crown, meaning the gap is realistically only 130 points. Djokovic needs to outperform Murray to retake number one. If Murray emerges from the group stage with more wins, it will be nearly impossible for the Serbian to take back the top spot. With every win Murray scores, he mounts the pressure on Djokovic. The only sure way for the Serb to reclaim number one in time to end the year at number one is to win his fifth straight title in London. Murray also needs to win the title to clinch outright. But with every match Djokovic loses, it will become harder and harder for him to reclaim number one this year.
And Djokovic needs to reclaim number one this year. Otherwise he could spend most of 2017 outside of the top spot. He has no points to gain until April of 2017 unless he adds events to his schedule and there are only two tournaments, Monte Carlo and Rome, where he can gain points before the grass court season. If he fails to reclaim number one in London, he will need to be perfect in 2017 and even that may not be enough as Murray has a lot of room to make gains in the early hard courts.
It's been a long time since this much has been riding on the ATP World Tour Finals. It's time to kick back and enjoy the final dramatic tour event of the 2016 season.