Caroline Garcia stepped up to the court to take on Petra Kvitova after Karolina Pliskova had given the Czech Republic a 1-0 lead. With pressure on her shoulders to deliver, the French number one did not disappoint, playing some aggressive fearless tennis with solid serving to beat Kvitova 7-6(6), 6-3 and give France a valuable point after day one.
Tight first edged by Garcia in a thrilling tiebreak
Garcia drew first blood as an unfortunate double fault from Kvitova in the fifth game handed the Frenchwoman the lead. Garcia, focused as ever, consolidated the break for a 4-2 lead. Kvitova fought back to set up break back point of her own in the eighth game. And the Czech converted it and leveled the set 4-4.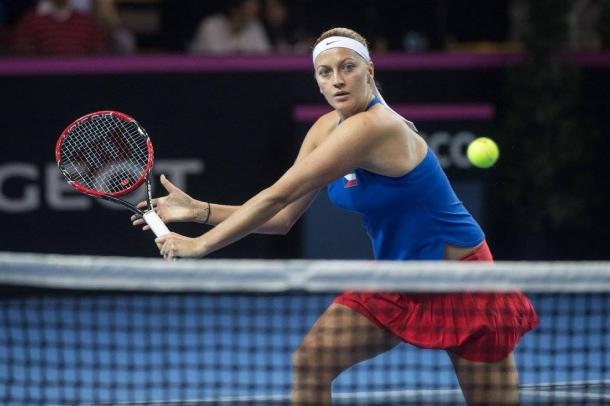 The match was starting to open up and Garcia had another chance to break after Kvitova sent her shot long. However, a huge serve helped to save the point. She was in trouble again after a forehand winner from Garcia but once again her serves came to her aid as the Czech won her third game in a row to take a 5-4 lead. Serving under pressure, Garcia showed nerves of steel to level the set 5-5. With neither playing letting up on their service game, the match then went to a tiebreak.
After a string of points on serve, Kvitova got the first mini-break after a blistering backhand winner. However, Garcia was all over her next point with some big forehands to level for 4-4. The Frenchwoman earning another mini-break after an error from the Czech but it all square again for 5-5. Garcia with a huge serve then had her first set point at 6-5. Kvitova's serve proving too big for the Frenchwoman to handle as the set point was saved. Garcia wasn't going anywhere though punishing the Czech and setting up yet another set point at 7-6. And this time she buried it blasting a backhand which Kvitova could only send to the net to take the first set 7-6(6).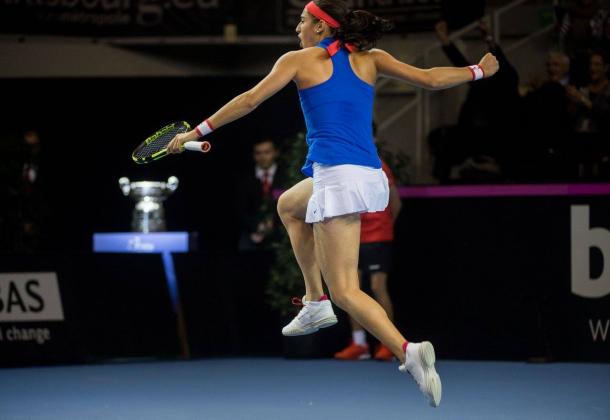 Kvitova almost makes the fightback but Garcia remains strong
Kvitova got off to a great start in the second set with an immediate break. The Czech looked to be in control but despite having game points was pegged back by the Frenchwoman to deuce in the following game. Garcia forced the error from Kvitova and got herself break back point which she duly converted to level for 1-1. As Garcia held for 2-1, Kvitova threw in one of her worse service games with three double faults as the Frenchwoman edged ahead for 3-1.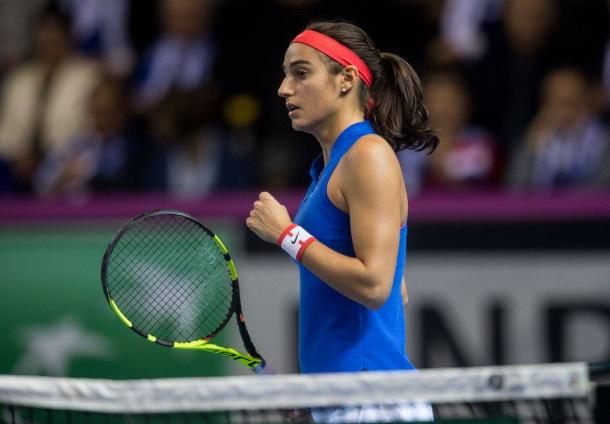 Serving at 1-4, Kvitova found herself in danger of going down a double break trailing 0-40, but the Czech channeling all her frustrations into her serves, came up with a clutch hold to keep herself in the match for 2-4. The momentum shift was telling and Kvitova was right back into the set breaking back for 3-4.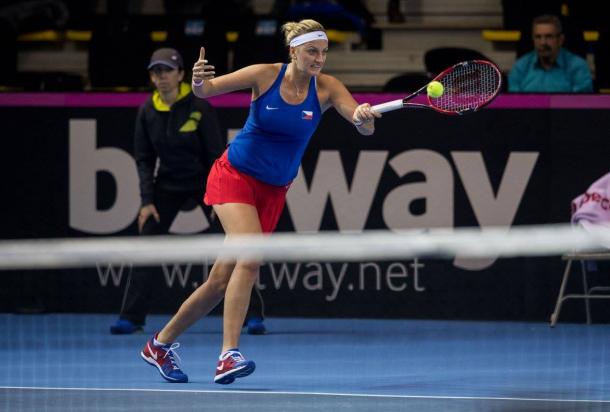 Garcia was not done though stepping up her level hitting some good returns before sending a fine forehand to set up double break points. Kvitova was able to salvage one of the break points but could not save the other as the Frenchwoman broke for a 5-3 lead.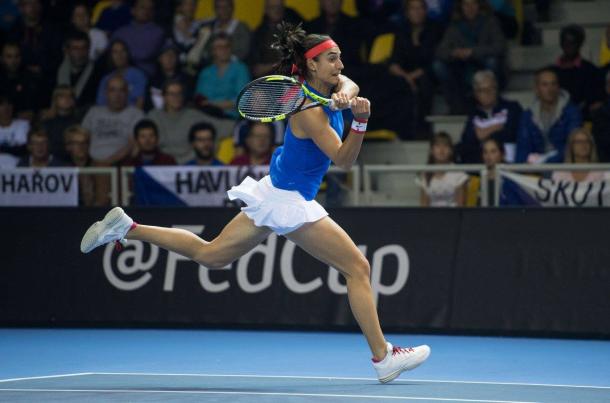 With the match on her racket, Garcia earned her first match point but there was another twist left as Kvitova saved it and conjured up break point of her own after a wayward backhand from the Frenchwoman. Garcia came up with a huge serve before rifling a forehand winner to see off the break point. The Czech was still firing winners and painted the line this time with a scorching backhand down the line winner for yet another break point. However, the Frenchwoman's serve which had not let her down all night helped her once more with a big ace. And on her second match point, Garcia sealed the victory to level the tie 1-1.